Kitchen remodel can be more complicated and stressful than you imagine. If not done right it can downgrade your home's beauty and spoil visitor's experience. There are many homeowners who regret their remodeling decisions. All because of wrong choices resulting in the exceeded budget, time, or simply not getting what they had expected from remodeling. Renovating a kitchen is one of the significant parts of home remodeling with many aspects to consider. Whether you're a homeowner or a professional, the last thing you want is to waste the time and money. Check out these common mistakes you should avoid during your kitchen remodeling project:   
1. DIY Remodeling
If you are thinking of remodeling the kitchen yourselves, to be honest, there are higher chances you may ruin your budget and time. Unless you're a contractor, it is advisable not to do remodeling on your own or it may cost you high for your mistakes. It is important to work with professionals to ensure all the important factors are taken into consideration. Some of these factors are building guidelines, layouts, electrical plans, and plumbing. You may have to change your plumbing and electrical designs as per the latest building codes and obviously, you don't want to tear your kitchen without any experience. It's best to take care of all these beforehand. Instead of doing it yourself, hire someone who has the skills to get the job done right.
2. Lack of Planning
Mistake no. 2 often people do is that they don't make a remodeling plan. Your remodeling plan includes Layout, Time, Budget, and other small tasks. An hour of planning can save you 10 hours of doing. Take into account countertops, cabinetry, flooring, essential appliances, and installation cost. Once you decide on that you can manage your budget and time accordingly. For example, cabinetry takes up to 30% of your total budget. Knowing it beforehand can help you make a wise decision. Develop a fully optimized Plan first and cross-check your budget too. Make sure to save aside some funds for unknown troubles as unexpected things can always arise during the renovation.
3. Forget to Include ample storage space
Having ample storage space is at the top of the needs during kitchen remodeling. Extra storage space is always better than the shortage. When designing your space, think about places that make more sense to store pots, pans, dishes, etc. Make sure to install extra cabinets, drawer-dividers, Pantry pull-outs, etc to store your kitchen equipment safely.  These add-ons highly increase the efficiency as well as the functionality of your space. Also, having space to store small equipment make your countertops look spacious and provide you with more workspace.
4. Designing For others
Mistake no. 4 you often do is that you fall out for fashion more than durability and quality. Remember, you're remodeling it for your ease not to impress neighbors. They're not gonna live in your house. Excess of trendiness can cost you more than you think. The point is, you should renovate it considering your family's needs and requirements. When picking theme, color, material, and kitchen hardware go with ones that have both aesthetics and quality.
5. Ignoring the Lighting
Ignoring the lighting section can be the one of the huge remodeling mistakes for your newly-looking kitchen. There are many homeowners who overlook kitchen lighting. Without it, It can be challenging to see if the meal is fully prepared or not. Having effective light sources can increase your work efficiency and enhance your kitchen color, style, and design. Make sure to add artificial as well as natural light sources in your kitchen as nobody likes to work in dark spaces. For natural sources, you can install windows if possible while for artificial lighting, you can install pendant lights, under-cabinet lights, task lights, accent lighting, etc on most working areas to make your kitchen look livelier.

6. Failing to Include Counterspace
Failing to include enough countertop space is the thing you don't want to regret. From toasters and coffeemakers to other equipment and knick-knacks counter space is utilized before you know it. Even cooking feels more frustrating with less counter space. Still, there are many of you who prioritize visual appearance over function. When designing counters don't forget to add suitable space for your daily kitchen tasks and immediate access to your kitchen appliances or equipment. Ask your designer to design countertops that are durable, functional, have a standard height.
7. Improper Work Triangle
It's natural to get caught up in modern styles, appliances, and looks. But let us tell you that big kitchens are great but an efficient kitchen is better. The key to your kitchen functionality is your convenient "work triangle". The work triangle is the three most engaged areas in every kitchen that is – your sink, stove, and refrigerator. Make sure to position them in a triangular arrangement to make the most efficient workflow. This way, everything in the kitchen will be in reach and you will be able to move easily between them. For example, if you place your refrigerator near your stove it may block another person to work near the stove. The goal is to put these appliances where you can use them easily without bumping into other appliances.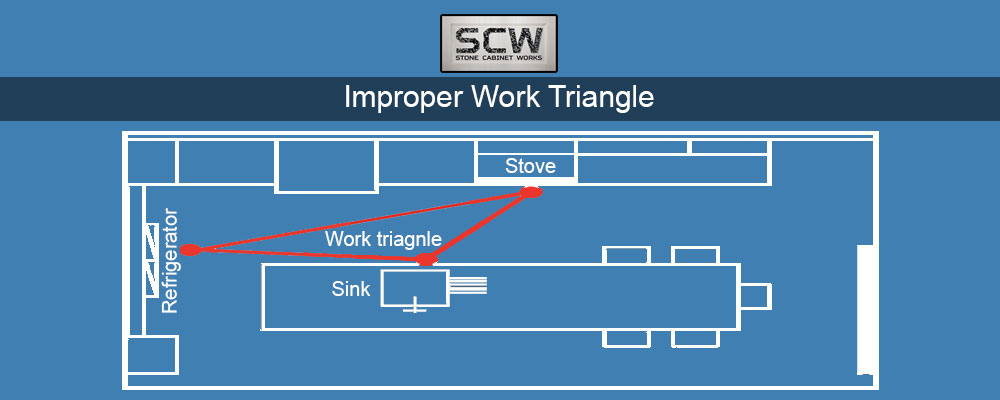 8. Overlooking the backsplash
Leaving a blank backsplash is one of the common mistakes during a kitchen remodeling project. It's true that backsplash is a small space between your countertops and cabinets but this small space can give you the appealing looks you desire for your kitchen. Moreover, it protects your kitchen wall from water, steam, and dirt while making your cleanup process much easier. Remember to consider your kitchen style, and color while choosing a backsplash to get a more classy and cohesive look.
9. Overlooking the trash
Garbage would be the last thing you may want to be seen by your guests. There should always be separate cabinets to keep your trash cans out of people's sight. Designing additional cabinets to manage your plastic bottles, papers, cans, and leftovers is the best way to keep away odors and boost the kitchen looks. You don't want to be the person who overlooks trash.

10. Going Over Your Budget
Busting your budget is one of the biggest mistakes you do during kitchen remodeling. It's true that a budget is established during the planning phase but it's also true to get attracted towards those latest and fancy features you may find cool.  The thing is, if you don't stick to your plan and budget you may regret it later. Spending on wrong things can quickly overrun your budget plan. So, get estimates from highly skilled home remodelers and try to stick to them.
11. Inadequate Ventilation
Not installing adequate ventilation can spoil your kitchen environment. A poorly ventilated space can harm your cabinetry, backsplash, paint, and appliances, especially the refrigerator. Isn't it obvious? The kitchen is the place where an enormous amount of heat or steam produces every day which may trouble you to breathe or forcing you to open windows or turning on the fans. Always consider a fully functional ventilation system that helps you to get rid of heat and excess steam from the kitchen and blow it outside. Keep in mind to install it close to the stove for proper ventilation.
12. Not Hiring Experts
If you are not a contractor or this is your first time remodeling a home, you may be damaging your home with your wrong decisions and common remodeling mistakes. The best idea is to hire professionals instead of spending more money later to correct the mistakes you've made. This move will spare you a lot of time and hassle. If you are looking for the best home remodelers in Illinois, Stone Cabinet Works is all you need. SCW team has the knowledge, skills, and experience to turn over your dream into a reality. You can look into our recently completed kitchen remodeling projects throughout Illinois at our gallery. We serve Gurnee, Grayslake, Libertyville, Lindenhurst, etc.
13. Incorrect Island Size & Placement
 Island is one of the catchy sections of your kitchen but the Improper positioning of Kitchen Island can break your kitchen efficiency by disrupting the workflow of the kitchen triangle (sink, stove, and refrigerator). Don't place your island too close to other components or don't design it too big to install in your space. The best thing you can do here is to measure your space first then choose island dimensions.
14. Choosing Appliances Last
Choosing your appliances early during remodeling can save you or your contractor a lot of time and headache. The size and fitting of your appliances can directly affect your renovation process. By choosing your appliances first, you will have accurate measurements to design your cabinets and countertops around your appliances. It can also help you choose a matching color or finish according to other elements.
15. Using Cheap Materials
The majority of people spend a considerable amount of money on cabinetry and flooring. But if we talk about other small items, a lot of you opt for cheap or low-quality hardware, appliances, or other material used in the remodeling process.
Saving a little here can cost you a lot more in near future.  Remember to invest in superior appliances and materials that you can afford. You can also look for discount deals and offers when buying appliances by exploring multiple places.

Conclusion
A beautifully designed kitchen enhances the look as well as the value of the home. But, it can be complicated and stressful if not done by professionals. That's why you should avoid the common kitchen remodeling mistakes to get exactly what you want while saving time, money, and effort. Like you, we value quality at an affordable price. Our experienced renovation team can guide you through all the phases of kitchen remodeling and help you taking the right decisions. If you're planning to remodel your home including kitchen, bathroom, basement, office, etc. Stop by Stone Cabinet Works or Contact Us to get a free consultation for your project.