If you think that your under-the-sink area is the most disorganized spot in the bathroom or kitchen, then you're not alone. The space under the sink is a trap for clutter because it's always goes out of sight and out of mind. The under-sink area usually have a large empty open space which mostly tends to get under-utilized. However, by using a perfect under sink organizer, you can transform your messy space into an organized one. With the help of under sink organizers, you can organize your stuff better by putting all the things in a proper way. There are various kinds of under sink organizers such as high-back rollout trays, caddy pullout, lazy susan, metal pullout baskets, tilt-out tray, etc. These under sink organizers can transform your tricky space in order.
Our tip for choosing the best under-sink organizer is to determine what kind of items you need to organize. After that, ask yourself what sort of access you need for those items. For kitchen cleaning supplies, you will not necessarily need a more accessible organizer that serves your needs. However, on the other side, for Bathroom supplies like makeup, skincare or haircare, and some hairstyling appliances you need an organizer with mobility so that you can access products while working in front of the mirror. However, if you still finding it hard then don't you worry because we did some research for you.
Here are some best space-saving under sink organizers
1. Single or double-tier Roll out organizer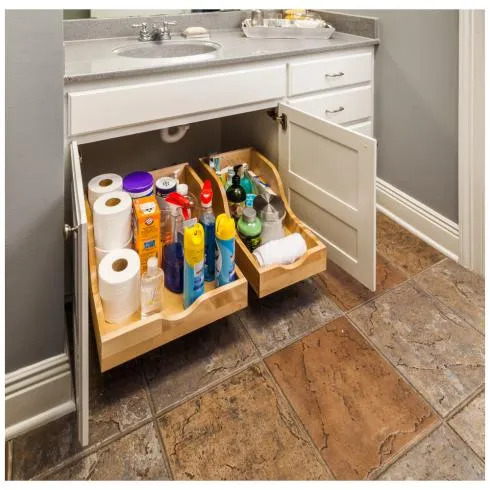 You can use either a plastic or heavy duty rust-resistant steel constructed rollout organizer. There are plenty of options available for roll-out organizers. You can find it in the caddy form, or mounting type with one, two, or even three-tier sliding shelves. You can organize each section of the roll-out organizer with hand soap, dish detergent or dish bar, cleaning spray, and sponges in the kitchen. For the bathroom under the sink, you can organize your one tier with toilet paper, cleaning spray, sponges, extra trash bags, and the second tier with hand wash or soap, body wash, shaving cream, and hair care oil or shampoo. It comes in three different sizes, so it is easy to choose one depending upon your cabinet width and depth.
This organizer adds the convenience of a tray to look like a drawer to any cabinet which is easy to access. The soft-close slides are attached in advance so that you just simply attach it to the bottom of the cabinet or fixed shelf with the screws which just convert it into a pull-out organizer.
2. Cabinet door organizer

There are numerous types of under sink cabinet door organizers such as single or double tier over cabinet basket, multiple hair styling organizer, and floating door shelves which also comes in fixed and sliding form. You can also use a two or even three-tier over cabinet basket or floating shelving unit depending upon your vanity size to maximize storage space. Except for floating trays rest of the organizers are made of metal. Multi-shelving makes the most of your under-sink area by doubling up your storage. You can organize your hand soap, dish detergent, sponges, and, cleaning sprays or body scrub, lotion shampoo, body wash, and other toiletries depending upon the size of the organizer. But there is one con of using this type of organizer i.e. it's not suitable for small vanities those havingless width than standard ones. As some couldn't close the cabinet door ormay not fit all cabinets.
3. Metal Pull out Basket Organizer
Pull out Basket organizers are really useful, no matter where you want to add it. You can easily organize your kitchen or bath essentials and get convenient access with the help of under sink metal pullout basket organizer. This organizer is available in three different sizes and can be customized if you want to. You can easily install this organizer with only four installation screws. Just put all your essential toiletries in this organizer and sort out all the clutter. You can also use a U-Shaped pull-out under sink organizer with ball-bearing slides, if you want to mix up two or three organizers in one space.
4. Lazy Susan Organizer
Yes, you read it right! You can use a rotating lazy susan organizer in both bathroom and kitchen as a under sink organizer. Just like it does the job for your spice, makeup, or skincare cabinet, you can use it to easily access all your cleaning products whenever you need them. Now, you don't have to move 9-10 different things just to reach the extra toilet paper because its 360 Rotation moves your every last product from last to the front side and makes it convenient to access all your necessary supplies. You can easily fit this organizer in any standard bathroom cabinets. Get your desired item, just by spinning your under-sink turntable storage organizer.
5. Pull-Out Caddy Organizer with handle
Pull-out Caddy organizer is used to store all cleaning supplies in one spot. This organizer rests on a pullout wire frame which can be easily pulled out of the sink base cabinet. Do you know the best part of this caddy?? Well, this caddy organizer is very convenient as you can take it to whatever room and use it whenever you needed because it is removable. Some organizers have plastic tray liners to ensure that no spills reach the base of the sink cabinet. So, there is no need to worry about cabinet damage. Now, you can store anything from your dry body brushes to personal care or cleaning essentials, anything you need.

Some FAQ's
Q1. What should you not store under a Bathroom sink?
Ans: Following are some items that you should not store under a bathroom sink:
Fragile items like light bulbs.
Any kind of insecticide or rat poison (if you have little kids)
Flammable products
Metal Tools
Harsh chemicals like bleach(if you have little kids)
Paper towel or tissue
Hair styling Tools
Q2. How do you store cleaning supplies and dusting cloth under the sink?
Ans: Buy a cleaning caddy with a handle to easily store the cleaning items or cloth on a regular basis. You can place small plastic boxes in the caddy to group similar products such as dishwasher soap, salt, and rinse aid altogether.
Q3. What should you store under the kitchen sink?
Ans: You can store the following items under the kitchen sink:
Kitchen cleaners and chemicals (behind a child-proof lock if you have kids)
Extra sponges and dishwashing gloves.
Dish detergents and soaps.
Small fire extinguisher.
Q4. Can you put pots and pans under the kitchen sink?
Ans: The space under the Kitchen sink is not suitable to place pan and pots there. Kitchen utensils need to be stored in a safe, clean, and dry place and away from the garbage disposal bin. So, you should not use under sink area for storing cookware items that are used for food preparation as this will cause infection or food poisoning.
Q5. What are the best two-tier under sink organizers?
Ans: You can use pullout drawer and a basket organizer for the kitchen under the sink area. And a 2-tier metal shelf rack, stackable 2-tier, slide-out two-tier organizers for both bathroom and kitchen under sink area to maximize storage.