There are n no. of reasons to add an island in your kitchen — for extra seating, storage, or workspace etc. Kitchen islands provide great space whether you want it for food preparation or anything else. However many homeowners in Illinois find it really difficult to know whether an island will fit into their design and what options are available because including a new island without knowing your kitchen style, area, and storage space is something terrible that you should not do.
Maybe you want to include island because you need extra features or functions like a wine refrigerator, extra sink or stove, or extra seating for those days when you don't want to gather in the dining room. Selecting the perfect island will add so much joy to your kitchen. Here we are providing seven popular kitchen island designs that will help you to select which one island design is right for you.
Types of Kitchen island design
1. L-Shaped:
L- shaped island is exactly how its name sounds, it is in the shape of an L. This can be a great addition to a kitchen with a lot of free space, where you can utilize dead space and produce a separate area for cooking space and dining space. L-shaped island tends to be large with similarly generous storehouses. Their stunning design ensures that the workspace isn't crowded. While this island may be larger and give further space but due to lack of accessibility, it can hinder effectiveness during mess fix. The shape may be too spread out for some homeowners, and it does not always maximize space since corners tend to drop availability.
2. Circular Kitchen Island:
Circular kitchen island may be for you, if you're looking to add personality to your kitchen layout. The design can go full circle or a half-moon. Circular island design is an extremely creative and visual choice. Many homeowners in Illinois having a hard time seeing a fully round kitchen island in home. But there are numerous custom kitchen island designs that have circular ends/curves. It adds elegance to a kitchen, but also takes up a lot of space. They help add visual interest and bring focus to your beautiful countertops however it isn't the most effective use of space.
3. Double island:
Double kitchen island not only brings functionality but also a lot of elegance to the space. Kitchens having two islands are great for those who have a big family. It is really impressive to have a separate space like one for in-kitchen dining and another for meal preparation. But don't try to add a double island, if you don't have enough space. There is one more drawback of having a double island in the kitchen that you would need to constantly walk-around or in between the islands which could inhibit work flow while cooking meals.

4. Waterfall edge kitchen island:
Waterfall edge kitchen island design is a popular island design feature that will elevate any kitchen look. A 'waterfall edge' basically involves continuing the countertop seamlessly from horizontal to vertical. In this design, the countertop heads toward the floor and continues down the side of the cabinet, island, or seating area. So, be picky about the countertop material you are choosing in order to make your kitchen island more beautiful.
5. U-Shaped:
U-shaped island is also known as a three walls of cabinets. A U-shaped island can increase the efficiency of any kitchen as it is highly functional and spacious. Not just U-shaped islands are the largest and most accommodating islands as compared to among all but it is also more functional. Whether you need extra storage space, more workspace, or even extra space for seating – U shaped island got you everything. U-shaped island is best for those who have a pretty big family and create meals for more than four family members. However, this island can close off your kitchen as the double corners are not accessible for storage space unless you use Lazy Susan or a swing-out organizer. This type is expensive and takes a lot of space in the kitchen, which is not ideal for every kitchen design.
6. Two Tiered island:
This design has two different heights, upper one for cooking and the lower one for the seating. If you want to include a cook top on your island, then a two-tiered island is for you. This is because the two-tiered island saves the people who are sitting at the counter accidentally come into contact with the hot surface.

7. Moveable island:
If you are the one who like more space for meal prep then a movable island is a wonderful option for you. This type of kitchen island is also known as a portable kitchen island and rolling island. Moveable islands are best for smaller kitchens as they give your kitchen extra serving and preparation space. Not just these types of islands are extremely cost-effective as compared to permanent built-in ones but are less heavy. There is only one con of portable island and that is it does not have so much space to store things as compared to build in ones. You can only place some pans or pots under the counter space and sometimes some bottles of wine.
Uses of Kitchen Island
1. For Cleanup Area
Pull-out garbage bin next to the sink.
Easy access to the silverware storage.
Storage for dish towels as well as dish soap, etc.
2. Food Prep Space
Outlets for small appliances.
Easy access to compost bin or disposer.
Refrigerator and cook top close by.
3. For Cooking Space
Heat-resistant countertop for hot utensils.
Overhead vent hood or downdraft fan kitchen ventilation system
4. For Informal Dining
Counter height designed for standard-size seating.
Softly contoured edge profile.
Tips for choosing the best kitchen island design to upgrade your kitchen look
1. Identifying Your Kitchen Shape and size:
kitchen design relies on one of the four basic shapes and sizes to create a perfect floor plan. Only two out of four-floor plans can easily accommodate a kitchen island, making it essential that the shape of the kitchen be evaluated before a kitchen island is planned. The waterfall kitchen island works best for those who like a minimalist modern look. On this island, the countertop spills seamlessly over the sides of the island. While most models are constructed from marble, granite, or quartz, you can also find butcher block, stainless steel, and concrete.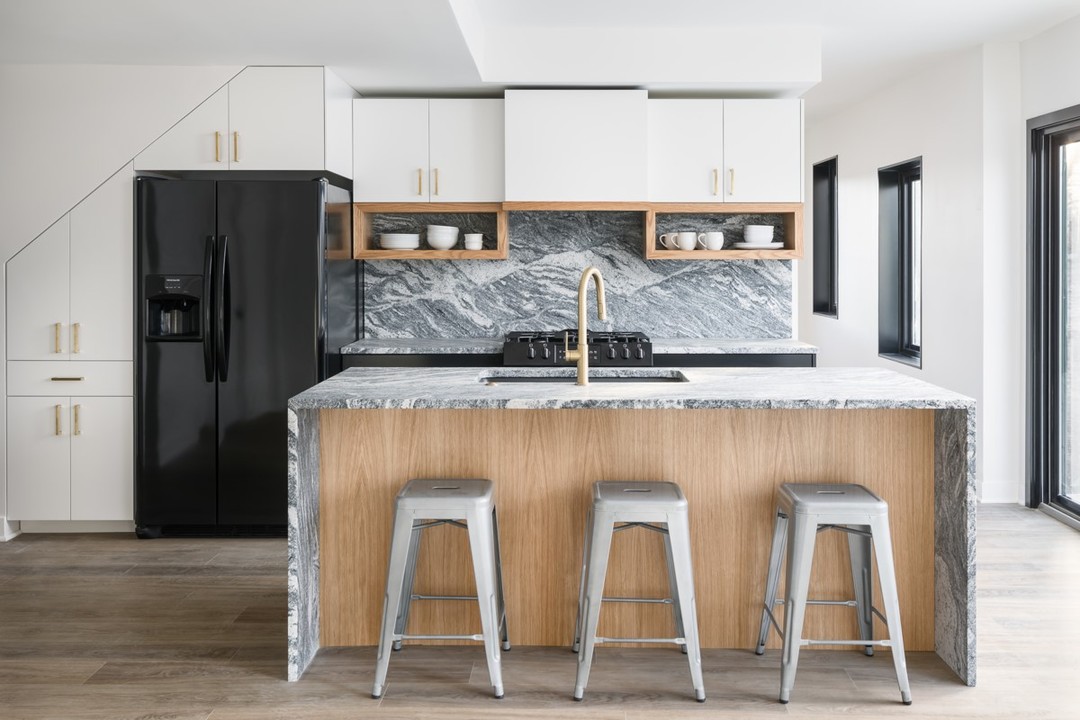 2. Floor Plans that Accommodate Kitchen Island Design:
Large U-shaped and L-shaped kitchens can accommodate a kitchen island easily. By placing the island in the middle of the kitchen is a U-shaped floor plan, you can easily create two work stations. In an L-shaped kitchen, an island can further define the space, place according to the size of the kitchen.
3. Floor Plans that Do Not Accommodate Kitchen Islands:
Galley kitchens are made of two parallel work areas and that's why adding a kitchen island in this type of floor plan disrupts the flow of the kitchen area. Adding a kitchen island in this plan not only makes it difficult to properly use the kitchen but also makes the kitchen area too narrow.
Benefits Of Having Excellent Kitchen Island Design
1. Adds more storage space for storing silverware, appliances, and also for garbage bins, etc.
2. Endless material options are available for islands.
3. Can add more features to the kitchen island.
4. Act as an informal dining area with additional seating.
5. Also Adds versatility in the kitchen.
How our remodeling experts at Stone Cabinet Works help you in this?
If you want to renovate your bathroom, kitchen, or whole home, you can contact our experts at stone cabinet works and schedule a free consultation. Our experts deliver quality services to all our clients while still remaining competitively priced.
Contact us now at 847-453-9884 or fill out the form to schedule your FREE consultation Today!