Kitchen lighting can make or break your whole kitchen space. No matter how great your furniture look or how much time you've spent designing the layout of your kitchen area, if the lighting isn't right, you cannot flaunt your kitchen style or be able to make the most out of it. So, it's important to plan kitchen lighting before doing any other thing in Kitchen remodeling. Adequate kitchen lighting will not only make your kitchen space look great, but it will also help you to ease your cooking tasks. Unlike most rooms, a single light fixture will not satisfy all the needs in your kitchen. So, make sure you choose the right style at right time for your kitchen lighting that will enhance your kitchen look and brighten up your kitchen design scheme.
However, if you are still confused wondering about how to plan kitchen lighting then don't worry because we have complete expert guide for you.
How to start planning lighting in a kitchen?
As we all know lighting is one of the most important pieces in your kitchen puzzle which must be planned out sooner rather than later. The key to create a successful lighting scheme depends in layering the effects, so you should try to zone the lighting according to its use and create the wow factor. When you start planning your kitchen lighting consider spaces where you work the most like your sink and counter area, the area you prepare meals and finish the clutter. Once you are done with planning, get them positioned. Positioning of light should be perfect that allow the provision for lighting both external and internal cabinet areas too.
You can consider brighter and dimmable solutions for more flexibility. These can include under cabinet LED lighting, strip lighting, ceiling lighting, pendant lights, wall lighting, and task lights. Considering both bright and dimmable lighting solutions will focus on those specific areas of your kitchen that you want to highlight.
What are the main types of lighting and where should lights be placed in a kitchen?
There are three main forms of lighting and these are task, ambient and accent. The architecture and layout of your kitchen is the first thing to consider when deciding where to place your lighting. In short, it's all about planning and thinking about where the lights will sit best for you.
1. Task kitchen lighting: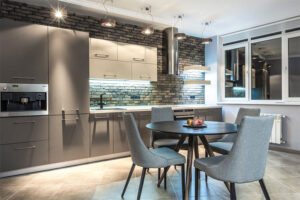 Task lighting is the most beneficial form of lighting for any kitchen scheme and is ideally suited to the areas where you need to see clearly. This provides proper illumination for specific activities such as cooking, prepping meals and washing dishes. Common kitchen task lighting options include strip lights, under cabinet led lighting, pendant lighting for island, hardwired led under cabinet lighting for countertop, track lights, led kitchen light fixtures, under cabinet strip lighting and puck lights. Task lighting is crucial in kitchen area as it provides functionality in it. But make sure to hide the internal wiring of task lights, if you want to add it below upper cabinets and over countertop. Incorporate task lighting such as pendants above island to highlight work area. You can also incorporate task lighting into your kitchen storage ideas and over the sink area, too.
Important Note: Test out the entire task light placement properly before installing it, as, it can show shadows onto your work zone, if misplaced.
2. Ambient kitchen lighting:
Ambient, or mood lighting, is the most general lighting scheme and is used to provide an overall illumination in a space. This lighting needs to give off a soft, diffused glow. Ambient lighting is also known as main source of light. It provides base light for day and night use. You can achieved this with a ceiling-mounted or wall lighting fixture. Wall lighting ideas are perfect for any compact scheme. You can use chandeliers, recessed lighting, pendant lights, or flush mounts for ambient lighting. Try to install ambient lighting with a dimmer switch to adjust your level of light as daylight changes.
3. Accent kitchen lighting:
Finally we have a cherry on the top light; accent, or decorative lighting that adds visual interest. Accent lighting is known as decorative addition to the basic existing lights. Adding accent lighting is the best way to create soft focus on some important kitchen element details. While giving extra lighting, it creates a beautifully stylish, modern kitchen look. You can consider accent lighting for any areas of the kitchen décor that you would like to highlight. These can include striking pendants, cabinet lights, wall sconces, toe kick lights, island strip lights or bar lights and back-lit worktop designs. This comes in many different forms. You can use it from the back of a shelf to the bottom of the upper cabinet to create a backlit effect that helps to add the aesthetic of the kitchen.
Remember:
The key to a successful lighting scheme involves layering of all these three together.
How many lights you need in your kitchen?
The number of lights needed in your kitchen scheme varies on several things, so no answer fits across the board. It depends on the structure and layout of the kitchen as well as the amount of natural light within the space. Many people think that it depends on how long the counter is or how many area they have. But this is partially right however it also depends upon the type of lighting fixture you use.
A good lighting designer or experienced interior designer will be able to advise you on how many you need when they are physically present there at that time.
How long should pendant lights be?
Pendant lighting is extremely popular in kitchens, a row of matching statement pendants are a clever way of lighting your kitchen island while creating a eye-catching look.
And if your question is "How long should your pendant lights be" then the answer is Pendants should hang 12-20 inches below an 8-foot ceiling. You can add or decrease 3 inches according to your ceiling height. Place your pendant lights at that height where your it does not interfere with the view. The best positions for pendant lights are sinks, dining tables and food preparation areas. Do not install your pendants lights near built-in light appliances as this will cause glare while cooking.
How bright should kitchen lights be?
It depends upon your preference as some people like more bright while other like not that bright. So, try to include both dimmer and brighter options in your kitchen lighting scheme to make it more flexible. Choosing layered lighting scheme for your kitchen allows you to have a perfect space as you desired.
Your kitchen often plays host to cooking space, home office, entertaining hub, and sometimes living room. So, your lighting should be able to change accordingly, rather than simply being on, off or occasionally dimmed.
You can use LED lighting. As they not only provide ample illumination for busy task areas, but they also aesthetically enhance the space.
How should you light a kitchen island?
To create an eye-catching look, try to install a row of matching statement pendants over the kitchen island. This feature will also provide some practical task lighting while making it looks good. Kitchen island is mainly used for prep, and cooking or as a dining and social space.
Can you use led lights for a kitchen?
Yes, you can. LED lights are more eco-friendly and perfect modern kitchen lighting option than other types of lighting. The best thing is that it can help to create a natural daylight feel and give off little heat. Whether you want to use LED lights for task, accent or ambient lighting, cool toned white LED lights are best. Under-cabinet LED light strips are popular these days and a great way to make food on your countertops more visible. You can mount these lights inside drawers, pantry doors or behind a cabinet, and even underneath the base cabinets.
Pro Tip: Mount LED strips one to three inches away from the front of your cabinet. This will increase the brightness and best suited for glare-free experience.
What is the current trend for kitchen lighting?
Trends come into play with kitchen lighting same as with the rest of the home. There are a few kitchen trends that are currently going on for kitchen lighting which include organic shapes and materials, as well as bolder color choices. Current lighting trend is all about utilizing organic materials, and embracing their imperfect textures and forms. You can use diamond glass finishes to create more inviting look. If you want to create an elegant visual statement, use bolder jewel like tone for hand-blown glass pendant lights.
How Stone Cabinet Works Help you?
If you want to remodel your kitchen, bathroom, or whole home, you can call us. We deliver quality services to all our clients while still remaining competitively priced. Contact stone cabinet works to schedule your FREE consultation Today!