It always feels good to have something modern and fresh in home and the new bathroom is one of that. There are many disadvantages of having an outdated and cramped bathroom as it seems really frustrating. However, the bathroom remodeling experts at stonecabinetworks are here to help you in accomplishing a new and fresh bathroom look without spending a lot of money. Call us to get the best bathroom remodeling services in Antioch IL and make your bath area feel fresh and new.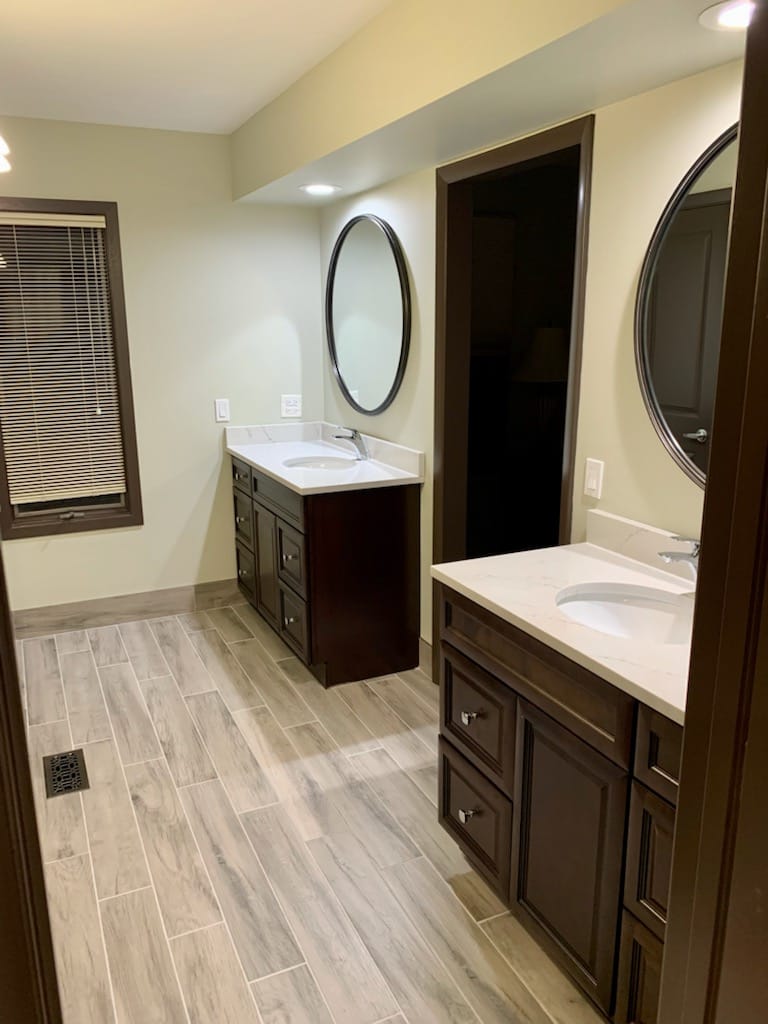 Why You Need to Remodel Your Bathroom
1. To Improve the Functionality
You may improve the functionality of your current bath area by making a few changes to your bathroom. Do you have enough space for additional storage or side-by-side sinks? If not, then we can help you to make the storage functionality better.
2. To Upgrade Your Outdated Bathroom
Renovating your existing bathroom is a great option if you are sick of your outdated and cramped bathroom. But if you do not feel financially prepared for a complete renovation then you can update only couple of things, like cabinet doors countertops and hardware to make your outdated bathroom look dated. You can add new wallpapers or even new tiles to make a significant difference. Or you can take our bathroom remodeling services in Antioch, IL. There are many options available by our remodeling experts on how to upgrade your bathroom on a budget.
3. To Make It A Perfect Bath Space For Elderly Family Member
Accessibility in the bathroom is a key factor in bathroom remodeling whether you have child or a elder person in your home. A sensible and well-liked solution is to swap out your current tub into a walk-in tub and shower enclosure. Similarly to this, it is a good idea to add seats and safety rails to the toilet and shower. Our remodeling experts know how to keep elderly person safe and secure in bathroom and make changes according to your requirements.
4. In Order to Increase the Energy Efficiency
Long-term savings can help you to increase the energy efficiency of your bathroom. Smart ventilation, LED lighting that uses less energy, and a solar water heater that can also be used for underfloor heating are a few of the well-liked suggestions.

Best Custom Bathroom Remodeling Services in Antioch IL
Your home will gain comfort, value, and style with a new bathroom. Our skilled remodeling experts will remove all the outdated and non-working fixtures and replaced it with lovely alternatives in a wide range of hues and fashion. By using our services, you may avoid the hassle of working with erratic deadlines, shady contractors, and unforeseen charges.
We Also Do Custom Shower and Tub Renovations
Our bath and shower upgrades can add new life into your bathroom if total makeover is not necessary. The skilled workers of Stone Cabinet Works install bathtub and shower after getting the requirements. After getting the requirements, we also discuss the materials and designs with you that can blend with your current bathroom.
Elegant Walk-in Bathtub Renovations
With the unique safety measures and smart design elements in walk-in bathtubs, it becomes the first choice in Illinois, especially who have elderly member in their home. We can install walk-in bathtub in your bathroom as per your desire while maintaining the security and comfort you require.
Book Free Consultation Now!
Stone Cabinet Works will make it happen, whether it's a straightforward update for your current home or a complicated one and renovate it according to your needs and on budget. Contact us right now at (847)453-9884 for a free 3D design consultation.