Remodeling a kitchen is the best way to add value to your home. it's easy to go over a good budget during remodeling as the material used in kitchen renovation can be a bit expensive than any other section of your home. But the question is "Can't we maximize the home's value if we have a low budget? The good news is that with a little planning, foresight, and creativity you can save thousands of dollars on your remodel. Here are the 8 Ways to Save Money on Your Kitchen remodel project if you're low on budget.
1. Create a Plan
Before beginning your kitchen remodel, it's wise to analyze the scope of work which includes layout, materials, and budget. If you plan well, you can save time and effort while maintaining your budget. Creating a plan requires time and expert tips. You can take the help of your contractors in this. Once you have figured out where to start, what to buy, and when to finish, you can start purchasing appliances and materials as per your budget. Having a plan also reduces the chances of mistakes during remodeling.
2. Resurfacing the Cabinets
Installing the new cabinetry can be very expensive, especially if you need custom design or style.  One of the best ways to save money on your kitchen remodeling is to refurbish your cabinets rather than replacing them. Refurbishing your cabinets is inexpensive yet provides a brand new look to your kitchen. You can do it by repainting and refacing them.
Repainting:
Adding a fresh coat of paint with a modern color shade is a great way to update your cabinets. Cabinet Painting will be time-consuming as it involves sanding, priming, etc. However, you will get impressive results in the end.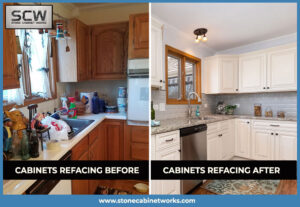 Refacing:
If your cabinet interiors and drawers are in good shape while the front is scratched or cracked, resurfacing can save you thousands of dollars. Refacing or resurfacing includes replacing the cabinet and drawer front with a laminate or wood veneer replacement material. Refacing also gives you the opportunity to update the cabinet's wood, color, or style.
In Case you want your Cabinets to be fully replaced, look for the pre-assembled cabinets instead of customized ones to Ways to Save Money on Your Kitchen remodel.
3. Keep the same Layout
Sticking with your existing layout can save a huge amount of money.  Changing or moving fixtures like faucets, sinks, refrigerator location, kitchen islands, etc require plumbing and electrical work which may result in extra labor costs for the plumber and electricians. On the other hand, keeping the same layout saves your time, effort, and money. However, you can update the other kitchen elements like colors, fixtures, etc. as they don't need any plumbing and electrical work. To save more on your kitchen remodel, you can keep your flooring style the same also.
4. Add new Hardware
Whether you are installing new cabinets or refacing the existing ones, adding the new hardware can enhance your kitchen aesthetics.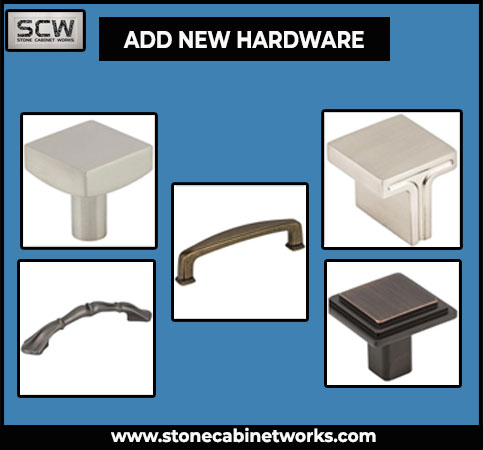 Along with refacing cabinets of your kitchen, you can replace the broken or rusted doorknobs and drawer handles too. This way you will get a whole new look.
1-1/8″ Square Dominique Cabinet Knob
3″ Gatsby Cabinet Pull
Milan 1 Square Cabinet Pull
1-1/8″ Square Anwick Cabinet Knob
Square Calloway Cabinet Knob
5. Refurbish the Appliances
Like cabinets, you don't need to replace all of your appliances. Clean and repair the things with a little fault will not only save your money but also give a new look to your things. You can DIY or hire professionals for repair. For the things that can't be repaired or needs to be replaced make sure to research the different options to find the one with energy-efficient features at an affordable price.
When remodeling your kitchen, try to keep the location of your sink, faucet, and other fixtures same as relocating them require plumbing and electrical work which may lead to high labor costs.
6. Add a Backsplash
Having an attractive backsplash is something people often look at., But if you are planning to get a backsplash on a low budget while maintaining the looks, here are the options:
Tiles:
Tiles are one of the most common and affordable materials for the kitchen. Tiles are considered a good option for backsplashes, wet bars, or pantries. You may also get a number of colors and patterns as tiles come in many unique designs. Other than this, tiles are durable and easy to clean.
Laminated Sheets:
Another budget-friendly option is laminated sheets. If you want a wooden look without spending much then a laminated sheet is a good option to consider. It comes in a variety of colors and is non-porous which makes it water-resistant. Stains can be cleaned easily from laminated backsplashes. However, they are not so heat resistant, don't install it the sections where heat levels are high.
If you are opting for any other material, you can cut down costs by just covering the portions above the countertops.
7. Kitchen Lighting
Your wall paint, refaced cabinets, appliances, and overall kitchen aesthetic will look dull without proper glare. Having ample lighting is always a smart move during a kitchen renovation. A bright kitchen always puts a great impression on everyone who enters your kitchen.  You should have two types of lighting
Task Lighting:
Areas under cabinets often look dark. Installing under-cabinet lighting can make a great impact on your kitchen work area at a minimal expense.
Ambient Lighting:
If you are low on budget, you can install track lighting in your kitchen instead of recessed lights. Installation of recessed lighting requires holes in the ceilings and wiring that can increase your budget also. On the other hand, installation of track lighting is easy and it comes with a dimmer to control the intensity.
8. Choose the Right Remodelers
For budget-friendly remodeling, it's essential for you to hire skilled and experienced remodeling contractors. Spending Money on professionals is always worth it because they can help you to plan each and every phase of your renovation project and ensure you the expecting budget while getting the results you are hoping for.  However, When choosing a kitchen remodeling contractor, make sure to check if they're licensed or not, and keep in mind that it's important for you to choose the contractor with quality work and experience rather than looking for the lowest bidders.
If you are ready to get going with your budget-friendly remodeling process within Gurnee, Grayslake, Libertyville, and nearby areas you can stop by Stone Cabinet Works for a free consultation of your remodeling project. Whether you want to renovate your kitchen, bathroom, office or want to add value to your basement, stone cabinet works will guide you to the right way while maintaining your budget. We have experience of over two decades at serving clients and provide them their dream remodeling. Give us a call anytime.
Mistakes to Avoid During Kitchen Remodel
A remodeling project is said to be successful only if it boosts the value of your home as well as makes your kitchen warm and comfortable. In order to make your remodeling project successful, here are the following things if not considered can spoil your budget plan.
Even if you create a plan for your remodeling process, there's still a chance that you'll confront problems that may add time and money to your project. For instance, you may detect a problem after your contractor opens up a wall. You may find hidden water leakage or mold growth. These kinds of problems will take more time and money. The best solution to handle these situations is to save aside 10% of your total budget for these unknown troubles.
If you are not an expert in remodeling, doing it yourself can be more costly and time-consuming than hiring a contractor. Remodeling includes numerous tasks like plumbing, structural needs, electrical plans, etc if not done with expertise can increase your budget for the long term. Of course, if you're low on a budget, it's better to pay someone who has the skills to get your remodeling done in the right manner.
Remember Your Budget Goals
It's easy for you to get caught up in the latest designs, styles, and appliances during your kitchen remodeling project but choosing the appliances that increase your kitchen functionality is the key to a successful budget-friendly remodeling. Think about what your basic needs are and what equipment meets these needs the best.
Garbage is the last thing you may want to be the focal point of your new kitchen. Make sure to dedicate a separate cabinet to trash or recycled things to keep them out of your sight. In case you don't have any spare cabinet, now's the time to create a one.
The last thing you should always remember during your kitchen remodel is that you should enjoy your remodeling project as your entire kitchen troubles are going to end soon. Whether it's your broken cabinet handle or old-looking paint you are finally getting rid of your kitchen problems. Entrusting an experienced contractor like Stone Cabinet Works allows you to enjoy your whole remodeling process within your budget.
Conclusion
If you want your kitchen to remodel and are on a tight budget, a full kitchen remodeling can cost you a lot. But with the help of a few expert tips and considerations, you can efficiently update your kitchen without spending all of your hard-earned savings.  Focus on the things that really need to be done to make your kitchen working. Look for the changes that can enhance your kitchen functionality. Make a list of the things that need to be replaced or repair to save money on Your Kitchen remodel. Remember to create a plan before initiating your remodeling process to reduce the risk factor while increasing overall productivity.