When it comes to the most cluttered space in any home, the bathroom would be at the top of the list after kitchen. Especially, if your bathroom is too small as you can never have enough storage. But the good news is by using the right bathroom organizer you can properly organize your bathroom and prevent it from getting cluttered again while saving more space. As you don't have to remodel your entire bath area to get more storage space, to keep your bath area highly organized, while looking bigger and more luxurious in no time, you have to buy organizers.
Not all organizers are too expensive, but to save more money and time that will make your small bath space work for you as well as your loved ones, it is important to find the right one. As Finding the right one will make you to save your money and time and would not go against your design dreams. Read on, if you like to add functionality, dimension, and of course extra space to your bath space.
Here are some best space-saving bathroom organizers that are worth spending your every penny.
1. Spice Rack
To keep your little things in order, you can use spice rack. Yes, you read
it right! Spice rack – the same organizer that you use to hold your kitchen spices. You can use it because these racks are equally perfect for the small size bottles or for placing your moisturizers and lotions things in order. You can mount spice racks either on the backside of the door or on wall to corral your after bath essentials.
2. Under sink Bathroom Organizer
The cabinet or vanity under sink is the most disorganized spot in the bathroom. Under the sink cabinet is also a trap for clutter because it's always got out of sight and out of mind. As it is usually a large open space which mainly tends to get under-utilized. However, by putting all the things in proper solution, you can organize stuff better. There are many types of under sink organizers that includes wood high back rollout tray for vanity depth, metal pullout basket, caddy pullout, tilt out tray etc. These under sink organizers can make your tricky space in order.
However, the hard part is finding the right ones for your under sink space. But don't worry because we did some research for you. As you don't have to change your entire vanity or sink to get more under the sink storage space.
Here are some best space-saving under sink organizers:
1. Wood high Back Roll out for vanity depth: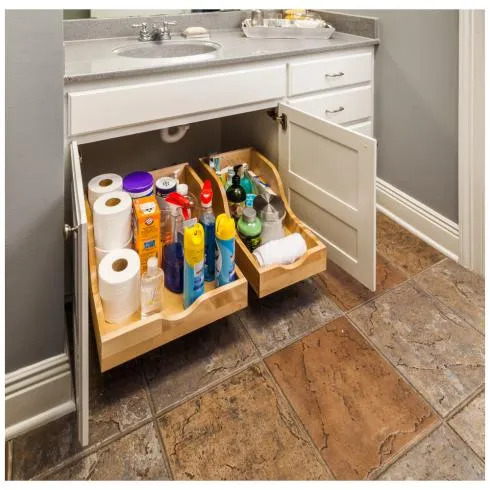 Roll out your all supplies stop — bathing & cleaning supplies in your bathroom with one organizer and that is Wood high Back Roll out for vanity depth organizer. It contains two trays; one is wider and second is narrow. This rolling out organizer comes with wheels for easy access. There are three sizes available of this organizer, according to your cabinet width and depth.
You can organize your dish detergent, hand soap, sponges, and, cleaning sprays in one tray. And in second tray, you can organize your shampoo, body wash, body scrub, lotion and other toiletries and the best part is that toy can also fixed both trays with each other, if you want. This can add the convenience of a tray to look as drawer to any cabinet that is easy to access. Soft-close slides are already attached in this organizer. You just have to simply attach it to the cabinet bottom or fixed shelf with screws.
2. Two tier shelving pull out:
You can also use two or even three-tier shelving unit according to your vanity size to maximize your under the sink storage space. These organizers have a metal large bottom shelf and a narrower second shelf that pulls out for easy access. It allows the whole unit to perfectly fit even under small bathroom vanity sinks without interfering with pipes and drains. Because these shelving are wire framed, they are pretty more useful as there is less surface area for insects and pests to hide under. Multi-shelving organizers make the most of your under sink space by doubling up your storage. Each stacked shelf slides smoothly. You can also use these organizers in wall cabinets with wall mounted spice rack organizer.
3. Metal Pull out Basket Bathroom Organizer:
Metal Pull out Basket organizer is highly useful, no matter where you decide to place it whether it's in a kitchen or bathroom. You can store and organize your bath or kitchen essentials for easy access with a metal pullout basket. This organizer is a simple and easy upgrade to a standardized shelf. It can quickly install with only four installation screws. It is also available in three different sizes. You can also customize it by simply mount it on cabinet bottom or fixed shelf. Sort out your cabinet storage with these organizer. Just put all your toiletries sort out all the clutter. The best thing of this organizer is that you can take out large quantities of things easily. Instead of struggling to pull them out one by one.
4. U Shaped or Custom pull-out cabinet organizer with ball-bearing slides:
If you like different kind of organizer or want to mix up two to three organizer in one space, then this is best for you. In this, you can choose custom under sink area pullout organizer. These bathroom organizers are long-term organizing solution for both under your kitchen or bathroom sink. It mainly includes perfect U-shape for making space for pipes. This organizer also works best even when you have less space or you need only one tier of products.
Not just that, even if you want your own version of custom organizer that mainly includes one basket organizer in the bottom part and two narrow shelving pull out organizer or one tray and one or two small waste bin organizer, it also works perfect. You just need one or two divider depending on the under sink area to make it work for you. And on the cabinet door, you can either use spice rack or over cabinet caddy, sponge basket or floating shelves. And finally now you have everything that you need to get that clutter in order. From handy every day essential organizers to big cleaning caddy for all your things.
5. Lazy Susan bathroom organizer:
Nothing's worse than when you are already in rush and want cleaning item urgently and having to hunt down all your cleaning supplies before guests arrive. To make sure that thing never happens again with you, use Lazy Susan. It's 360 Rotation make every product feel like it's front and center. This organizer provides convenient access to all of your necessary toiletries. It easily fits into standard bathroom cabinets. Just spin your under sink turntable storage organizer to get your desired item easily.
6. Cleaning supplies Caddy Pull-Out Cabinet Organizer:
Get your all cleaning supplies stored in one spot and easily portable. T his caddy rests on a wire frame pullout which is easily pull out of the cabinet. The best part is you can take to whatever room it is needed in as this caddy is removable. Many Cleaning supplies Caddy Pull-Out Cabinet Organizer have plastic handle which is Heavy-duty wire construction. Its 100 lb full-extension slides are made for durability. It has some Plastic tray liner that ensures no spills reach cabinet. This organizer is just fail proof additions to your organizing with a set of classic wire storage. You can also store your dry body brushes and anything else you need.
3. Adjustable Drawer Dividers
For dividing up vanity or cabinet drawers to keep items from jumbling together, adjustable drawer dividers are perfect. You can use them to divide your accessories, makeup supplies, jewellery, lotions, towels, washcloths and more. Plus, there are various types of drawer dividers or drawers inserts depending up on items. A center divider keeps items neatly separated. Like powdered vanity drawer can be used as stylish tool organizer such as Hair dryers and curling irons.
4. Vanity Pull-Out Pantry Bathroom organizer
Skinny Vanity Pull-Out Pantry organizer is a metal track
that keeps everything in a place, and the whole organizer slides out when you need to access. It is made of wood and allows for the use of an acrylic trays. This includes no wiggle, acrylic top tray and grooming Vanity Pull-Out organizer. The only difference between no wiggle and acrylic tray organizer is the no wiggle one contains two shelves and one other hair appliances section in which you can store two – three hair appliances. While acrylic tray organizer only have trays. No wiggle grooming Vanity Pull-Out bathroom organizers are comparatively same but no wiggle eliminates side-to-side movement and sag commonly seen in grooming pullouts.