In today's world, selecting a perfect countertop material for your kitchen is not as easy as it would before. This is due to the wide availability of new materials, design, and color options that made it more difficult to choose. If you're remodeling your kitchen and searching for the perfect counter material or want to spruce up your countertop look, we are here to help you. Every countertop is unique depending upon the material, color, and cutting edges of the slab. While selecting countertops there are a lot of things to consider such as price, durability, design, sealing maintenance, heat, and scratch resistibility. You can also mix and match the material if you have a big kitchen depending upon the appearance you want to create. Read on to know the best countertop for your kitchen type.
1. Granite – Best countertop for kitchen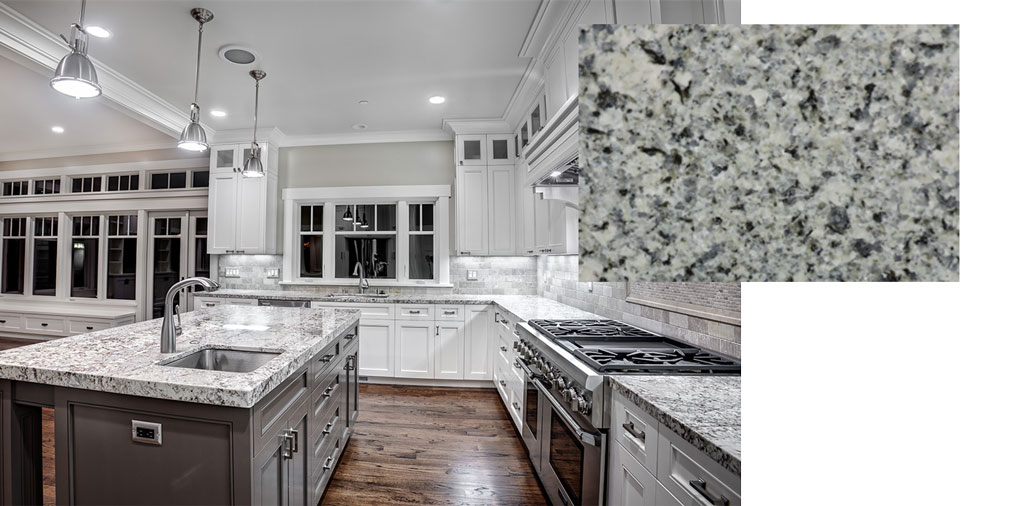 Granite material is one of the best and the most popular option for kitchen countertops. It is a naturally occurring material that is loved for its unique color, veins, and shades. Its natural look creates a high-end kitchen look. Granite stone is durable, heat and stain-resistant, and of course affordable. It needs to be sealed once a year to maintain its resistibility. Using a granite countertop in your kitchen can increase your home value. There are numerous advantages of granite but only one disadvantage and that is you need a professional to reseal your countertop. You can't do it by yourself.
2. Quartz – Second Best countertop for kitchen

Quartz is the second most popular countertop chosen by many homeowners. It is an engineered stone that is made up with the composition of three materials commonly known as Silestone, Ceasarstone, and Cosentino. Quartz is a low maintenance, non-porous, durable, and stain, scratch, and heat resistant material and easy to coordinate with other colors. This stone gives your kitchen a luxurious look that you always dreamed of. It is slightly more costly than granite stone. Unlike other natural stones, it does not need to be resealed every year. This stone comes in different colors, patterns, and textures which make it the best countertop for various kitchen styles. Although it is heat resistant, but remember to be aware of the temperature while placing the hot cooking pot on the quartz's surface. This may change the surface texture and shine.
3. Marble – third Best countertop for kitchen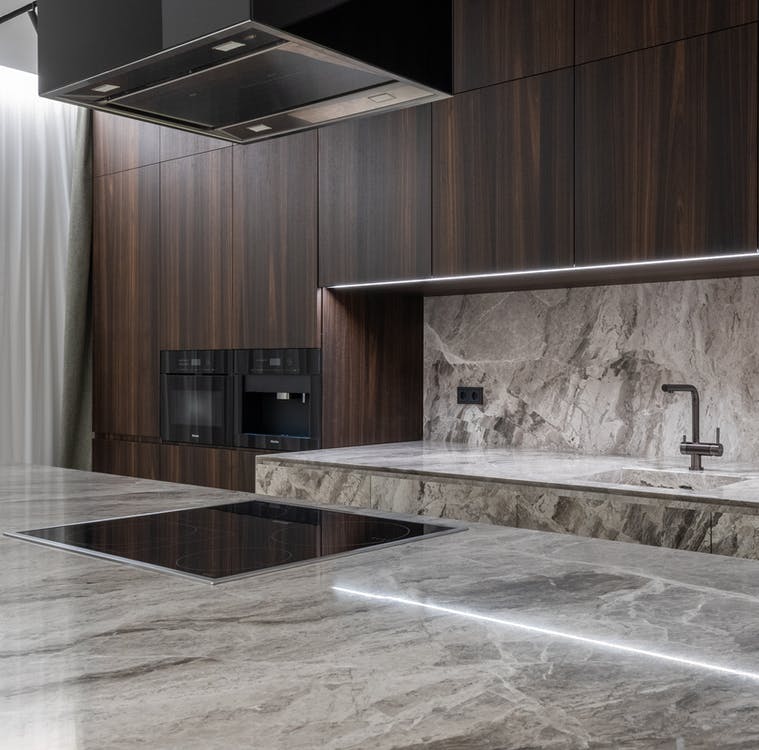 Marble is another natural stone that is commonly used in kitchens. It is a little delicate stone as compared to granite. Marble gives your kitchen an unforgettable luxurious look that you always want. It offers a timeless appeal with sophisticated hues and delicate detailing. Marble is heat resistant but not stain resistant in nature. Prolonged exposure with acids such as lemon juice might damage the sealing and polish of the marble. Marble countertops are a tedious surface for your kitchen or bath, as they are soft and more susceptible to damages including stains, scratches, and heat. To maintain this stone, it is highly recommended to seal the surface once or twice a year depending upon the daily usage.
4. Soapstone and limestone
Soapstone is not as commonly used as granite however it is super heat resistant and non-porous in nature. Small scratches on this stone can be repaired by sanding finely and applying mineral oil. Its non-porous nature allows it to hold against liquid, stains, and acidic materials. However, some stains are too tough to remove. However It easily gets scratches. On the other side limestone is a classic material that has a natural stone look without heavy veining or graining feature. The material of Limestone is also superb at resisting heat damage but the drawbacks are same as soapstone.
5. Laminate
Laminate countertops are the most budget-friendly option to choose. Thanks to its new patterns and decorative edges. It is basically a plastic-coated material with a smoother surface that is super easy to clean. It has plenty of styles and pattern options to choose the best for homeowners taste. The best part is you can install this countertop by yourself. Laminates are easy to maintain however, it may start to peel or chip over time. Normal heat and stains can't damage the surface of the laminate.
6. Butcher Block or Wood

Wood or butcher block countertops are fairly expensive but also the best option for those who like beautiful warm and rustic kitchen look. It gives your kitchen a warm tone and available in various finishes. Wood countertops are also easy to clean and maintained if properly cared. To make it long lasting, you can sanded and resealed it. There are high chances of cracks and bacteria if not maintained well. The surface of the wood countertop can be scratched and cut by the knife. Properly sealing makes it more durable.
7. Concrete and solid surface
New designs of concrete countertops are the best fit for contemporary Kitchens. They are more warm, shiny, and remarkable as compared to old impersonal slabs of gray concrete. Concrete countertops are durable, heat resistant, and are difficult to scratch. The solid surface countertop is also best for busy kitchens at some point. Basically, a solid surface is a combination of acrylic and resin. There are endless numbers of styles including some great dupes for granite and marble are available as solid countertops. The material is very affordable, homogenous and easy to repair. You can resurface this non porous solid surface counters by yourself with the help of fine-grain sandpaper.
8. Quartzite – Best countertop for kitchen
Quartzite countertops are a little similar to quartz. It is basically a natural stone that forms from sandstone. These types of countertops are beautiful, durable, and heat resistant. Quartzite is less durable than quartz but more durable than marble and limestone. It is easy to clean and maintained over years and also available in multiple colors.
FAQs related Best countertop for kitchen
Q1. Which kitchen countertop is best?
Ans: Granite is the best countertop option for the busy kitchen. It remains to be a top choice among Illinois homeowners because of its natural composition, exquisite looks, and designs that cannot be replicated at all.
Q2. What countertop is most durable?
Ans: Quartz countertop is the most durable kitchen countertop.
Q3. Is quartz better than quartzite?
Ans: Yes, quartz is better than quartzite. Quartz is more durable than quartzite. It is relatively easy to get stains and chips on quartzite material. On the other side, quartz is non-porous, durable, stain and heat-resistant material.
Q4. Which is better marble or quartz?
Ans: Quartz is better than marble. Marble is expensive but easy-to-damage material. Quartz has an edge over marble in terms of durability and style.
Q5. Which countertop material is the most popular and best countertop for kitchens nowadays?
Ans: Granite is the most popular and best countertop material.
Q6. Can you put a hot pan on granite?
Ans: Yes, you can put a hot pan on granite. You don't need to worry about damaging your countertop because granite is quite heat resistant. So, you can place a hot pan on a well-maintained granite countertop. However, repeatedly placing a very hot pan on the same spot may cause granite to discolor.
Q7. What is better than granite countertops?
Ans: Quartz is better and harder than granite countertops.
Q8. Does quartz scratch easier than granite?
Ans: No, quartz does not scratch easier than granite.