Are you planning to renovate your house? Whether it's an entire house or just one room, remodeling is a major undertaking. These projects require both money and time. And if the renovation is not done properly, it can take a huge bite out of your budget and of course from your time also. From an average person who wants to buy a house to the investors who are planning to sell or rent out a property, every remodeling decision can impact the ROI (return on investment) and the whole look of house in the future. There are n number of factors that can affect your house remodeling and if you are looking for the house renovation tips to make your renovation process easier, smoother yet economical.
We are here to guide you. So, here are 14 house renovation tips that will help you to renovate your home smoothly and on budget.
1. Know what you want to achieve
The first thing you have to know before starting the house renovation process is what you want to achieve or what is your end goal in house remodeling. For instance, you want to update your kitchen or bathroom first. The process may seem overwhelming if you don't know your end goal from your home renovation. Just think about it, are you remodeling it because you want to raise the resale value of your house, or you will be staying in your home for years to come? Always try to know which remodeling is a great return on investment because having a specific remodeling plan will guide you to decide how deep to go with your certain home project in your future. Develop a proper plan and set your clear renovation goal. As setting your goal before renovation process will help you to keep on your budget.
2. Set your Renovation Budget
It is crucial to set up the renovation budget as your budgeting will help you to renovate your home economically. Know your proper budget and just stick to it is one of the most important house renovation tips and essential part in remodeling planning. Always include all types of costs in your house renovation budget such as costs of labor, building permits, building materials, and decorative finishes. Go for high quality, super functional and efficient upgrades that are inexpensive and stays in long run. You can start by determining the total cost you want to spend on your project and then finalize your financing according to that. However, remember to reserve your budget at least 10- 15% for unexpected remodeling costs.
You can request cost estimates from multiple local contractors and if your estimates exceed your budget, eliminate small project elements that are at lower priority. After that you can do the lower priority task when you have budget. For instance, you need to give a think about all of your home features, such as kitchen, bedrooms, bathrooms, garage, in house basement office (if have) and new doors or windows. If you want to have a replacement of windows in Illinois but already exceed your finalized budget then it's time to forget about this while for a moment and do their replacement when you have some money.
3. Research and Hire Remodeling Professionals
After doing all the planning and budgeting, it's time to do some research for hiring a qualified remodeling professional. When you hire a good house renovation firm, they will make sure to give the designing jobs to those best-experienced designers who'll sit with you to discuss all the options and select one best option from all over of your options. They will show you all of the available options so that you can find the best as well as the most stylish possible option for your house. In addition, you'll have your choices ready for you so that you don't have to spend time probing what you're looking for. Rather than spending all day looking at home- addition options, you can concentrate on one at a time.
Hire contractors who have a better experience, class in the National Association of the Remodeling Industry (NARI), a good record with the Better Business Bureau, and positive client feedback. You can communicate with your state's consumer protection agency and check your contractor records to make sure the recommended contractor does not have any history of controversies with their previous customers or subcontractors.
4. Check Work permit
Always check your contractor's work permit. To make sure there are no issues lately, you should check with your county or contractor work permit department to determine whether a permit is demanded for your specific design. Unpermitted projects are frequently torn down. Not just that, sometimes the resale value of home may be affected, if you think to sell your home. As building permits are essential to ensure your home remodel meets structural and fire safety related requirements. That's why it is always advisable to think ahead and make sure that the permit process is followed properly.
5. Paint Affects Lighting and Make Small Rooms to Look Bigger
This is one the most important house renovation tips. When you renovate your home you might think to opt for a new paint color. In that case, there are two scenarios first you are on a tight budget and second, budget is not a barrier for you to choose different colors. But always remember to choose white or neutral shade colors to do painting. As these shades make your small rooms look bigger. Painting your home with neutral shades is an inexpensive and beautiful way of achieving your goal. You can use big mirrors in bathroom, living room and in bedroom to make it look bigger if you are already on a budget.
However If you are on a tight budget and don't want to paint your whole house then opt for a black and white palette of painting ceiling. This will give your home a modern yet classic and sophisticated look.
6. Your Main Door Create the First Impression
When the people say that "The first impression is the last impression" it's true for your house too. And the first impression of your home is your main door. Try to change your main door. However if you are on a tight budget and your main door condition is still good then consider repaint your main door. Not just your main door, repaint your all home doors. This is because your doors could also affect the lighting of your room.
If you are dealing with a dark or small room and don't want to change the color of your room whether it's a room walls or ceiling then consider painting your room door with the same color of your room. Painting your door about 50% lighter with the same color of your room will affect lighting. But remember too much of one shade can overpower your space. So tries to use a different variant in shades according to the concentration of light to better optimize the lighting of your home.
7. Plan a Reno-Free or Zero Reno Zone
Before starting any kind of mess related to your house renovation, it's a good tip to plan a renovation-free or zero renovation zone for your family to gather. Make sure you have all your essentials that you need in that one place. Also create a temporary kitchen for yourself and your family. Living without a kitchen for weeks can maximize your inconvenience. So setting up a temporary kitchen away from the remodeling area can minimize inconvenience. Include a refrigerator and microwave and oven in that space so you have one proper functional kitchen to make and eat your meals.
8. Kitchens and Storage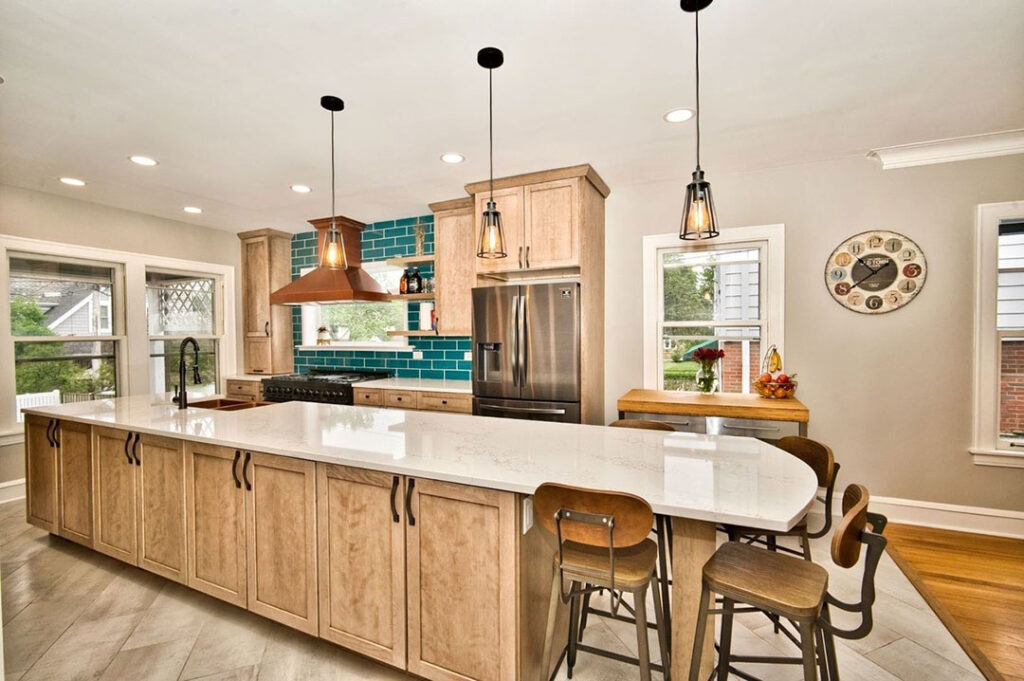 If your main concern of renovating your house is to probably trying to de-clutter and maximize your storage. Then utilizing your kitchen is the best option to maximize capacity. This can help you to minimize your all sort of storage problems. In order to do this on a low budget you can use recycled kitchen cabinets, or take an advantage of local thrift shops in your area. Because no one knows your kitchen space and storage better than you. And using recycled kitchen cabinets will not just only help you to save money but will also ensure you that you are making the exactly thing that you need. However, if you already have kitchen cabinets that are good enough for storage and are in good condition then you do not need to replace it. Just repaint your kitchen cabinets to make your kitchen space look as beautiful as new.
9. Plan For Outages and Don't Change the Position of Sink
If your construction area is lacking plumbing shut-off valves, then consider shut the water off at the main valve. Also, plan ahead and place some water bottles in the fridge for drinking and on the kitchen counter for cooking. Place buckets of water in the toilet area to flush the toilet. Do not change the position of the sink in kitchen and toilet, sink in bathroom. Changing the position can increase the plumbing cost. However, if your new bathroom or kitchen layout requires it to change then use this opportunity to upgrade the pipes. Upgrading the pipe system can save water which will directly save your money in the long run.
10. Bathroom Renovation
You can change many things in your bathroom to make it work for years. Select right high end and durable lights and other bathroom accessories. Don't forget to consider proper ventilation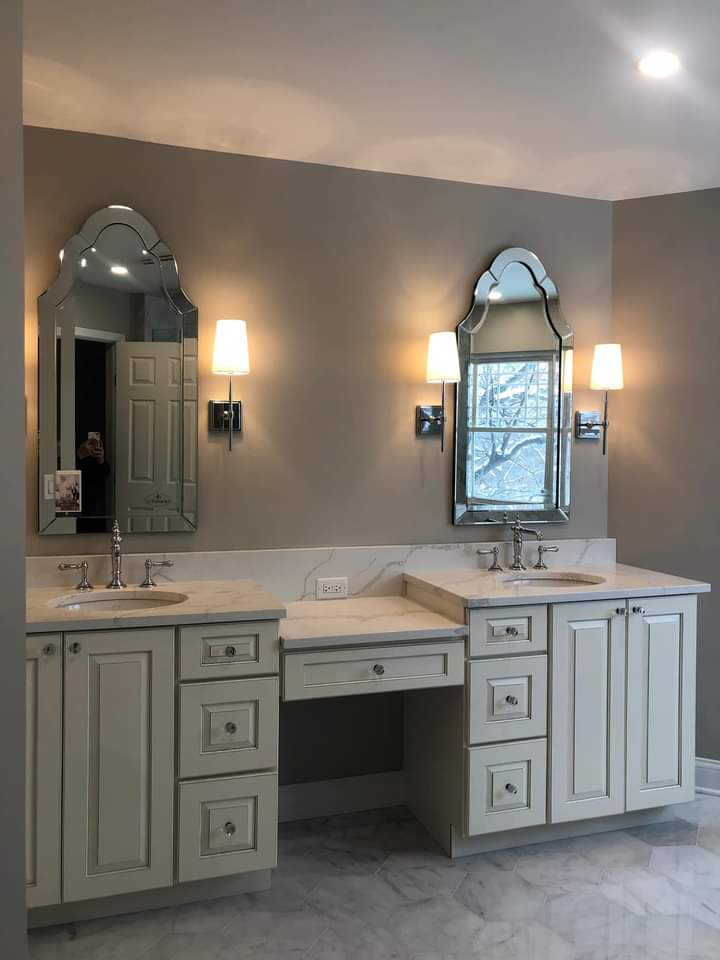 while remodeling to avoid mold and other humid problems. If you are in budget then install new fixtures and smart dual flush toilet to save water. Add double vanity to avoid morning rush and install heated towel rail. If you don't want to install any new fixture then you can end up by fixing your existing toilet and other fixtures of bathroom such as pressure of shower, installing new hardware etc. Also, don't forget to change the paint of bathroom and vanity to give it a fresh new look.
11. Select Right Flooring
If you are on tight budget then renovating floor might seem expensive. In that case you should invest in renovating anything else according to your floor design. On the other hand, if you are on budget then choose right flooring options such as natural stone, ceramic tiles or hardwood. Try to purchase extra quantity of flooring to make your process hassle-free.
12. Check the Weather
If you want to complete your remodeling on time. It is important to check the weather forecast before starting your job. Even if you plan remodeling in spring or summer, don't believe to do renovation in having gorgeous weather. Check both long and short-term forecasts before beginning to make your process smooth. Schedule jobs that require outside access, like spray painting or wood cutting before ensuring about forecast.
13. Do Not Purchase Furniture Too Early
Try to wait to purchase your perfect appliances, furniture, flooring and other home decor materials until before your home renovation plans are finalized. Otherwise, you risk buying the wrong quantities of materials or ordering appliances that won't fit later. This is an important house renovation tips. Don't forget to re-doing your carpeting or flooring in the month of November or December. This is because many home improvement companies offer attractive deals before the holidays.
14. Avoid DIY
DIY renovations can save your money when it comes to some specific or particular projects such as doing small painting and installations. But doing all things by yourself can later become disaster and will break your bank to correct it. To avoid DIY disaster, it is important to hire professionals. Home finishes and appliances are not the only things that affect your home resale value. Because these are essentially the only factors that sellers can control. But construction choices are also the most important factor that can make or break your deal.
Conclusion
Whether you are looking for the house renovation tips to remodel your whole house, or you just want to remodel one room of your house such as kitchen, bathroom etc. Stone Cabinet Works are ready to help you to best in different renovation ideas and designs. With the help of above mentioned house renovation tips, you are on your way to a successful house remodel in no time! To make your renovation process even more smooth and easier, it is recommended to hire professional remodeler. Contact us for FREE consultation today!