Bored with your old kitchen cabinetry and that age-old kitchen countertop? Want to change your kitchen layout to organize your kitchen better than before? If yes, then stone cabinet works is here to help you with their specialized team!! Stone Cabinet Works is the leading kitchen remodeling company in Naperville, IL. Our experienced team does everything possible to make your Naperville kitchen remodeling experience enjoyable. Stone Cabinet Works is the best kitchen remodeling contractor in Naperville, IL as well as in the nearby areas of Illinois.
A kitchen is a place that captures the hearts of buyers. That's why it is one of the most important room to renovate. For those who want to increase their return on investment value or want to change the look of your kitchen to match with your lifestyle that you'll love then, it's the best time to renovate. Contact Stone Cabinet Works today! We help you to choose the right kitchen design to best achieve your vision. Stone Cabinet Works experienced kitchen remodeling contractors make your dreams into reality.

Our Naperville Kitchen Design Process Delivers Your Dream Remodel
Our Kitchen Design Process starts with an appointment at our showroom in Gurnee. You can see the latest products as well as cabinet types in our showroom. We will take the time to discuss what you want, to help you to start your Naperville dream kitchen remodel! It is really important for us to truly get to know what your needs are and what you want. Our goal is to design your kitchen space that matches your lifestyle as closely with what you envisioned.
This Is How Our Design Process Works for Kitchen Remodeling in Naperville, IL
First, schedule an appointment to visit our showroom. After that view our cabinet styles and product lines that are available. We have the most up-to-date features and finishes.
We suggest you to take pictures of the cabinets as well as cabinet style that you like. Please note down your cabinet's width, height, depth. It will help us in the design process.
Next, select the right countertop material and appliances that you want to have incorporated into the design layout.
Once we get the measurements of your cabinets, we start making an estimate and 3D design without adding any additional cost surprises.
After approving and finalizing the 3d design and other processes, we look forward to scheduling the delivery of cabinets, countertop, hardware, and appliances, etc.
Once all the schedule and payment is done, our expert team of installer installs your new cabinets and countertop in your kitchen.
Starting from initial consultation to the design, we will complete your project and create a stunning kitchen space that you dreamed of!
Check our Project gallery page to take a look at our recent kitchen projects that we completed.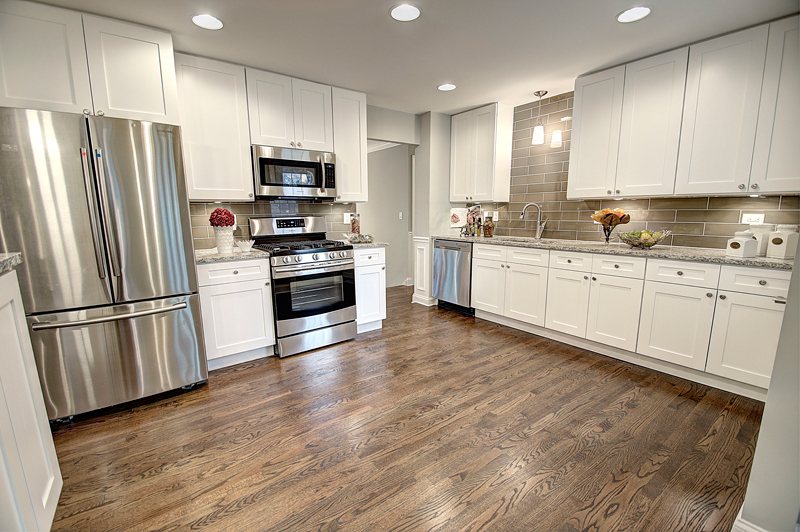 Our Other Remodeling Services Include
1. Bathroom Remodeling
We also provide bathroom remodeling services in Naperville and nearby areas in Illinois. Stone Cabinet Works helped many homeowners in Illinois with bathroom remodeling. From new vanity to a natural stone countertop, we can install all these things to make your bathroom look stunning and relaxing.
2. Basement remodeling
Wondering how to get more space in your existing area of Naperville home? By remodeling your unutilized basement area, we can transform your unused basement area into a new productive room. Basement remodeling can also increase your return on investment value.
You can remodel your basement into new:
1. Exercise Room or Gym
2. Extra Bedroom
3. Entertainment Room / Home Theatre
4. Kids Playroom
5. Home Office
6. Lounge
3. Office Remodeling
Every office has their specialized areas that require a distinct design which is right from the layout for a stress-free working environment. Planning your office renovation is the best step to ensure your employees' productivity. Yes, you read it right!! A properly renovated office can increases the productivity of your employees. Contact us to get your office work done!!
Whether it's a kitchen, bathroom, office, or basement, we carefully planned everything from 3D design to installation to make it a perfect fit for you and your loved ones.
Pros of Choosing Best Kitchen Remodeling Company in Naperville, IL
Affordable Prices.
Experienced and certified team of professional designers and installers.
No false promises.
Free consultation.
On-time completion.
100% customer satisfaction.
Contact Best Kitchen Remodeling contractors in Naperville, IL to Start your Dream Kitchen Design Today
Call us: (847)453-9884 to get started with your own kitchen design consultation today! This is the beginning of your dream kitchen design process that evolves your input and the designer's expertise until the design goes right for you. Be sure to take a look through our numerous completed kitchen projects. This will help you to take inspiration as well as ideas from our traditional look kitchens to a modern look with new styling ideas.