The sink and the faucet are some of the most used areas in the kitchen. From cooking to cleaning and sanitizing, the faucet is the tool that you used the most. That is why choosing the right faucet for your kitchen is very necessary. But choosing an elegant faucet can be tricky as it comes in many styles, finishes, and materials.  Selecting the right one will help you enhance your kitchen's functionality as well as change the look of your sink space. However, if you are also looking for a perfect faucet for your kitchen, having some information on hand will help you to make a smart decision. To choose an ideal Faucet here are the seven things you should consider.
Mounting Styles
There are many different kitchen faucets and sink designs. The thumb rule of installing a faucet is that the Holes in the faucet should be aligned with the holes in your sink. So, before installing a new faucet for your kitchen, you should know what kind of mounting style will be suitable. There are basically two types of faucets based on mounting styles – deck mounting and wall mounting.
Deck Mounting
Deck mounting is the most commonly used style in kitchens and is easy to install and maintain.  Deck-mounted faucets can be installed in two ways. Some of them are installed on the deck of the sink's rim while other faucets are directly installed on the countertop behind the sink. Faucets that are fixed on the sink's rim are also called sink-mounted faucets.
Pros:
Easy to install
Deck Mounted Faucets are more versatile than other types of faucets which make their maintenance much easier.
Can be used with multiple layouts.
Cons:
Takes more countertops space.
Not ideal for kitchens with narrow countertops.
Hard to clean and dry.
Wall Mounting
As the name suggests, wall mount faucets are installed vertically on the backsplash of the kitchen. Wall-mount faucets add style to your kitchen while making some countertop space as well.
Pros:
They are easy to clean since there's no other hardware obstruction.
Saves space behind the countertop.
Cons:
Harder to install since wires are embedded in the walls.
Maintenance or repair is difficult because wires are installed in the walls.
If you need a sprayer too then you may have to install it on the deck.  However, some wall-mount faucets come with a vertical sprayer but having the hose dangling at the backsplash doesn't give the ideal look.
Faucet Height and Reach
The second thing you can consider while choosing a Kitchen Faucet is its height and reach. Faucets come in height and reach variants.  You should choose a faucet with a perfect combination of height and reach. For Instance, for a kitchen with large cabinets over the sink, you should make sure that the height of the faucet doesn't make the space looks overcrowded.  However, if you have a larger and deeper sink then you might need taller faucets to clean. For small sinks, go with faucets with a low height.
Before picking a new Faucet, you should know that what kind of look and functionality you want from your sink. Facing the difficulty to fit the large pans or pots under a low spout is a most common problem. In order to get it right, you should know about your faucet arc. If you need more workspace over your sink, the faucets with high arc will give you approx. 8-10 inches space above your sink plane. Otherwise, a low arc faucet can also serve the purpose. Remember not to install your faucet too high as it may result in splashing and may make a mess outside your sink.
Handle Type
Faucets come with either one or two handles. Single-handled Faucets are simple to use and allow you to get the desired temperature very quickly. In a single-handled faucet, you can control the flow of water using up and down motion and temperature with side to side motion. While in a doubled-handled faucet, one handle is used to control the flow, and the other is to control temperature. However, there is also a hands-free option. Hands-free faucets are activated with the help of a sensor. The main advantage of these faucets is that they shut off automatically to conserve water. But these faucets also contain a handle to control flow and temperature. Also, hands-free faucets require a battery change from time to time for the sensor to work properly. Whether you choose single-handled, double-handled, or a hands-free faucet, keep in mind which one will be more convenient.

Material and Finishes
Faucet finish is one of the important considerations while choosing a faucet. You don't want your kitchen faucet to look awkward due to its finish.  Some of the standard finishes are chrome, matte black, stainless steel, bronze, nickel, brushed nickel, brass, etc.  It is common to have different Color shades from brand to brand.  One good idea is to choose the finish color that matches your Kitchen Cabinets and  Accessories & Hardware.
Sprayer
One feature that every modern faucet has is the sprayer function. Installing a sprayer allows you to direct and reach the flow of water in every corner of the sink.  A sprayer helps you to wash away the grime easily from the sink corners. There are different kinds of sprayers you can choose from:
Pull-Down Sprayers
Pull-down sprayers often come with high-arc faucets.  These faucets have a sprayer hose that extends towards the sink from the main faucet body. With pull-down sprayers, you can directly spray the water onto your dishes in the sink.

Pull-Out Sprayers
A pull-out sprayer is mainly used to wash a large number of plates. It is easier to use than other faucets. The pull-out sprayer has a shorter spout than a pull-down sprayer. But the hose of the pull-out sprayer is much longer which is why it is easy to spray in different directions. If you have two side-by-side sinks in the kitchen, the pull-out sprayer is the best.

Side- Sprayer
In this kind of faucet, there is a separate spout installed on the sink or countertop for accessing the sprayer function. It gives you more control over the angle.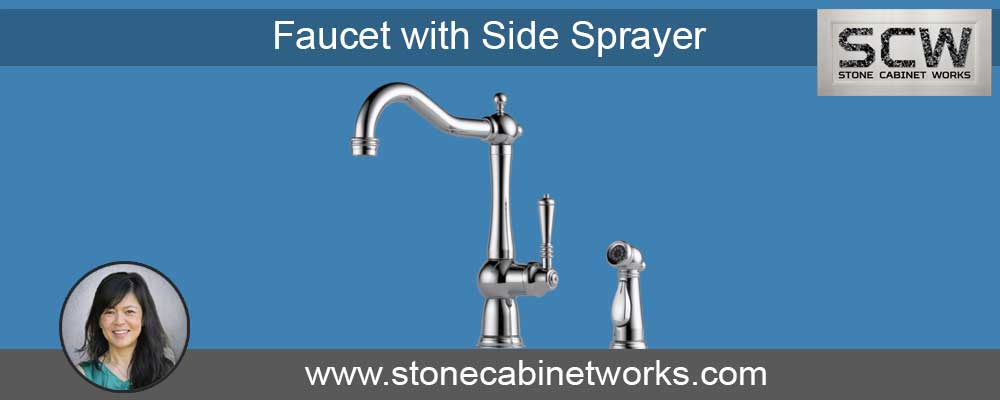 So, when choosing an ideal faucet, select the sprayer that suites your kitchen functionality.
Role of Hole
Yes, before buying a faucet, you should first take a look at your sink to check how many pre-drilled faucet holes are available.  If your existing faucet has mounting plates then look under the sink to know how many holes it has. Faucets can have one to four holes, Out of which three holes are usually used for spout and handles and the fourth one is for the sprayer. Let's understand with an example if your existing sink has 2 holes and your new faucet has 3 holes in it then you have to drill one more or there may be another case that your old faucet had a side sprayer while your new one has a pull-down sprayer. Then the hole for the side sprayer is now empty and needs to be covered though many faucets come with deck plates or pieces to cover holes. But, it's a good idea to check the packaging of the new faucet to determine the no. of holes it has.
Faucet Style
The faucet is considered the centerpiece of the kitchen. So, before going to shop for a faucet, take a few minutes to look around your kitchen and analyze its style. It may be sleek, traditional, modern, or farmhouse style.  Choose the faucet that matches your kitchen aesthetic.
Ceramic Valves
If you don't want a dripping faucet, it's a good idea to choose one that has ceramic valves. Experts suggest that ceramic valves are long-lasting than other types. If we talk about the cost, ceramic valves cost the same as other types of valves.
Conclusion
Yes, it's true that having an elegant faucet increases the kitchen aesthetics.   But choosing a faucet based on its appearance can be a big mistake. While buying a faucet you should always look for mounting style, color, finish, no. of holes, handles Arc, etc in your faucet.   You should always choose the faucet that provides you both looks and convenience.