Are you fed up with your old worn-out and not so spacious cabinetry and that age-old countertop? Do you wish to include a walk-in pantry for more storage and organize your kitchen for the better? If yes, then don't you worry because at Stone Cabinets Works, our experienced Chicago Kitchen Renovation Contractors and designers team works closely with your kitchen to create a stunning as well as functional kitchen space for you. Our skilled and dedicated team of designers and builders, build you a kitchen that makes you want to cook and to show off to your friends. We are here to turn your vision about the kitchen into reality. We provide complete kitchen renovation from design to completion within a budget.
Our main focus is on quality craftsmanship, premium materials, and complete client satisfaction. We always work closely with our clients to ensure their total satisfaction. Stone Cabinet Works will ensure that your goals are met on time and within budget.
Trusted Kitchen Renovation Contractors in Chicago, IL
Whether you seek kitchen, basement remodeling, or bathroom renovation, we provide the best level of customer service that matches our craftsmanship. Stone Cabinet Works is your trusted, reliable kitchen renovation company. Our commercial, as well as residential Kitchen renovation contractors in Chicago have been serving the Illinois region for a long time. Contact us: (847) 453-9884 and schedule your free estimate today!
Stone Cabinet's team not just makes your kitchen look fabulous but also helps to turn your drab bathroom into a stunning oasis of relaxation. Yes, you read it right!! We also provide bathroom remodeling services in Chicago and nearby areas of Illinois. Lets your kitchen and bath stress melts away by hiring our professionals to renovate your outdated and boring space.
After the bathroom, kitchen is the most used room in the house. But that doesn't mean it also can't be attractive. Stone Cabinet's professionals can take a cramped kitchen and create the beautiful space that you dreamed of. Even the simplest Kitchen space can be transformed into a gracious space that is a pleasure to use. You can customize your design and other processes to fit your project needs.
From a refurbishment to new construction and full remodels, our team can help to create a kitchen space that is efficient, functional, and of course a reflection of your taste. Our services are personalized to fit your project needs. So what are you waiting for?? Contact us today to get your perfect kitchen space that includes more storage, new cabinets, countertop, and more!!

Why Do You Need A Kitchen Renovation?
There are a lot of reasons to tell you why a kitchen renovation is necessary. Since the kitchen plays a very crucial role in a house, the most environment-friendly and convenient kitchen designs can add value to both the cooking and bonding experience in the kitchen. Your new kitchen design can give you a chance to discover new things.
When your kitchen space doesn't look good and doesn't serve its purpose well, the impact is felt. So, here are some reasons for you to keep in mind when you want to know the right time to renovate your kitchen area.
1. Inconvenient kitchen layout and insufficient space
Remodel your kitchen to update its inconvenient kitchen design and enhance your storage and preparation space. However kitchen cabinets are also a part of the necessary components of a kitchen, moreover, cabinets have a big impact on a kitchen looking extremely dated. Stone Cabinet Works team creates a last long and maximized kitchen design that will surely work better for your daily kitchen needs.
2. Save Water and Energy Consumption with the Help of Chicago Kitchen Renovation Contractors
A kitchen remodel is worth it, not because of the pleasing ambiance, but also for the water and energy savings. You can definitely trust our reliable kitchen professionals for kitchen appliance installation. We will guarantee you the kitchen advantage of being energy efficient.
3. Increase Return on Investment Value
A beautifully organized kitchen can also be your best house's selling point if you're wishing to sell your house in the future. A properly renovated kitchen allows you to create a gleaming new space to sell more quickly and at a nice cost or a nice return on investment value. Our team of professional kitchen contractors in stone cabinet works helps you to improve the quality of your kitchen while adding value to it for future selling.
On one hand, our kitchen renovation service allows you to upgrade your design layout that fits your personal style and needs while on the other hand, our expert Chicago kitchen renovation contractors help you achieve your dream kitchen.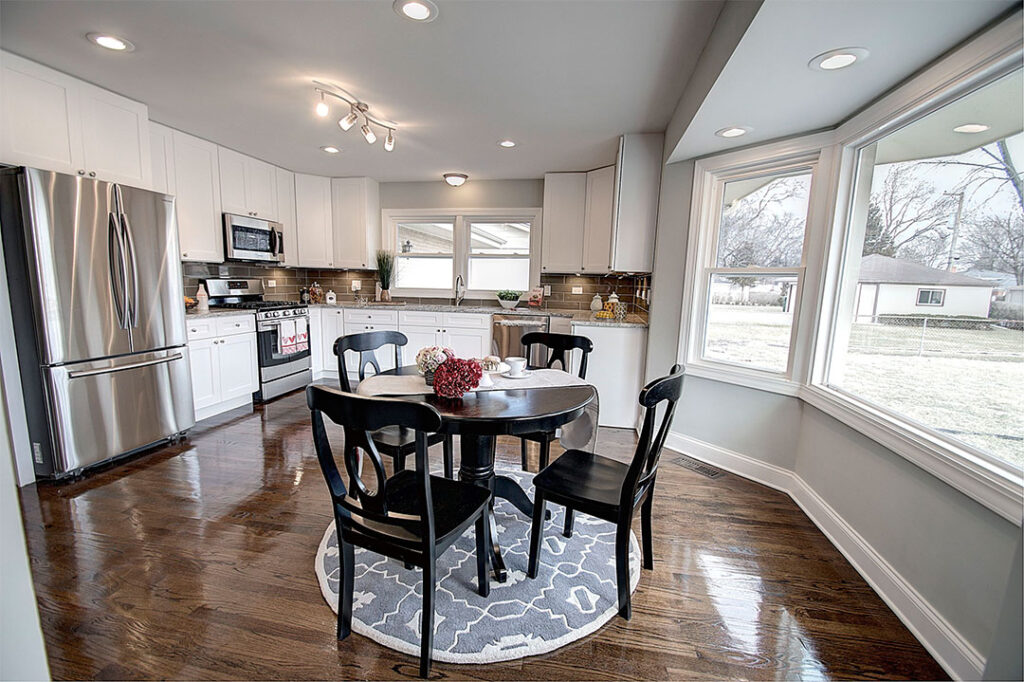 Advantages Of Choosing Best kitchen Renovation Contractors in Chicago
Here's are some of the pros that why our clients choose us
No Pricing Games, No surprise Costs
100% Quality Work
Exceptional Customer Experience
Design and Construction Integrated
Certified Interior Design Staff
Renovate Your Kitchen at an Affordable Price
Stone Cabinet Works renovate kitchens in the Chicago area and its surrounding in Illinois. Whatever your reason is for renovating your kitchen, we are always ready to help you whether in discussing ideas or options for the kitchen that you've always dreamed to have in your space. Our professionals help you to renovate your kitchen at an affordable price.
Contact us to get your Free estimate today!!