Whether you're buying or selling a home, it's an investment in your financial future. That's why it is crucial to properly take care of your home. Making smart improvements and keeping up with repairs are both proven ways to raise your home value over time. Your home may look different in 2022 than it looks a couple of years ago. This is because homes are at the center of re-evaluation and massive change. For example, home offices and outdoor spaces are extremely new coveted features that nowadays buyers love to have in their new home because of pandemic and lockdown issues. So, if you want to increase your home value or want to get the most out of it at the time of selling, then do some improvements to update your home.
Not just costly renovation or major improvement will deliver you the best resale value. Sometimes minor improvement will work the best to deliver you a better return on investment value. So, if you're making mind to sell your home but still wondering "how to increase your home value" then you're at right place. Just follow these simple ways to increase your home value as well as get a great return on investment value.
1. Add Energy-Efficient Home Features
Adding energy-efficient features in the home is a contributing factor in increasing home value. Consider upgrading your attic insulation. Add energy-efficient appliances and lighting features like double paneled LED lights, dishwasher, microwave, furnace, etc. Upgrade your heating and cooling systems.
Consider replacing your old toilet with low-flow fixtures. If you want to go for something big, then consider putting solar panels on the roofs. All these home additions can save your electricity, gas, and water cost. However, the US government's minimum energy-efficient standards for new home features depend upon which area of the country you're living in. For that reason, your return on investment value may impact based on your area or region which are extremely cold or hot. That's why it is essential to check your region's energy efficiency standards before purchasing any home feature.
2. Upgrade Your Kitchen to Increase your home value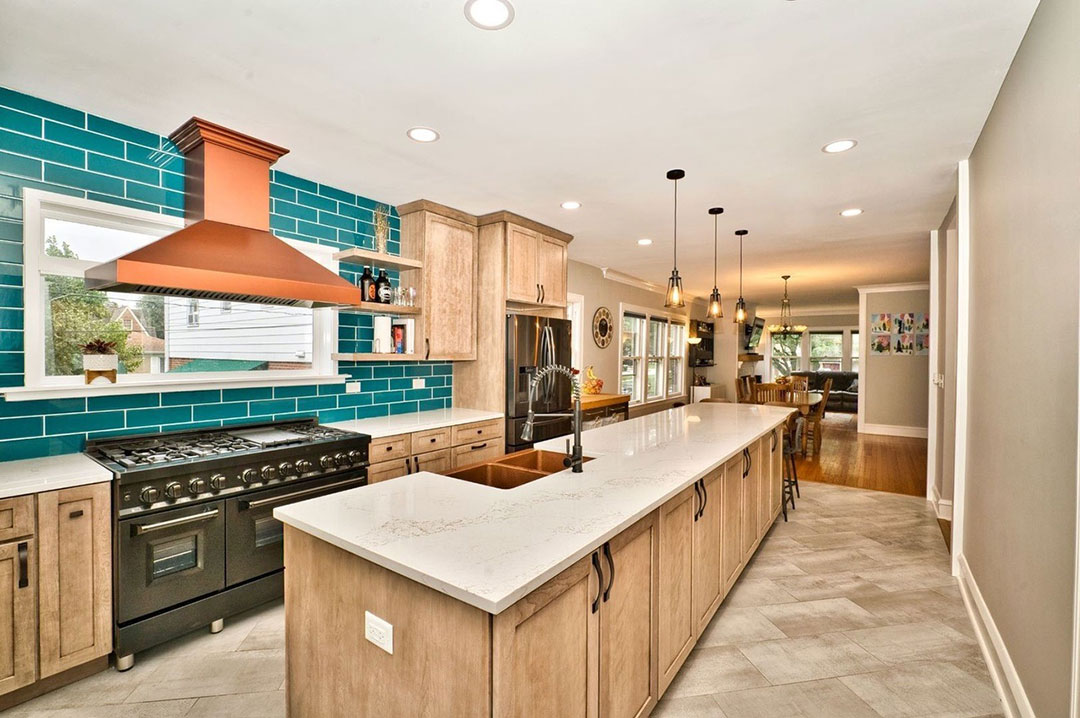 Nobody loves an outdated and cramped kitchen. That's why it's important to modernize or upgrade your kitchen. Did you know?? Your kitchen space is the first space that your potential buyers and guests love to view first rather than others. It can make or break your deal. The kitchen is also the second room that suffers most damage after the bathroom. But fortunately, even the small upgrades in the kitchen can make a big difference. It will also benefits you to not waste more money on a full project. However, it's all depends upon your current kitchen condition.
You can change your kitchen look by installing a granite countertop. Consider repainting your walls, cabinets and changing their hardware. Replace your old appliances with new energy-efficient appliances. Replace your old tap with an auto-heated tap. Update your backsplash and add new organizers to organize your kitchen better and make it easy to declutter. By upgrading these few flooring and other fixtures deliver you around 60-70% of ROI value on average.
3. Modernize your bathroom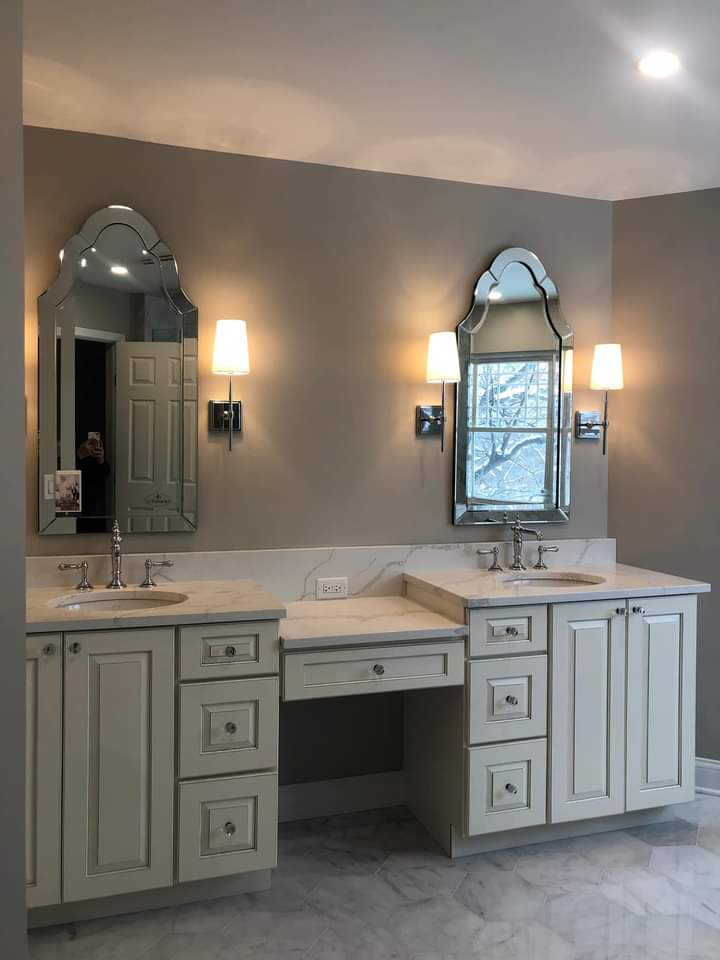 Having an attractive, clean bathroom and kitchen will go in the long run. Whether you want to impress the potential buyer or want to increase your return on investment value it does both jobs for you. The bathroom is the most important room at the time of selling. It is also known for cost-effective upgrade because at the time of selling, you will recover most of your bathroom renovation cost.
To update your bath space, remove your old and outdated bath wallpaper and replace it with a new modern one. You can also consider painting your bathroom walls with neutral colors. If you want the spectacular spa-like look, go for tile or marble, quartz, or wood paneling. Using stone tiles on walls will create a beautiful attractive look. Replace or upgrade your bathroom vanity.
You can also swap out your hardware fixtures on vanity drawers and closet. This will give your space little improvement. Don't forget to upgrade your old light fixtures with new LED ones. Go for LED light sconces and Small LED lights on the ceiling. To make it a high-end, use a water sense faucet and showerhead. The bathroom is the only room that suffers the most damage because of frequent use. You don't need to fully renovate your bathroom if you just want to refresh the look. However, renovating your full bathroom has several benefits. An outdated bath space can prevent your property from reaching its higher value.
4. Touch-up your landscaping
Creating wonderful outdoor landscaping will spruce up your home's curb appeal. It gives your home a more attractive look. Before taking inside look of your home, the first thing a potential buyer sees is your outdoor landscaping. If your grass and brushes are left untrimmed or your plants look like dead mini-forest, the buyer's desire to buy your home will impact. Not only it will impact your potential buyer's desire but also decrease the resale value of your home.
So, before doing anything inside, consider changing your home's outside look. The sophisticated design of your landscape will give your buyer the first impression and improve home value. So, it's time to trim all the grass and brushes to make it worth for the home value.
Try to plant bright-colored flower plants to make your space more inviting. Planting bright-colored flower plants not only catch the buyer's eye from the road but are also easy to maintain. So you won't worry about other things rather than watering your flower plants to make it greener.
If you don't like planting flower plants then consider planting other plants you like, if you feel your yard seems dull in comparison to your neighbor. Trimming your grass and brushes, of course take more time and effort however you can hire a professional landscaper for that. But doing it all on your own helps you to save some money and is the most affordable way to improve your resale value. Always check your yard before inviting any buyer to make sure your landscape is well-maintained to give the buyer best impression.
5. Increase your finished square footage
Adding usable square footage in your home will help you to increase the space as well as home value. You can add an extra bedroom or living room to make your home look bigger, as bigger homes tend to sell quickly with more money. So, adding valuable and usable square footage can add great value to your home. You can also renovate your basement but make sure the room you add to increase the home value is worth it to you and your budget.
You can build a new home office in the basement.
Nowadays home offices become the top propriety to most of the buyers due to covid-19 situation. These home features give you a higher percentage of buyers. You can convert your backyard or walk-in closet to a functional office if you don't want to build an office in the basement. If you want to change the look of your old basement, then it will be more beneficial for you. You can convert it into a home gym, bar, home theatre, kids playroom, second living room or kitchen area, etc.
6. Cover-up rough spots with a fresh coat of paint
Adding a fresh coat of paint on both exterior and interior is another best and most affordable way to increase home value after landscaping. Many surveys and recent studies found that painting both interior and exterior of a home can return 90 to 120% of return on investment value on average. This is because the freshly painted property is more appealing to the buyers which make a huge difference in resale value later.
Think to yourself:
If you want to buy a home for your family, and you see the exterior that seriously needs some repair. I'm sure you don't want to buy that home. Similar goes for your buyers, if your home's inside view is so luxurious but outside, it seems creepy or like a haunted place, then buyers don't even show interest to view your property from inside. This will also decrease the value of your home. So, it's time to cover up those rough spots with a fresh coat of paint and create a curb appeal. A fresh layer of paint not only helps your home to appear more updated and clean but also increases its value.
Use neutral colors to paint indoors which can later help new buyers to match their furniture and appliances. Consider using high-quality paint to get more buyers and to improve your home value. Use bold color for the railings, window frames, trim, and other accents to give the exterior a fresh and new look. To make a great first impression, consider painting your front gate.
Upgrading your interior paint is also a low-cost way to upgrade, modernize and increase the value of your home. The outdated and peeling paint of your rooms may break the deal. If you don't want to paint all the rooms, then consider painting the kitchen and bathroom only.
7. Add technology to increase your home value
Buyers in Illinois are getting more interested in buying a new house that comes with new and smart gadgets. Adding technology to your home not only increase your home value but also make it smarter than before. Many buyers preferred to have homes that have preinstalled smart home products. Installing safety-enhancing gadgets like a security camera, fire detector, thermostat, door locks, and smart lighting system is the smart way to upgrade your home. While increasing your home value and making it smart, it also adds appeal to it.
Searching for the best remodeler to Increase Your Home Value?
If you're searching for the best remodeler to renovate your home, then look nowhere else further than Stone Cabinet Works. Our experienced team of designers and installers will do their best work to increase your home value. Whether you want to renovate the bathroom, kitchen, basement, or simply want to add organizers or other accessories to organize your home better, we do all the jobs. So what are you waiting for? Contact us for a free consultation today!