Need more space within the home? Renovating the basement can be greatly helpful. Having an elegantly remodeled basement not only increases the livable space but will also add functionality and significant value to your home. You can use your basement for multiple purposes; maybe you want to set up a home gym or a room with a home theatre or an extra living room or bedroom. Putting a bit of effort and money can turn your unfinished basement into a stylish livable space. Whether you are doing it yourself or hiring basement remodeling professionals, it's better to make a good strategy first for your project. Here's our in-depth guide that will walk you through the basics of basement refinish and will help you to plan out your remodel and budget.
Ideas for Basement Renovation
Before proceeding to guide, here are some options you can consider for your basement remodeling. You may need to:

If you are looking for a workout space within the home, make it in the basement is worth considering. You can carve out space as you want. Adding a gym can save your time and money. However, you have to spend one-time money to buy equipment.
If your Friends & Family often visit you often, adding a bar is a good way to show off. Along with the bar putting a counter with cabinets, a built-in fridge, and bar stools will create a more specific ambience to socialize and entertain your guests. Whatever your decision will be, adding a personal bar can be a great upgrade to your home.
Add a second living room:
Basement Remodeling is a perfect opportunity to get a second living room. Having another place for relaxing not only adds value to your home but is also a fantastic space for a family get-together. You can use it to watch movies and parties with friends and family.
Basement redesign doesn't mean adding cool stuff only for adults- You can turn it into a fun place for your little ones. Whether your little ones want to play with toys or love to dress up, adding a creative space with their favorite paint will be a great way to make them delighted at home. Keep in mind to add easy to clean flooring and paint on surfaces.
Have a teen tired of sharing a bedroom with the younger sibling? Now is the time to give your older kid some space, privacy, and comfort. Putting a bedroom can give your family extra livable space. Make sure to add emergency exits as per construction guidelines.
Step-by-Step Guide for Basement Remodeling
Step – 1 Perform a Moisture Test
Often, remodeling projects start with a layout plan but things are different in the case of basement remodeling. Basements are the hotspots for dampness or moisture, if don't test out early, it may ruin your all hard work. Dampness can be caused by water leaks, poorly insulated walls, cracks in walls, etc. Eliminating it should be your top priority. You can conduct a moisture test using various methods includes a relative humidity test, chloride test, etc. If the test results in high humidity levels or moisture in your basement, it's better to take the help of professionals to get rid of it before moving forward. Trapped moisture can lead to mold growth and even wrap your future basement floor.
Step – 2 Define the Scope and plan
There's a saying that "Failing to plan is planning to fail" Creating a plan is the first step towards success in every project. In the planning phase, you will determine that what you want to accomplish from your basement whether you need walls, or flooring, or starting from scratch. Your needs will establish the scope of your project. For example, if you are planning to sell your home and want to increase the value of your home, you may prefer an open design so that Future buyers can modify it according to their needs. But if you are planning to stay in your house for a lifetime, you will develop your basement as you desire. So, spend some time to think what you actually want to achieve from your project.
Step – 3 Local Structure Guidelines and Requirements
Before you dive into the renovation guide, you should know that you need to have a construction permit to ensure that your building satisfies the local renovation guidelines. Take some time to research local codes and requirements for basement renovation then apply for a permit. Make sure you have emergency fire exits and the height of ceilings required as per govt. rules. Violating the guidelines may result in a heavy fine.
Step – 4 Clear the Space
Now, you've dealt with moisture and have made a remodeling plan too. The next step is to make the space suitable for remodeling. In order to do that, you have to move out all the stuff that's occupying the basement's space. This Stuff includes garbage, boxes, old items, furniture, etc. Cleaning space ahead of time will also help remodeling professionals to analyze your space better and give you better advice and accurate estimates.
Step – 5 Hire a Remodeling Contractor
Yes, it's true that you may save money by DIYing your remodeling. But if you think about long-term benefits it's not beneficial to do it on your own. DIY increases the risk of improper installation which may lead to more cost and frustration. Hiring a Skilled and experienced remodeling team will help you to overcome all of the technical obstacles you may face during remodeling. However, If you reside in Gurnee, Grayslake, or Libertyville, you can stop by Stone Cabinet Works or Contact us to get your dream remodeling project. Whether you want Flooring, ceiling, Countertops, Cabinets, etc for your basement, our team will help you accomplish your remodeling goals.
Step – 6 Insulation of space
Till now you have created a plan, clear out space, and hire the best remodeling professionals. It's Time to initiate your active renovation process by insulating the basement walls. Insulating your basement allows you to maintain the temperature by keeping the place warm in the winter and cool in summer by retaining the cold air. Insulation methods include three options spray foam, fiberglass insulation, and foam board. Out of them, spray foam is considered the most effective.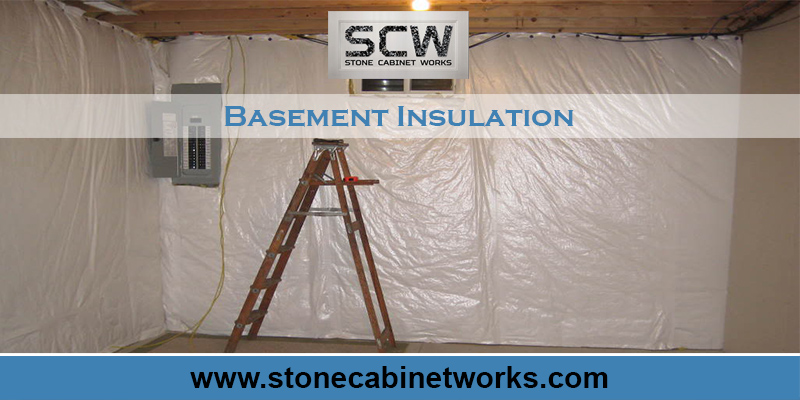 Step – 7 Framing, Electrical, and Plumbing
Before proceeding with framing take some time to think and figure out if you need any plumbing or electrical requirement to be added. Take the help of a professional plumber or electrician to fulfill your requirements because it may be difficult to do plumbing and electrical work once your walls are built. Now proceed with the Framing part. Do the Framing if you are planning to add two rooms or adding a divider to separate the sections in your basement. After framing, you can hang up your drywalls with the help of professionals you have hired. Framing gives a clear vision of how to layout your electrical wiring within the walls.
Step – 8 Painting your walls
Now it's time to paint up your walls or basement. Some people do flooring first while others save that for later. Having paint before flooring has one big advantage, no matter what you spill on the floor during the paint, stains will be cleaned automatically during Flooring. Use a waterproof primer to keep your walls clean and safe from moisture. If you're planning to turn your basement into a playing room or family-friendly space, you need to use washable paint. This makes it easy for you to remove grime, crayon marks, or other stains that kids often put on wall surfaces.
Step – 9 Choose Good Flooring Style
Flooring is the phase that sets up the entire tone of your basement. Choosing a flooring style can be a difficult choice or you can also take free consultation regarding basement remodeling with Stone Cabinet Works. We have a large number of flooring styles. However; you should avoid wood flooring as it is more likely to be affected by mold and moisture. Also, wood flooring can't keep itself over time. But if you still want wooden surfacing, you can install laminate or vinyl flooring. Other than this, you can use Ceramic tiles as they come in multiple colors and is unaffected by moisture. Whatever flooring you choose, keep in mind that it should be water-resistant and durable.
Step – 10 Install a Ceiling
A Space always looks unfinished without a graceful ceiling. The key factor to look upon during the ceiling phase is the height of the ceiling. Keep the height that it won't make space look lower or smaller. For a basement, you can either go for a drywall ceiling installation or Drop ceiling tiles. Drop ceiling tiles work well in basements as they can be easily installed and removed to access Plumbing and electrical sections if needed.
Step – 11 Add Final Touches and conduct an inspection
This phase includes the small tasks that will give your basement a complete look. After the Walls, flooring, and ceilings, you should go for custom cabinet installation, countertops installation, organizers, and hardware installations.
After all this hard work, now it's time to inspect your remodeled basement. Check if your basement meets all the requirements mentioned in the local construction codes. If yes, enjoy your newly remodeled basement. If there's still a thing or two to do, make it finish as soon as possible.
Tips for Basement Renovation
Remember to build a storage space:
Remember in step-4, you moved out your old stuff to make a suitable space for remodeling. Don't forget to add storage space to put those items or future stuff in a particular space. You can add a closet or build a separate storage room. Other than this, storage space can also be used to put your garden equipment, out-of-season clothes, decoration stuff, etc.
Having structural integrity is very crucial for a successful remodeling. Check out your foundation walls and floors for any cracks. If present, make sure to clear them out first. You can do this with the help of professionals or using a carbon fiber solution.
Don't Proceed Until Your Space is Dampness free:
It's possible that you may not have found any cracks or leaks but still suffer from moisture problems. In this case, you shouldn't proceed further with your remodeling process. It's better to take care of your moisture problems first or it will ruin your work. You can test moisture presence by taping a plastic sheet on your concrete basement wall and leave it for 24 hours. If you found condensation inside the plastic sheet, you may still have humidity problems.
A basement is the section of the home where you get only limited or no natural light as there are small or no windows are present at all. So, it's necessary to have ample lighting such as lamps, neon bulbs, canned lights, etc. to make your space look like a part of your house, not just a basement.
The staircase is the first thing guests often notice walking down the basement. Add some creativity by installing carpets or making stairs that match your basement flooring style. You can also make customized handrails or add glass panels on the sides.
FAQ's
Q1. What will happen if the basement humidity levels are high?
Ans: High humidity levels can increase the risks of mold which results in less durable walls and the poor basement looks. It's good if humidity levels are below 50%. But if its more than 80% then you may have to make the following changes:
Check if you have a leak somewhere in the basement
Install a dehumidifier: Dehumidifier sucks up all the moisture present in the basement and helps in maintaining temperature.
Avoid Using Carpets, Instead, use Water-resistant Flooring.
Maintain Air circulation within the basement
Q2. What is the relative Humidity Test?
Ans: This test is often performed by the professional to measure the humidity levels. To perform this test, the concrete wall of your basement is drilled and checked via a meter. Basically, it is the measurement of the presence of water vapor within a concrete. This test gives accurate information about humidity levels within the basement. If you find any cracks or leaks, you need to repair them before proceeding with the renovation.
Q3. Where do you Provide Service?
Ans: Stone Cabinet Works covers multiple areas throughout Illinois for all of our projects. We serve Gurnee, Grayslake, Libertyville, Lindenhurst, Wonderlake, NorthChicago, Naperville, Schaumburg, Crystal Lake, Waukegan, etc.
Q4. How Long Does it take to Finish a Basement?
Ans: Finishing a basement remodeling depends on the basement size and scope of your project. If you want an open design, it may take a little time but if you are planning to add a kitchen, bedroom, playing room, etc it may take along. On average, a basement project takes 8-14 weeks to complete.