Are you planning to give your kitchen cabinets a new look? If you're in the middle of kitchen renovation or you just want to spruce up your old kitchen design, then consider reface or paint your kitchen cabinets. Refacing or painting your kitchen cabinet is one of the best ways to save your money and time while giving your kitchen space a refreshed and beautiful look. However, always remember to choose the painting method on good condition cabinets and refacing on moderate to worse cabinet condition. This thing will help you to increase your cabinet shelf life or make them lasts long for a longer time. In other words, you can make the most out of your old kitchen cabinets based on their condition and style. Read on to know which is better for your kitchen cabinets "paint or reface".
What is Cabinet Refacing?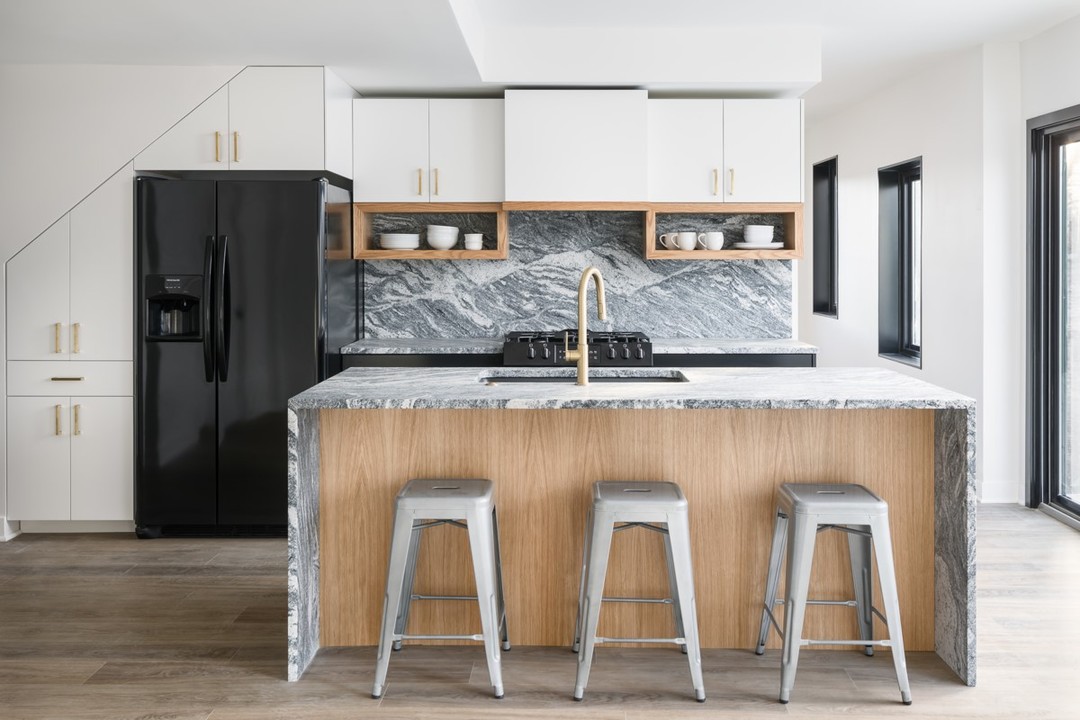 Cabinet refacing is the process of replacing your kitchen cabinet skin panel to give it a more dramatic and classy look. Cabinet refacing works best for scratched or cracked cabinets. This process involves removing cabinet doors, drawer fronts and applying a new body surface on the cabinet. Refacing usually requires two-three days to get the job done completely.
Complete Process of cabinet refacing involves
Removing the existing cabinet's doors and drawers' front surface.
Now replace the removing cabinet doors and drawers surface with new thermofoil or natural wood veneer.
Cover the cabinet sides with the same wood veneer.
Reuse your existing door hinges if it is in good condition; otherwise, add new hinges to them.
Install new hardware fixtures like pulls, knobs, or handles, if existing ones are not in good shape.
If you want to install other accessories like lighting, glass panel, and crown modeling then you can install it as per your desire or requirements.
Some Tips for cabinet refacing
If you have chosen cabinet refacing, then here are some tips that you must remember:
Start as soon as you wish or want to do cabinet refacing: Once you decided to opt cabinet refacing, don't wait! Your cabinet hardware has already undergone too much wear and tear and should be replaced as soon as possible.
Cover your kitchen elements: During cabinet refacing, cover all your kitchen elements to protect them and prevent any kind of accidental damage.
Experiment with things to make a new style: Take refacing as a new opportunity to experiment with kitchen cabinet styles. Select a nice color of your choice and design it to enhance the look of your kitchen.
Consider functionality: When selecting the hinges, doors, or handles, make sure you choose ones that are durable and better suited as per your requirements.
Is it worth it to reface kitchen cabinets?
Yes it is, remodeling your whole kitchen is really expensive. However by doing cabinet refacing you can save some of your money. Your kitchen cabinets play a significant role in both appearance and functionality-wise and replacing them can take up to half of your kitchen remodeling budget. You can change the entire look of the kitchen, just by changing your cabinets without going for a major makeover.
So, now you understand why it's worth it. You can even change the cabinet box style and size to accommodate modern features such as wider and deeper drawers, soft-close hardware on cabinet doors and drawers.
What is cabinet painting?

As the name suggests here, cabinet painting is all about painting your kitchen cabinet's doors and drawers. All types of kitchen cabinets are usually easy to paint. Cabinet painting is also known as a type of cabinet refinishing.
If your cabinet door and drawers fronts or exterior panel is in good condition, then painting them is a great way to give them a fresh, new, and vibrant look. Cabinet painting is the affordable way to give new life to your age-old and worn-out kitchen cabinets. You can even change your whitewash oak cabinet look by repainting it with a darker wood finish such as cherry or maple color.
Helpful Tips
1. Do not apply paint to the cabinet's doors when they are closed. It will ruin the paint before it dries and also there's a risk of sticking the door to the cabinet internal frame. So, when you finish your cabinet priming, open the cabinet doors all the way to completely dry it overnight.
2. Match your knobs and hinges material for an even cabinet look.
3. Do your brush work first in those areas where you think the roller doesn't reach. After that, you use your roller.
4. Take good care of your painted cabinets for the next few weeks even if they are dry. The paint of your cabinets can be ruined by showing scratches within 2-3 weeks of time frame.
Safety tips
1. The paint fumes from thinner and primer can be strong, so make sure you turn on the ventilation fan, open the door and windows of your kitchen for proper ventilation. Proper ventilation will help to push out the fumes outside.
2. Don't allow your children and pets to enter in the kitchen while doing painting. Don't forget to keep away all the painting equipments and materials from children and pets.
3. Make sure your ladder is positioned and stable well before using it, if you need to use the ladder.
4. Wear protective clothing, eyeglasses, and rubber gloves while cleaning and preparing the kitchen cabinets for painting.
Steps of cabinet painting involve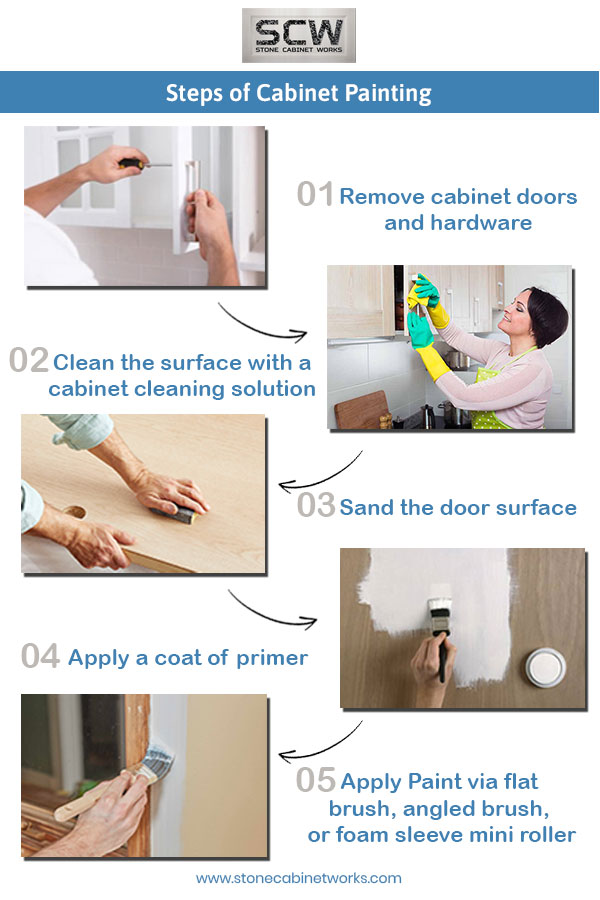 Removal of cabinet doors and hardware.
Clean the surface with a cabinet cleaning solution.
Sand the door surface to ensure that the paint is efficiently applied.
If you are using semi-gloss and water-based paints then consider applying a coat of primer. It acts as a sealer and provides a solid base for paint.
Apply Paint via flat brush, angled brush, or foam sleeve mini roller.
Tips for selecting the right cabinet paint color
If you wish to proceed with painting your cabinets, here are some tips to remember that will help you in choosing what color to select:
Check the design style of your cabinets: If you want to have modern look or you have a modern style designed kitchen, opt bright or contrast tone for your cabinets. For a traditionally designed kitchen, go for creams and whites for your cabinet.
Kitchen lighting matters: If your kitchen have dim light, then light it up via bright colors and vice versa. The size of your kitchen space can also enlarge or reduce depending on the colors of the cabinet.
Add layers: Make your kitchen look dimensional by creating a stunning contrast between your appliances, cabinets, islands, and countertops. For example, if your countertop is white, opt for black cabinets or vice versa.
Strike a balance: If you find neutral shades like white and cream too dull and bold colors too dramatic, find the middle solution by using numerous shades of the same color to give it a cool look of your choice.
What is the major difference between cabinet refacing and refinishing?
As mentioned above, refacing is a process in which you put new material on the top of your existing kitchen cabinet frames and replace their old doors and drawers fronts into new ones. When you are doing cabinet refacing, you have the opportunity to change the design style, material, and finish of the door. While in refinishing, all you can do is to change the color, finish of the existing material.
 Reface or Paint Kitchen Cabinets – Which Should You Do?
Both cabinet painting and refacing have their own pros and cons to consider, and you must choose the method based on your existing kitchen cabinetry condition.
If you still don't know whether painting or refacing is the best option for your kitchen cabinets. Check out the tips as follows
Some tips to help you select between painting and refacing method
When you should reface your kitchen cabinets
If your kitchen cabinets meet the following requirements, then you should reface your kitchen cabinets and that are:
You are satisfied with their frames and the internal shelves or drawers
Your cabinet doors are in very poor condition or you don't like cabinet doors design.
You want to change your kitchen's overall aesthetic.
The handles and fittings of your cabinets are not good and you want to update them.
You want to add value to your home as well as increase your ROI.
You don't want to spend your money but want to give the impression of newly-fitted cabinets.
When you should select painting your kitchen cabinets
You should paint your kitchen cabinets if they meet the following requirements:
Cabinet doors are in good condition or You like your door style.
You want to change or freshen up the color scheme while keeping your kitchen look similar.
Your Family is happy and satisfied with the cabinets handles and fittings as they are.
It's not always easy or straight forward to decide the best method for your cabinets, but hopefully, these tips will help you to decide the best.
Faqs related "reface or paint Kitchen cabinets"
1. Which method is better "reface or paint" kitchen cabinets?
Ans: As mentioned above, both reface and paint are the best options for kitchen cabinets according to your existing cabinet's door condition. Refaced cabinets are easy to maintain as compared to painted ones. Refacing your cabinets is a very cost-effective method to give your kitchen an economical facelift without breaking the bank. While painting cabinets is a far more affordable and easier option to update old and worn-out cabinets than refacing, only if cabinet condition is good. However, painted cabinets tend to attract more dirt, dust, and grime. And cleaning it with harsh chemicals will end up stripping the paint away. To avoid this kind of problem, you must use a good-quality primer to seal the paint; otherwise, the paint will peel and flake away.
2. Is it possible to reface cabinets that have been painted?
Ans: Yes it is possible to reface old cabinets that have already been painted. The process of refacing is relatively the same for this one also.
3. Is it cheaper to refinish cabinets or buy new ones?
Ans: Cabinet refinishing is much affordable than buying a new one. Refinishing cabinets can save up to 60%-75% of total cost.
4. Will paint stick to laminate cabinets?
Ans: Yes you can paint laminate cabinets without sanding it with the help of only one modification in the real painting process. And for that, your cabinet should be in good condition. Simply clean your laminate cabinet with a mild cleaner and wipe it down. After that apply a primer coat of chalky finish paint and set it out to completely dry. After 24 hours, use any color to paint your laminate cabinet.
5. Do I have to sand my cabinets before painting?
Ans: You can skip the sanding step only if your cabinets are new, raw (bare), or unvarnished wood. Otherwise, you have to sand your cabinets before applying paint over it.
6. Can I paint my kitchen cabinets without taking them down?
Ans: It totally depends upon you whether you want to paint them without taking them off or not. However, it is difficult to repaint the cabinets which are not taking off. You can paint your cabinet hinges or mask them with a tape according to your choice.
7. How many coats do I need to prime and paint my cabinets?
Ans: One coat of stain-blocking primer and 2 coats of paint is enough. One coat of primer and three coats of paint are sometimes used for darker cabinets that are painted white.
8. How do I get a smooth finish on kitchen cabinets?
Ans: Follow the above-mentioned paint process, sand lightly between coats, and use good products to get a smooth finish.
9. Is it better to spray or brush paint cabinets?
Ans: Spraying kitchen cabinets provide a uniform or even-looking finish. Not just that spraying the kitchen cabinet is a more durable, cost-efficient option than brushing. However, it is only recommends for smaller cabinet projects.
10. Why do my kitchen cabinets feel sticky after painting?
Ans: Paint becomes sticky and tacky when it isn't able to dry properly. This thing happens when the weather is extremely hot or cold or the air is overly humid. Also, if you applied thick coats of paint then it is again a reason for trouble drying.
11. What type of paint finish is best for kitchen cabinets – satin or semi-gloss?
Ans: Well the answer is semi-gloss paint. Semi-gloss paint is the best choice when it comes to painting kitchen cabinets. It has some sheen, semi-gloss in it that will help to reflect light and is more durable in the long run. Simply apply two fresh coats of semi-gloss paint and add new cabinet hardware to make your kitchen look new again.