Kitchen designs are changed a lot over the decades. Advance technology and social dynamics has great contribution in changing the look of a kitchen. In today's modern decade, the kitchen became the focal point that brings everyone together. Every homeowner, especially in Illinois wants to update their kitchen design according to new trends in 2022.  Nowadays, kitchens are no longer places to just cook but also become the more social hub of the home that's why you need open-plan layouts for better work.
Every smart homeowner in Illinois want flexible spaces with properly planned layouts and the ability to turn the one space into another in an instant. So, if you think to update your kitchen design or want to change the entire look of the kitchen for 2022 but multifunctionality and practicality are still your top kitchen priorities, then you are at right place. Refresh your tired kitchen space with the help of new Illinois kitchen design trends for 2022. These kitchen trends help you to make your kitchen look sleeker, greener, and even more convenient to work.
1. Use Natural Material: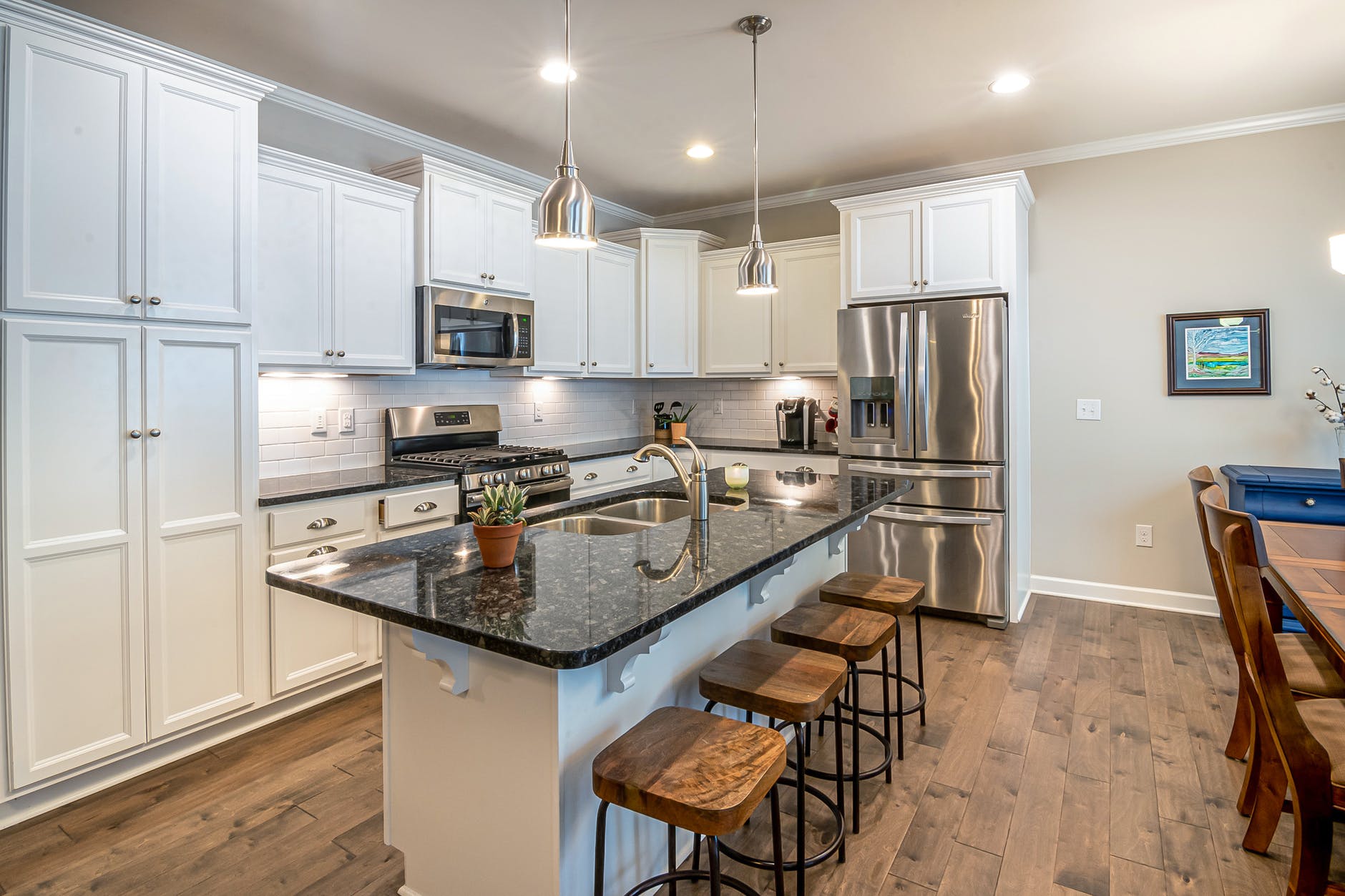 Demand of natural material is considerably increased during the pandemic especially for kitchen countertops and benchtops. Marble or granite counter stone with wooden cabinetry and benchtop has a rich aesthetic quality. Not only they become firm fixtures but also good for health as they are less chemically treated items. Natural material items are used to add depth and warmth to a kitchen.
A beautiful and unique texture of counter stone can transform the entire kitchen space. Wood kitchen cabinets create a space that is light, bright and offers unique colors and personality. Natural materials always find their use in modern kitchen designs even if they are simple. You can also use marble finish quartz stone for the countertop if you want more durable material.
2. Layered Lighting:
The art of layered lighting in Illinois future kitchen design trends for 2022 is an essential step for successful kitchen design. Kitchen lighting is always a challenge. Layered kitchen lighting scenarios are the key to the best high-quality kitchens. There are three main functional areas in the kitchen and that is kitchen set, dining, and work area. It's really important that every area should have its own lighting sources to not spoil the appearance of the kitchen interior.
Like for kitchen set area or the area under wall cabinets, led strips, or bar light is appropriate. For the dining area use pendant lights and for the work area use fluorescent lamp as the work area usually needs a bright enough light. For basic lighting use surface mounted led lights or recessed spotlights. Choosing a bold glass layered pendant light in the dining area reflects the modern style and personality of your home if hung at the right height.
3. Statement Hoods:
Statement hoods are the best sustainable kitchen trend and the second main focal point area of the kitchen. These stunning hoods with darker earthy hues are used to create a dramatic look. Recently, many Illinois homeowners want to add a statement hood in their kitchen. They believe that hoods, especially custom-made hoods create a strong impression.
You can use traditional materials with fine craftsmanship in a non-traditional way to highlight the value of handmade hood. Hoods with exceptional finishes, such as zinc, copper, or other sculptural element finishes define a strong statement look in kitchen space.
4. Slab Backsplash: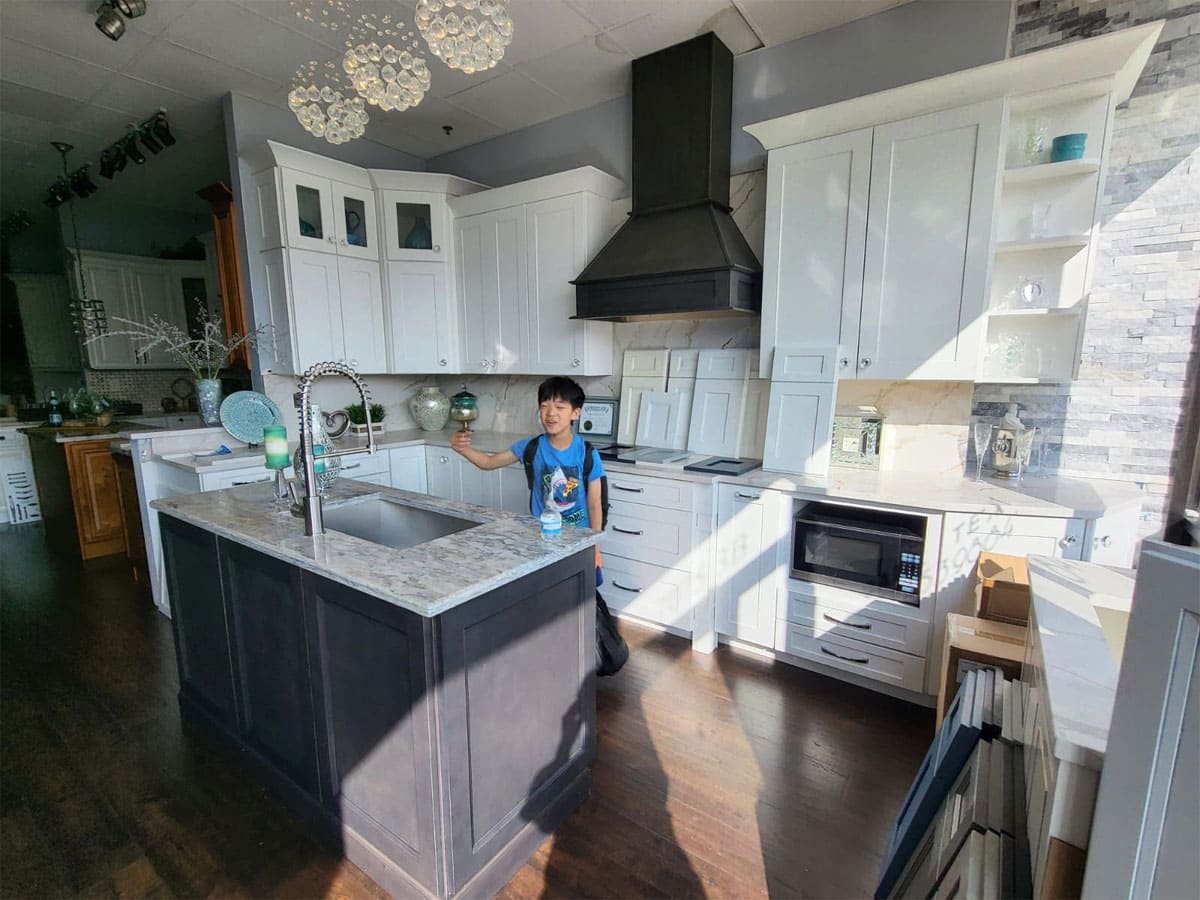 Slab Backsplash is a new trend that gives your kitchen area a wow factor. A backsplash stone slab with dramatic, interesting veins and thoughtful detailing acts as a show-stopper to your kitchen area. You can use one stone as a base of your countertop, backsplash, and even on a kitchen island. This kitchen trend is a fully cohesive aesthetic who loves a more layered kitchen look in a minimalism style.
Natural stone backsplash is a seamless design option that truly makes a sophisticated statement for Illinois kitchen design trends 2022. There is a big demand of natural texture and stunning shapes of veins in slab backsplashes. This kitchen design trend for 2022 helps you to beautifully reflect light in a clean and soft way.
5. Minimal Hardware:
Say "yes" to few or no cabinet hardware as "touch to open" cabinet systems are rapidly gaining popularity nowadays. Minimal kitchen hardware allows smooth surface which helps in bump-free walk in the kitchen as there are few pulls or handles used. Handle-less or touch to open, and cordless kitchen style designs are able to stick around for a long time period while making your kitchen look smarter and sleeker.
6. Shades of Green:
Shades of Green kitchen cabinetry is the most popular upcoming trend for 2022. If you want a more dramatic but neutral deep forest look then sage green shade is best for you. The green color is a versatile nature-inspired hue that keeps your kitchen look more subtle. In short, if you don't want to change your cabinet color then you can use other interiors in green color.
7. Open Shelves:
The risk of visual overload is always high when there is so much going on in the kitchen. If you want a restrained, simple look and thinking to leave wall space bare, then open shelves acts as best option for you. Before doing anything, always note down that do not use more than 4 shelves. More shelves will be cluttered quickly and look messy.
Minimal shelves give your kitchen a relaxed and fuss-free look. You can use your open shelves for artwork, cookbooks, food storage, kitchen accessories, and for small in-house plants. Open shelves are used to break the visual of the monochromatic scheme and on the other hand, helps you to elevate the kitchen look.

Major Mistakes that are made while creating New Kitchen Design in Illinois 2022
When creating kitchen design, serious mistakes can frequently do. If you don't want to waste time and correct those latterly done mistakes, it's better to take care of it in advance.
1. Improper Planning:
First, make a custom design layout to decide where you want to place the sockets. It should be close to the electric appliances, but far from the dishwasher.
There should be 3-4 sockets – do not forget about small equipments. Keep in mind that aligning walls during remodeling and installing stretch ceilings can change the size of the kitchen itself.
2. Narrow Distances:
The distance between the sink and the cookstove should not be too large, as well as between the cookstove and the refrigerator. Between these particulars, work shells should be 60-80 cm long.
3. Impracticable Choice of Material:
Kitchen cabinets are something  that is frequently used, and the operating conditions are relatively harsh. The kitchen can be hot, sticky, and wet. In similar conditions, chipboard or inadequately reused wood will deteriorate or swell.
4. Choice of Kitchen Appliances:
Buy Kitchen appliances and other furniture at the same time in order to choose the right sizes for each other. Don't forget about small appliances like the kettle, coffee maker, and blender.
5. Lustrous Facades:
Choose a matte finish if you don't want to constantly rub your fingerprints off the buff.
6. Incorrect Placement of Equipment:
Never place your oven next to other objects, if the appliances are built-in. It is dangerous to place the oven and refrigerator side by side.
7. Corner Elements:
Avoid L- shaped corner element. L- shaped elements have adjacent drawers and doors that will cling to each other and little difficult to open.
8. Position of the Sink:
You'll need a wide window sill however, if you want a window opposite to the sink so that when you open the girdle you don't touch the mixer.
9. Extra Shelves:
Try to make 3-4 open shelves. Open shelves will be cluttered quickly and look unattractive.
10. Less Light Sources:
Add more light sources in your kitchen.
11. Countertop Material:
Choose budget MDF or something expensive. Therefore, choose damage-resistant material i.e. artificial or natural stone.
12. Space Problem in Kitchen Design:
Don't clutter the kitchen with different furniture as there should be some space for movement.
Thinking About Building A New Kitchen Or Want To Update Your Kitchen Design According to Trends In 2022?
If you want to spruce up your kitchen design, contact Stone Cabinet Works to schedule your FREE kitchen remodeling consultation, and get a free 3D design of your kitchen.
We provide the best kitchen remodeling services for both residential and commercial areas in Illinois. Our team of designers, fabricators, and certified installers offers you the best kitchen solutions that add value to your home and lifestyle. Above all, our kitchen professionals have the power to turn your vision into reality by achieving the balance of Functionality, Style, and Budget. Contact us to start a new journey towards your dream kitchen.