Bored with your old and not so stylish kitchen? Planning a kitchen makeover and searching for a reliable kitchen remodeling company in Arlington Heights, IL? If YES, look no further than Stone Cabinet Works. Our certified team provides quality products as well as exceptional customer service to make your kitchen look stunning yet functional. From custom 3D design to stunning craftsmanship and installation, there are a lot of things in remodeling a kitchen—and we do things the right way! Our kitchen designers make the most of your space and in budget. We provide you the best layout of your kitchen that helps to organize your kitchen better than before.
Stone Cabinet Works is the leading Kitchen Remodeling Company in Arlington Heights, IL and we help you to upgrade your kitchen by transforming your kitchen space into a practical and elegant one! We give our best to revolutionize your kitchen space and remodel your lovely kitchen area into one of its kind!
We Are the Most Trusted Arlington Heights Kitchen Remodeling Contractors
Selecting the right kitchen contractor is the first and most important step in kitchen remodeling. Stone Cabinet Works make sure that you're getting the best products and services in Arlington Heights and nearby areas in Illinois. Unlike other contractors, we put our customer needs above our priority list, trying our best to provide you personalized service, premium quality products, and long-lasting results.
From simple kitchen upgrades to extensive expansions, we look forward to bringing your dream kitchen to life!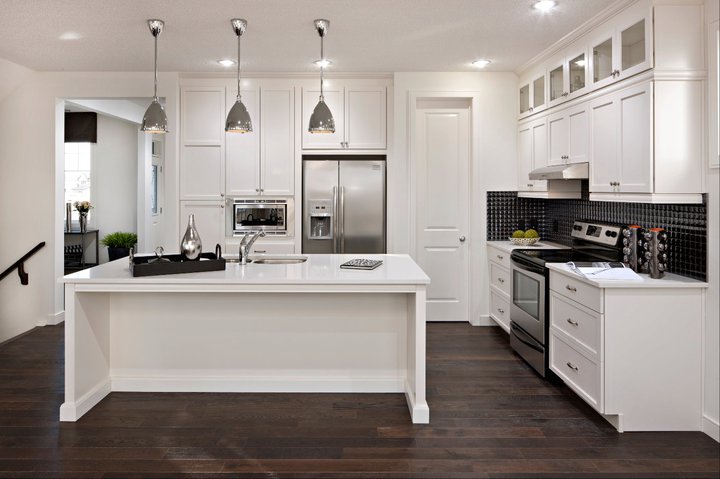 Some of our kitchen services include
Kitchen Cabinets
We provide three types of kitchen cabinets and that are Custom, stock line, and frameless cabinets. Cabinets are an important element in the kitchen. Your choice of selecting the kitchen cabinets can increase the space as well as the organization to the next level. There are thousands of components, colors, customizations, and arrangements are provided for you. Not only cabinet installation, we also provide cabinet refacing. Our professional kitchen cabinet team is ready to assist you. We are just one call away to turn your dream kitchen into reality. Contact us to get your favorite cabinets that are perfect for your kitchen.
Kitchen Countertops
The kitchen countertop is the main component or element of the kitchen, so selecting the right one is really really important. Every Kitchen area needs the best kitchen worktop. We provide custom-made countertops with an exceptional building material that suits your kitchen area and works last long.
Kitchen Hardware
Kitchen hardware is the essential part of cabinet doors as well as for drawers. Adding our stylish and high-quality kitchen hardware i.e. pulls, knobs help to change the entire look of your cabinets and adds a spark to the beauty of a kitchen. We have six warehouse and over 24000 products.
Kitchen Accessories and Organizers
Choosing the right storage options are at top of the list when you plan out a kitchen layout with your designer. Accessible storage is important in good kitchen design. Our kitchen organizers help to declutter space quickly and create a well-organized space that assists your busy lifestyle.
And More!
Factors That Influence Kitchen Remodeling Cost in Arlington Heights, IL
When a Kitchen contractor comes to your home to provide you an estimate related your kitchen, they consider a number of factors that can decrease or increase the cost of your project budget. Pricing for your kitchen renovation project will vary based on the things you want to replace. Here are a few things to keep in mind when you remodel your kitchen:
Your prices may increase if:
You want to replace everything in the kitchen.
You need to work done quickly.
Install custom cabinets.
Your appliances are replaced.
Premium flooring and countertop materials are used.
Structural modifications of walls are required.
A new hood and vent are required.
Your prices may decrease if:
You update specific parts of your kitchen cabinets, flooring, countertops, etc.
Your time schedule is flexible.
You want to reuse your old appliances.
Standard material is used for countertop and flooring purpose.
Wall modification is not required to move.
Your existing hood and vent are reused.
Together We Can Transform Your Old Styled Kitchen into New Stunning Kitchen
We all know that the kitchen nowadays is no longer a place to just cook or do any preparations, it's a place where your friends and loved ones gather. For that reason, you should choose a design and build firm for your kitchen renovation project that you can trust.
At Stone Cabinet Works, we understand how important your kitchen to you is. Our certified kitchen experts create a stunning kitchen with luxurious fixtures that match with your personal taste as well as increase your return on investment value. From initial 3D designing to installation and more, our team assists you at every step of the kitchen remodeling and helps you to meet the standards you desire.
Services we offer:
Kitchen Remodeling.
Basement Remodeling.
Bathroom Remodeling.
Office Remodeling.
Residential real estate consulting and purchasing.
Real estate investment consultation.
Request a Free Estimate for Quality Kitchen Remodeling in Arlington Heights, IL
Are you ready to remodel your dream kitchen? Contact Stone Cabinet Works today. You can also schedule a free kitchen consultation with our knowledgeable service expert to request a free, no-obligation cost estimate!