Maintain an Organized Space with the Right Products
Once you have your dream kitchen, you need to keep it clean and conveniently organized so everything is easy to use. Get all the products you need to organize your kitchen accessories at Stone Cabinet Works. We have elite products and accessories that help you to keep your kitchen in top shape. Our organizers will organize your kitchen space in a perfect manner and make your kitchen clutter a past thing.
Choose trays, shelves, organizers, and more to customize your kitchen's organization. Contact us today to get a FREE consultation!
Types of Kitchen Accessories and Organizers we have:
From kitchen organizers to cutlery shelves, we have all types of kitchen accessories that help to de-clutter your everyday and create an orderly space so you can enjoy your daily cooking routine.
Types of kitchen accessories and organizers we provide are as follows:
1. Tip out tray

Tip out tray utilizes the lower cabinet space. Adding a tip out tray below the sink or cook top area is the best addition to do. There are numerous names of tip out tray, some call it bill tray or sink tray. Many people use tip out trays in both kitchen and bathroom as it helps to make your dead space to function properly. Visit our showroom to make a purchase regarding tip out trays.
2. Adjustable spice shelf
There is always a different kind of feeling when you cook something and easily access all the spices that you want at that time. Spice shelf helps you to organize all your spices in a particular manner that can be easily accessed by you. We have an effortless adjustable spice shelf that goes well with all kitchen types.
3. Double cutlery organizer

Different sizes of cutlery organizers are available according to your specifications. The top tray of the cutlery organizer slides up to 235cm into the cabinet and makes most of the storage space when the drawer gets open.
4. Pullout Base Cabinet organizer
There are various types of pullout organizers for base cabinets that help to maximize your kitchen storage. Our premium pullout organizers are soft close and eliminate side to side movement in order to prevent sagging which is commonly seen in many pullouts. Stone cabinet works provide fully assembled organizers which are easy to install. Other types of pullout organizers include utensils, a close tray divider, pan organizer, mixer lift, grooming, and a magnetic knife pullout organizer.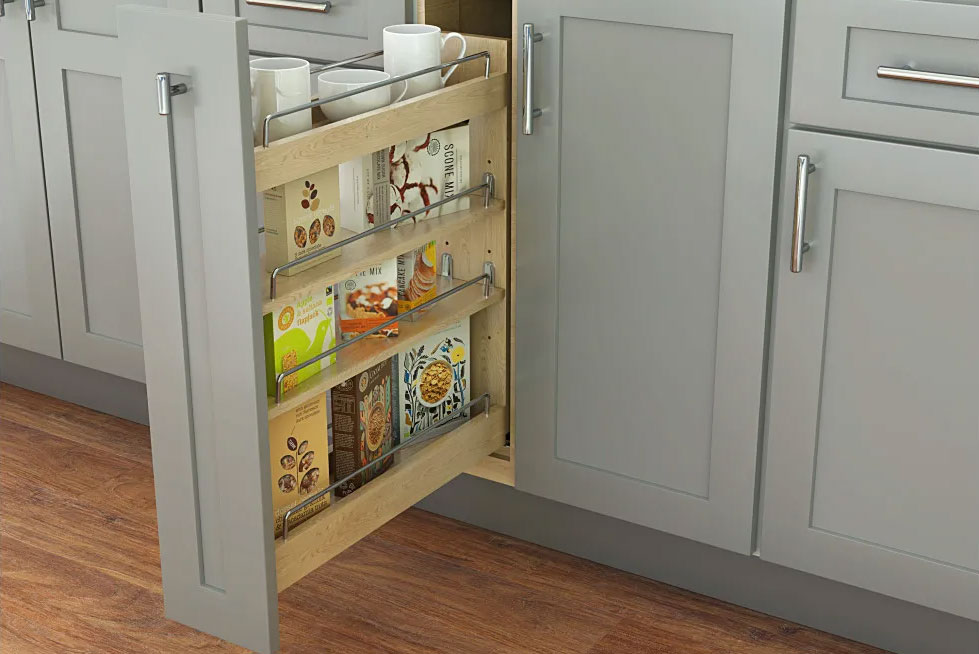 5. In-drawer Organizers
In-drawer organizers include in-drawer knife block, cutlery, pegboard, utensils, spice tray, pot, and lid organizers. These types of drawer organizers help to transform untidy collectors into fully functional space. From small items like spice bottles to large items like cookware lids, in-drawer organizers are easy to fit in and removed without causing any damage. It is easy to adjust in the smaller drawer also.
6. Pantry Organizers
From heavy-duty wood pullout pantry organizers to chrome wire soft-close pantry swing-out door organizers we have all things in one shop. Pantry is that kind of space which is everyone's favorite spot whether it's your kid or you. Our pantry organizer allows keeping pantry items in a perfect manner and giving full access to pantry items. Our soft-close slides and doors add smoothness to the unit.
7. Waste container organizers
Waste container organizer works best to hide trash container. Just tuck away the trash can neatly in the waste container organizer and say goodbye to kitchen odor. There are total five types of waste container organizers that are top mount pullout, double wire, wood bottom pullout and rollout, metal soft close trashcan pullout organizers. Three type of finishes are available (i.e. black, grey, and white) in our showroom.
8. Wall cabinet organizers
Wall cabinet organizers contain different types of organizers like a wood door spice rack, soft close wall pullout, metal or wood tray divider, a wooden stemware rack, wine bottle rack, and handrail and many more to organize all the kitchen related things. Tray dividers are best as these are inexpensive and such a nice add-on to sort all types of trays and plates in both base and wall cabinets.
9. Corner organizers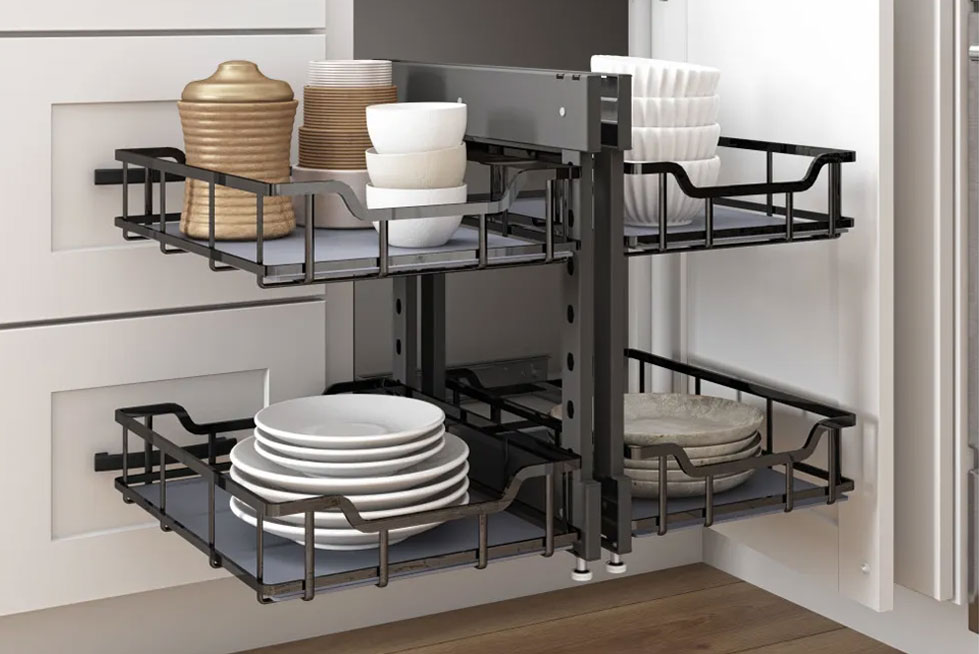 Use your blind corner cabinet space which is inaccessible before with our corner cabinet organizers. We provide different types of corner organizers which include corner basket organizer, blind corner swingout, Susan set, half-moon and kidney Susan set, and soft-close blind corner sliding door organizer. Different sizes and color options are available. Our corner cabinet organizers increase the overall functionality of the blind corner.
FAQ's
Q1: Do we have a soft-close Appliance or mixer lift?
Ans: Yes, we have a soft-close appliance lifter in the base cabinet organizer section. Our appliance lifter saves your space and back. It can handle up to 45lb of weight. You can use it in both types of cabinets i.e. face frame and frameless cabinet.
Q2: Do we provide closet as well as bathroom organizers?
Ans: Well yes, we have all types of organizers whether it's a kitchen, bathroom, or closet. Our closet organizer collection includes tie, belt, pants organizers, pullout baskets, hampers, jewelry drawer organizer, closet rod, wardrobe lift, etc. To know more visit our showroom.
Q3: How do I organize my kitchen tools and equipment?
Ans: There are many ways to organize kitchen tools and equipment. Following are some points which help you to organize kitchen tools and equipment.
1. Organize your kitchen tools in a drawer or a minimal container.
2. Place the container near the preparation or cooking zone for easy access.
3. Organize your washed dishes in the rack.
4. Have a designated space for each kind of tool.
5. Label the kitchen cabinet to make it easy to find a particular type of equipment.
6. Store knives properly when not in use with a sharp edge down.
7. Cutting boards should be stored vertically.
8. Metal equipment can be stacked on one another after drying such as storage dishes and bowls.
9. Make sure the areas where you are storing the equipment are clean and moisture-free.
Q4: Where should I place my kitchen accessories?
Ans: Place your cooking and baking accessories near the food preparation zone. Utensils should be placed in the bottom cabinet near the cooking zone. Glassware should be placed near the refrigerator.
Q5. How do I store my things in a small kitchen?
Ans: If you don't have enough kitchen or counter space then use hooks for mugs. Windowsills for cookbook, saucepan, and cookware lids storage and little narrow shelves for organizing small bottles and jars.
Q6: How can I hide my large kitchen appliances?
Ans: Use a corner cabinet or add a double-door pantry to hide your kitchen appliances. Many people recessing their large appliances into the wall and find this the easiest solution to hide their large appliances.
Q7: Where do I store dirty kitchen utensils?
Ans: Just put your dirty utensils in the dishwasher or sink. Cutlery drainers are perfect for storing dirty kitchen cutlery. If you don't have a cutlery drainer, you can also use a dishwasher for that.
Q8: How to clean or take care of tip-out tray?
Ans: After installing any type of organizer or tray, it is important to take care of that in order to maintain the design, look, and functionality of the tray. You can clean the tray weekly, monthly or bi-monthly according to your tray status. Use an absorbent cloth to line up which can be peeled out, washed, and re-used to get rid of soap residue and moisture. Never use scrub or steel wool to clean the tray.