Custom Design, Installations and Remodels
When you want to add value to your home and update your space, choose the experienced remodeling team at Stone Cabinet Works for complete service from top to bottom. Our team is known for quality workmanship and affordable value.
There can be many moving parts during a renovation job from cabinets and flooring to design and remodeling. We manage all the teams responsible for your remodel and product installation so you get a convenient and seamless experience. Contact us today for a FREE design consultation.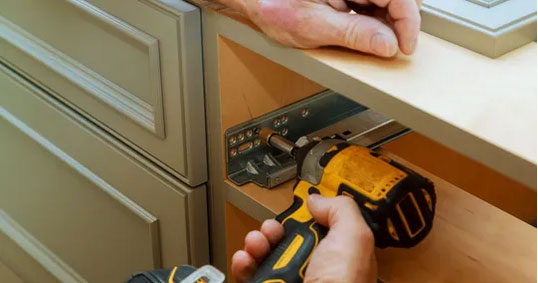 Our Custom Services
We provide various services which includes
Kitchen and bath 3D design,
Kitchen and bath installation,
office remodeling, home remodeling,
countertop and cabinetry installation services,
residential real estate consulting and purchasing,
real estate investment consultation.
Home Remodeling Services
Let us reduce your stress and make your home remodeling process easy by providing everything you need at one stop. From Kitchen renovations to Basement, our team of designers, fabricators, and certified installers will work together to create your vision with elite craftsmanship and premium quality for every budget. Our expert team is always here to help you whether you want to remodel your kitchen, bathroom or basement or you want to remodel your entire home that start from the scratch.
If you need specific services only, we do:
Kitchen Remodeling and installation
From L shape kitchen to charming white gallery kitchen we renovate all types of kitchen in our kitchen remodeling and installation service. A kitchen is a place where each member of a family spends their time while making sandwiches or for sipping morning coffee. So, renovating kitchen area is essential. In full scale kitchen remodeling, you need contractor or general remodeler, electrician, plumber, cabinet installer and kitchen or interior designer. Hiring Best kitchen remodeler is a must thing that you should do to make your kitchen look stunning and beautiful. We have wide variety of colors and styles for different types of countertops and cabinet.
There are total two types of kitchen remodeling i.e. minor and major remodeling. Minor remodeling includes cabinet refacing, new countertops, kitchen sink, faucets, new flooring, freshly painted walls and other minor addition services. Major remodeling includes semi custom cabinetry, new countertop with high end sink and matching faucet, kitchen islands, custom lighting, new flooring, freshly painted walls and other high end services. The total expense varies depending on the size of the kitchen, the quality of materials, and the layout of the kitchen area. For more information visit our showroom and get free 3D design for your kitchen.
Bathroom remodeling and installation
Bathroom renovations and installation involve many different aspects. For example, some people only need shower or bath tub replacement and installation, some need walk-in tubs and other wants to enlarge the bathroom area, new flooring and vanity. It totally depends upon you that what you wants to be done in the bathroom. Stone cabinet works can help you make the most of your bathroom space with stunning new floors that pull the room together like nothing else can!
There are three types of bathroom remodeling i.e. basic, master and guest bathroom remodeling service. Basic bathroom remodeling service include faucet, toilet and vanity upgrades, new flooring and lighting, freshly painted walls or new wallpaper pasting. Guest bathroom services include upgrading bathtub or shower, faucets, flooring and lighting, installing new tile in tub or shower, installing a new vanity, freshly painted walls, new wallpaper. Master bathroom remodeling includes redesigning, installing new cabinets or adding a double vanity, replacing faucets, installing a frameless glass shower enclosure and/or a soaking tub, adding a recessed shower caddy , floor tile and wall tile for shower, lighting, mirror and fixtures.
There are some simple design tips for small bathroom like installing corner sink, shower curtain or sliding shower door, vanity with rounded corners. After that extending the counter over the toilet, use large-scale patterns, mirror the wall, mount the towel bar on the door, choosing trough sink. Use a vanity with open shelves and wall-mounted faucet. Stone cabinet works can help you make the most of your bathroom space with stunning vanity, faucet and many more things in list. For more information contact us today for a FREE design consultation.
Basement Remodeling
Renovating basement can be little complex but become valuable asset to the property after remodeling. You can renovate your basement into new office, second living room, gym, and playroom for kids, home theatre or many more options to choose. Basement remodeling includes ceiling treatments, open Up Spaces, custom cabinet details, feature design & building and flooring. Whatever your needs are, our team make sure to help you at every stage of basement remodeling. So, trust Stone Cabinet Works we assure you to do our best for renovating your dream space and we won't disappoint you.
Office Renovation
Upgrading your work space is important to boost productivity and performance. It also ensures that your office have a proper storage space which means your employees can find whatever they want when they need it regarding their work. Attractive and functional settings can boost employee's productivity, morale and even business image. If you are looking for a customized home office for yourself or separate office for you and your employees then we are also available to help you with that. Creating different types of office space is one of our specialties. We do our best to make your dream work space into reality.
Countertops and cabinetry Services
We offer custom countertops and cabinetry services too. From the design process to installation, we provide all services here to satisfy our customers according to their standards and vision. Our process of installing a new countertop includes measurement of countertop, selection of color through our manufacturer's website, providing total estimate, checking samples, finalizing and scheduling field measures for countertop installation. For more information visit our countertop page.
We provide plywood cabinets with dovetail drawers which are available in unlimited colors and styles. Our cabinets are budget friendly and high quality cabinets. Medium density fiberboard, solid wood doors and drawers with soft close hinges and slides are also available in our showroom. Check our cabinetry page or Visit our showroom for more choices and see samples in person.
Get stunning makeover with our expert team
Unlike other remodeling companies, our team will be with you at every level of remodeling project. For more information, contact us to schedule a free consultation. Home renovation adds value to your home. Before hiring anyone for your remodeling project, just take some time to make sure what you exactly want. We use design and build renovation process which identifies and prioritize project details, clarifies client expectations, and then planning and revising the design plan which works within client budget to achieve the best value and aesthetic look. After that we put the plan into play. We treat your space with the personal attention and respect it deserves throughout the construction process. Before any makeover, we create a 3d design according to the requirement.
Kitchen and Bath 3D design
Our Kitchen and bath 3D design services offering high quality, photorealistic, virtual tour at best and affordable price. We can create 3D design in little time. Our team have no problem to do modification until it is just right for our clients according to their needs. We spend a lot of time thinking about the creation of our client's dream kitchen and bath design. As we have plenty of ideas that provide you perfect solution for your kitchen and bathroom. For more information visit our showroom to get a FREE 3D design and best kitchen and bathroom remodeling services.
Residential real estate consulting and buy/sell
Stone Cabinet Works provides expert advice and recommendations to those who are looking to develop, sell or purchase property. There are many benefits of seeking professional help regarding property because professionals have more knowledge and experience related properties. So, there are less chances of getting risky property. Experts help you to get the property at best price. Our primary concern is to meet the needs of our clients. We help clients to save their transaction money and increase their return on investment.
Our buy/sell service helps you to determine the best deal. Our aim is to provide completely objective and unbiased service in which buyers save their transaction money and sellers increase their return on investment value.
Real estate investment consulting
Stone Cabinet Works provides specialized financial advice to the clients who are looking to invest in both small and big property projects. We start the process by analyzing prices, supply and demand of property by its type and location. Our team do their best to increase our client's potential return on investment. We help you to determine whether a purchase is a good investment or not.  For more information book an appointment related market analysis regarding investment in property.
FAQ's
Q1. What You Need To Know Before Meeting Any Remodeling Contractor?
Ans: Here are some information that you need to know before meeting with any remodeling contractor that can save your time and narrow your search:
Visit the contractors' website and check their license number.
Check they have the right license class (General B12) and that the license is active or not.
Check that contractor is bonded or not.
Check that they have valid active workers compensation insurance.
Once you get the contractor's license number all you need to do is to visit the CSLB (Contractors License Board) and perform a license search.
Q2. What is included in our remodeling estimates?
Ans: The total expense varies depending on the size of the space or area, the quality of materials, and the layout of the room, design services, architectural plans, labor and rough materials.
Q3. What is included in our countertop and cabinetry installation estimates?
Ans: The total estimate depends on the quality of the material, size and type of the stone, and labor work.
Q4. How long does remodeling take to complete?
Ans: The construction work involved in a remodeling can take anywhere from 1-3 weeks depending on the area and work involved in project.
Q5. How soon can we start working on remodeling project?
Ans: Our team can start the work within 1-2 weeks from the day the work contract is signed.
Q6. Can I live at the property during the work?
Ans: Yes, staying at home during remodeling is common and most of our customers doing this thing so. Our team tries to do everything possible to make sure that you and your family feel stress free and comfortable during the process.
Q7. When Is the Best Time To Do a Home Remodeling Project?
Ans: The best timing is what works best for you. If you're not comfortable having workers in your home while you're not at your home, we can work according to your schedule. Your preferences and schedule are important for us.
For more information Visit our showroom for FREE consultation and see the samples in person.