Kitchen and Bath Installation
Kitchen and Bathroom play a very important role in every house as it add value to a home renovation. Renovating the bathroom and kitchen is a good way to investing in your property. It's always a good idea to checking up and installing new things in your kitchen and bath space to make it worth for you. It is impossible to live without a kitchen and bathroom as it's an essential thing in home. An unorganized and leaky bathroom is difficult to manage. Stone Cabinet Works help you to give a full bathroom and kitchen solution which is affordable as well as run in the long term. Our team provides you all the support that you need throughout the installation process and will be there for you until you are not completely satisfied with the results.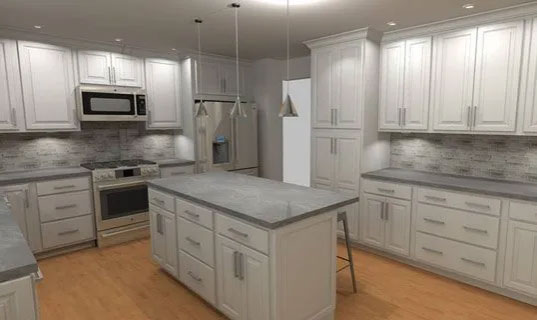 Our custom kitchen and Bathroom installation service include
Installing new kitchen cabinets is a great way to update the kitchen look and storage space. However, cabinet installation can be demanding and stressful sometimes. But with our trusted professionals, installing new cabinetry can be easy. Different colors, styles, wood species, and custom sizes are available in our showroom. Check our stock line, frameless, and custom-build cabinet pages for more choices.
kitchen countertops are our specialty. Stone cabinet works help you to choose the perfect countertop from our wide collection of different styles that express the taste and quality of life. Different types of stones are available for Custom kitchen countertops. But we recommend either quartz or granite for the countertop as these stones incorporate with your other kitchen surrounding. Both granite and quartz requires less maintenance, more durable and have non-porous, heat and stain resistant property.
Flooring or tile installation:
We install, updates, and repair all types of kitchen and bathroom flooring whether it's a shower tiles or hardwood kitchen flooring. Hardwood, vinyl, laminate, carpet, and tile flooring are available in our flooring services.
Bath Tub, Shower, or Shower Pan Installation:
Our professional and qualified team of installers handles all types of Bathtub and shower installation. We also do shower pan, pan liners, shower base, and shower door installation service.
Exhauster Fan Installation:
Bathroom and kitchen exhauster fan protects home against mold and mildew issues. We can also help you in picking up the right fan and inspect the venting path for mold. Schedule appointment or visit our showroom for more details.
Toilet and vanity with or without faucet top installation:
Having a problem with old toilet or want to install new vanity for your bathroom? If your answer is yes, then don't you worry because we also provide toilet and custom vanity installation service with and without tops. Installing a bathroom vanity can change the whole look of bathroom.
Sink and Faucets Installation:
Sink and faucets are the most used area and that's why upgrading the right sink and faucet is important. Stone Cabinet works help you to find the perfect faucet and sink, provide installation regarding this. Whether you are eyeing a new farmhouse sink with wall mounting or deck mounting faucet, we'll assure you to do our job right.
Mirror and lightening Fixture:
Our professional team of installers is equipped to install mirror, recess lighting, track lights, chandeliers, pendants or shower lights, or whatever type of lightening you want to add in your kitchen or bath Space, our team gives your bathroom and kitchen a perfect lightening balance.
Cabinet Organizers and accessories:
Once you have your dream kitchen, you want it to be well organized and clean so everything is easy to use. Stone Cabinet Works helps you to maintain an organized space with the perfect organizers. We have elite products and accessories like tipout trays, shelves, cutlery organizers to help you keep your kitchen in top shape.
Hardware installation plays a crucial role in both kitchen and bathroom renovation as it changes the entire look of your space. We help you to select hardware that complements and supports the style of your kitchen and bathroom. Small but effective details of hardware will pull the entire project together that truly reflects your personality. A wide variety of shapes, styles, and textures are available in our showroom.
How does our Process of Design and Installation Works?
1. Select cabinet style
The First and main step in cabinet installation is selecting the perfect and right cabinet style that suits your aesthetics. Selecting cabinet styles might be difficult as we have multiple styles like shaker-style, glass-front, beadboard, flat-front, plywood cabinets as so on in the list. You can check our vendors' site (www.hardwareresources.com) for more choices.
2. Send us measurements and photos
After selecting cabinet style, send us the measurements (width, height & depth) and photos of your cabinet choice via mail (smile@stonecabinetworks.com). If you need any help with your own measurement, we will always have professionals come to visit and verify your measurement before the finalization of any project.
3. Receive initial 3D design and estimate:
Once we received the measurements of your dream cabinet via mail, we start to make an initial 3D design and estimate without any additional cost surprises (cost included – edging, installation, tax, and additional request if any, etc.). When we are done with our 3D design and estimate we send it to you for review and approval purpose.
4. Final design review and approval:
Once you finalize and approve the 3D design that includes all details like where plumbing is located for sink, how high the ceiling is, where the upper cabinets will be located, or where electrical outlets are and whether they need to be relocated or not. After that, we look forward to schedule the delivery and payment date.
5. Schedule delivery date and make payment:
Once all things are finalized you can schedule or discuss your delivery, installation, and payment date with us. The lead time of the stock line cabinets can be as short as 3 business days and as long as 2 weeks. We are proud to tell you that our assembled cabinets are Kitchen Cabinet Manufacturers Association (KCMA) certified.
6. Measure validation or in-home consultation:
Our Independent Installer will reach you out to set up an in-home measurement if one is needed for installation.
7. Shop countertop and hardware:
After verifying project measures, it's time to shop countertop and hardware for your cabinetry. You can visit our manufacturer site (www.msisurfaces.com) for the perfect countertop stone.
8. Installation day:
Once all the material is available, our professional team of installers reaches you out and installs all the things in your dreamed manner.
Appliances and Overall Measurements Information for cabinet installation includes
Wall to Wall, Wall to Windows & Door, Wall to other Electric Appliances
Dishwasher size (upgrade or new one)
Refrigerator size (upgrade or new one)
Sink size (upgrade or new one)
Island cabinets width and length (optional)
FAQ's
Q1. Is there any kind of charges for kitchen cabinet 3D design services?
Ans: No, the initial 3D design is free.
Q2. How do I do my kitchen cabinets measurement?
Ans: Don't worry about the measurement as our Professional Team will take precise measurements during your in-home appointment and verify them with the kitchen cabinet specialist.
Q3. How much time does it take for the installation of new cabinets?
Ans: Well, It can take up to 4 – 8 weeks from acquiring or buying material to install, depending on whether the cabinets are in stock, or the availability of special items.
Q4. What do I prepare for installation?
Ans: Remove all the things from your existing cabinets, but do not uninstall your old cabinets. Clear the countertops and remove all the breakables and valuables things from the area.
Q5. What do I need to bring with me during initial consultation?
Ans: Please come with your layout, preliminary measurements, and budget, if possible. Our kitchen specialist will discuss all the things with you in detail during the appointment.
Q6. How our flooring process works?
Ans: The flooring process has 4 steps i.e. choose your flooring product, scheduling measurement, project estimation, and installation.
Q7. What countertop materials are available?
Ans: We offer a variety of countertop stones including quartz, granite, marble, limestone, porcelain, laminate, solid surface, and butcher block.
See what our clients say