An elegant bathroom makes you feel calm and comfortable throughout the day. A bathroom aesthetic can make or break your mood in an instant.  A bathroom often counts among the smallest rooms of a home but that doesn't mean it's not worth remodeling. After Kitchen, the bathroom is the most complex room to remodel. In fact, bathroom projects are rated the best in terms of return on investment. When it comes to bathroom remodeling, smart planning and tips from industry experts can help you to get the most out of it.
If you feel uneasy every time you go into your bathroom, the time has come to consider remodeling. Although there are numerous things to take care of during remodeling we've narrowed it down to 10 major ones. Let's take a look at these essential tips:
Bathroom Remodeling Tips
1. Choose the Right Type of Bathroom
The right type of bathroom depends upon your family requirements and desired look. Your bathroom can be of different shapes, layouts, and sizes. Are you clear about the idea? Let it know to your remodeler or ask them to provide some references or ideas to design your perfect bathroom. There are often two or three types of bathroom in homes – ensuite bathroom, full- bathroom, and half bathroom.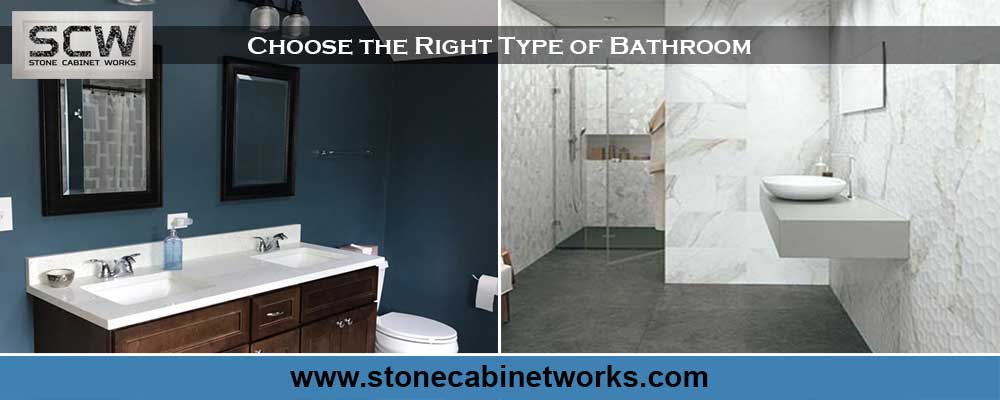 This is also called an attached bathroom, as it is connected to your bedroom. It is only accessible from the bedroom and often found in homes that have two or more bathrooms in it. Having an ensuite bathroom eliminates the long lines in the morning.
Full Bathroom (family bathroom):
A full bathroom contains a toilet, sink, shower/bathtub combination, or a separate shower room. Most of the homes have at least one full bathroom which is used by the entire family.
The bathrooms are often half the size of regular bathrooms as they only have a sink and toilet. They're also called powder rooms. They are meant to be used by guests to freshen up without invading your private bathroom space. By adding a half bathroom you can avoid the morning hustle.
Out of these types, choose the one that suits you the best.
2. Create a Layout
Once you are done with choosing the right type of bathroom, it's time to finalize the look. A layout defines the aesthetics and functional value of your bathroom. Either you are turning your half bathroom into full or modifying your existing design, you should use your space at its best by creating a genuine layout. If you are not clear about your design, don't worry. We will provide you free 3d design and consultation before initiating the remodeling process. With this, you can explore several bathroom styles until you find the one you fall in love with.
3. Adequate Lighting
The bathroom is the place where you inspect your face every day. Despite knowing this, a lot of you forget to install sufficient lighting during remodeling.  For example, you can consider adding lights around the bathroom mirror.  You can add lighting to your bathroom in two ways.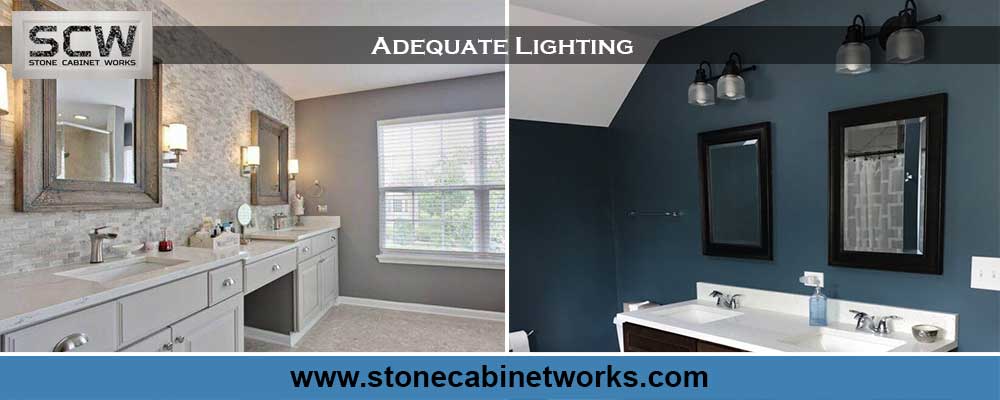 Nothing compares to natural light if you want an airy and bright bathroom. If possible, try to install windows to allow natural light. Having ample natural light allows you to see the true representations of your skin color and tone.
No matter how much natural light space you have in your bathroom. You will definitely need good artificial lighting after sunset. Recessed lighting with a dimmer switch can be a good lighting option to enhance your bathroom beauty. You can also add a spotlight if you like to read in the tub. However, it's better to avoid installing harsh light sources and bare bulbs.
4. Install Suitable Flooring
Most of the water-based activities take place in the bathroom. This is why it's important to install suitable Flooring for your bathroom. When choosing appropriate flooring for the bathroom, keep in mind to avoid wooden flooring, as it can be directly affected by water. Instead, you can go for water-resistant flooring styles like vinyl flooring, laminate, tiles, etc.
5. Add Ventilation

All bathrooms required some kind of ventilation system as per the construction codes. It can either be in the form of a window (vents) or an exhaust fan. Ventilators help the steam to escape created during a hot shower and permit the fresh air to come in.  A bathroom without a ventilation system can generate a number of problems as they are naturally vulnerable to dampness. If not taken care of it can build up mold in the bathroom which may ruin your cabinetry, walls, and flooring. So, make sure to install a proper ventilation system in your bathroom. 
6. Decide whether you need a Bathtub
Whether you should install a bathtub or a shower depends on your lifestyle.  If you and your family often prefer full baths, it's ideal to install a bathtub. On the other hand, if you are always in hurry, having a shower cubicle is a great way to quickly rinse off dirt and sweat. If you have ample space and budget, you can install both of them separately since both serve different purposes. However, think wisely before devoting your bathroom space to anything.
7. Choose the Durable Bathroom Material
Bathrooms tolerate a lot every day. They have to cope with significant weather changes, humidity, and water. Despite this, the bathroom needs to withstand cleaners, chemicals, etc to make your space look attractive. So, you should know where to spend and where to save money during bathroom remodel.  Buying low-quality materials often lead to much cost in the long run as they aren't durable. Instead, you should choose high-quality hardware and fixtures like Faucets, Sink, Backsplash, Vanity, Cabinets, etc that will last for a long time.
8. Choose the Right Vanity
Choosing the right vanity is very crucial for your bathroom aesthetics. Getting a big one can block the walking space while having a small vanity may result in less storage space. It's a good idea to measure your space first then choose a vanity that suits your bathroom space and style. Vanities are often placed in a humid and wet environment that may diminish its lifetime. So, while choosing the vanity, select the material that can stand up to such an environment.
9. Add a little Luxury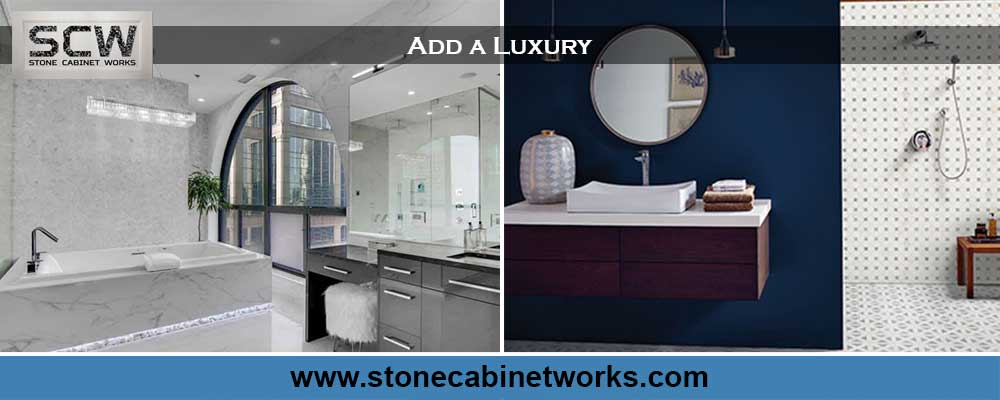 After all the basic needs and materials, it's time to add some luxury items to your modern bathroom. Adding some luxury amenities not only increase functionality but also enhances the user experience.  Here are some of the facilities you can opt for –
Radiant Floor Heating System:
Stepping on a warm floor after a bath always feels comfortable. This may start your day comfortably and easier. Having a heated floor not only boosts your luxury but also makes financial sense.
A heated towel rail adds a touch of luxury to your bathroom as It allows you to experience the feel of spa-like warm towels every time you finish your bath.  Heated rails keep your towel dry, warm, and fresh every time. If you're thinking about installing a heated rail, go for the ones having a timer.
Dimmers are an energy-efficient and affordable way to enhance the impact of your bathroom. Adding lighting controls and dimmers allows you to adjust the voltage or brightness of light as per your comfort. Moreover, dimmers can change the ambiance of a room in an instant.
10. Make Ample Storage Space
There can be a lot of items you may want to keep in your bathroom space. Some of them are spare toilet paper, spare towels, makeup products, hygiene products, bathroom cleaners, etc.  To store all these items, you must have ample storage. Installing the Cabinets provides you plenty of storage space while enhancing your bathroom design. You can either use Vanity Cabinets or install them separately. It's up to you. Standalone cabinets are often used to store extra towels and linens. You should plan ahead how much storage space you need and how many cabinets you want to install in your bathroom.  If your bathroom is used by two or more people, symmetrical cabinets are a good option.
Things to Consider during Bathroom Remodeling
1. Choose Reputed Contractors
Choosing skilled and experienced remodelers can save you time, money, and stress.  Experienced professionals can help you with the things you may not have even considered. Some of the examples are adding a natural light source, optimize the space, boost functionality, etc. The best way to choose the right contractor is to interview them. Ask about their experience and contractor's license. You can also check their online reputation like ratings and reviews too.
However, If you reside in Gurnee, Libertyville, Grayslake, North Chicago, and nearby areas, you can stop by Stone Cabinet Works. We provide the best home remodeling services including the basement, Office, etc. Our team has experience of over two decades with a vision to provide you the best remodeling services by maintaining the functionality, style, and budget.
2. Ask your Family Members
Before starting the remodeling process, ask your family members about their needs and what they expect from the new bathroom. Take their suggestions, make a list and build accordingly.
3. Appoint an Electrician before Construction and Plumbing work
During remodeling, you will certainly need an electrician, for setting up lighting, wires, and other electrical needs. Appoint a registered electrician before designing and plumbing work so that they plan their tasks according to your remodeling schedule.
4. Think about Waterproofing the Space
It's important to take countermeasures to avoid mold growth inside bathroom walls and floors. For walls, you can apply a moisture barrier or waterproof paint while for floors, using tiles can prevent the water to pass through.
5. Use Mirrors to Enhance your Bathroom Aesthetic
If you have a small-sized bathroom, installing a large mirror can help the bathroom to look more spacious. For example, a frameless mirror of the same size as a wall will be very effective. Remember to use heated pads behind the mirror to avoid misting after bath.
6. Conceal Pipework
To achieve a clean finishing, ask your plumber to keep all the pipework concealed. Make sure that vital sections can be accessed easily in the case of a leak. 
7. Relocation of Items
Keep in mind that there are some items that are not worth relocating during remodeling. Faucet is one of them. You can change the faucet but don't relocate it as relocating the faucet will take more time and money. So, if it's possible, try to leave the faucet in the same place.
Looking For a Bathroom Remodeling Service?
Remodeling the bathroom is a great opportunity for you to upgrade your space. A productive bathroom remodeling fulfills all your needs while saving your money and time. Not every remodeler is capable of doing it. If you are looking for the best Home or bathroom remodeler, Stone Cabinet Works is always here for you. With our skilled and experienced team, we assure you the best remodeling services throughout Gurnee and nearby cities. We'll guide you through every phase of remodeling to achieve your dream bathroom. So, don't hesitate to visit us to discuss your ideas. We'll provide you a free consultation and 3d design so that you can make a wise decision for your project.