The New Year is right around the corner, and it's the best time to make your kitchen look more polished without any renovation or construction at all. But if your question is how to make it look more polished without any major renovation? Well, the answer is quite simple. And the answer is that you can simply update your kitchen cabinets, or countertops to make your kitchen look classy. However, if you're feeling really adventurous then how about updating both? I think that sounds good.
So, if you are ready to do some small changes that will make a huge impression but don't know how, stone cabinet works is here to help you start planning. Our kitchen experts put together some inspirations from the hottest kitchen trends that are anticipated in 2023. Whether you want to keep things simple with white and beige or you want to enjoy a flash of color, there's something for everyone.
Kitchen countertop color trends 2023:
Transform the entire kitchen space look by simply upgrading your kitchen countertops. Pick your favorite one from the following trending countertop colors in 2023.
1. Blue:
Different shades of blue will go surprisingly well in all types of kitchen space and exude a sense of peace and calm. You can add extra sparkle with blue recycled glass countertops. If you are confused between deep black tone and inky blue color, select inky blue one for a more forgiving shade than all black.
2. Whites and Creams:

Classic shades of white and cream never go out of style. You can simply achieve the marvelous look with all white look or a classic white countertop and cream or off-white cabinets or vice versa. This will encourage a minimalist design plan that is light and airy which consist of elegant cabinetry with clean lines. All this combination can be complemented with natural woods, quartz, and a variety of golden hardware and accessories.
3. Green:
Green color is also predicted to be in 2023 color trends. With their strong ties to nature, it really provides a soothing and informal ambience. Olive green, matte-finished light Green shade countertops are ideal for a busy family kitchen. While mild sage green tones work well in a country cottage setting with shaker-style cabinetry and classic wood floors. You can choose green color kitchen countertops with white or cream cabinets for a stunning kitchen look. A deep forest shades of green countertop creates a moodier and more sophisticated atmosphere.
4. Black: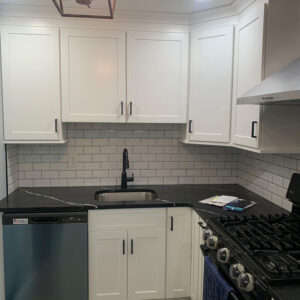 Adding black kitchen countertops with white or sage green cabinets will create a dramatic look in your kitchen. If you have everything in light color, then adding a black countertop can complement the whole kitchen look and make an outstanding focal point. Black tone countertops trend emerged in the 90s however this trend is still popular, similar to white or light-toned kitchens. So, if you want to encourage a modern and historic atmospheric look, a black kitchen countertops and white cabinets scheme is a win-win situation.
5. Gray:
Gray color tone is a highly versatile and welcoming kitchen countertop tone when combined with various colors and accents. It strikes a balance between light and dark tones while improving the overall appearance of your countertop and kitchen. If you like to add multiple color kitchen cabinetry then choosing a gray countertop can be the best option as it blends easily.
Bonus:
White countertops with Prominent Veining:
Want to create a dramatic ambience in your kitchen? Then, selecting white or crème countertops with bolder veining is the best choice to consider. The natural flow of these veinings is totally fascinating and contrasts well with your dark-toned kitchen cabinetry which permits your kitchen countertop to be the focal point. When applied to smaller surface areas, the seams are invisible because they are visually hidden by a dramatic pattern.

Kitchen cabinet color trends 2023:
1. Matte gray or charcoal gray:

Matte gray or muted charcoal gray tones will be the popular color choice for 2023 kitchen cabinets. This lovely color trend will be perfect whether you want to create a white kitchen with a matte gray accent or you just combine your gray cabinets with a more earthy design. It has a really modern vibe to it which is stylish too. White kitchen countertops and charcoal cabinets can also do great job together. You can choose muted colors of olive green/gray, slate gray, or dark blue/gray.
Many people in Illinois love to use different shades of gray in order to enhance their islands as this classic color never go out of style. The plus point of this color tone is that it can be paired nicely with a variety of backsplashes and countertop colors depending on your style preference. You can use some popular combinations such as white walls and gray cabinets, or brown walls and gray cabinets. Gray color cabinets can also be paired with stainless steel appliances for a modern aesthetic look. And if you want a traditional feel, wooden flooring will be the best.
2. White:
White kitchen cabinets are one of the most popular and common color choices for kitchen cabinetry. They are classic and timeless that can be paired with any style of kitchen whether it's traditional or contemporary. White may be seem like a simplistic color. However, you can use this color to create a variety of different looks and a great resale investment. No matter what your style or personal taste is, white kitchen cabinets are versatile and timeless that will always be in style. You can make your kitchen space more bright and airy by using light-colored walls and ceilings with white cabinets. It will make your kitchen feel more open and create a spacious look in your kitchen. You can also use a darker color floor or countertop, if you want to spice up your space.
However, if your preference is to make your kitchen look more classic, then using dark walls and ceilings with white cabinets is perfect for you. This look will create a bright and welcoming space while adding some interest to it that is perfect for the family and friends gathering. So, push your limits and mix & match different shades of white to create a fabulous unique look.
3. Blue:

Blue kitchen cabinets will continue to be a popular color choice in 2023 too. So, if you want to add some extra sparkle, use blue color. Some people in Chicago choose to go with a darker navy blue in a matte finish. While others in Arlington Heights may prefer a lighter sky blue. Either way, blue-colored cabinets are versatile that can complement many different styles of kitchens. Vibrant shades of blue will be used as "pops" of color. It can go surprisingly well in kitchen designs with a radiant sense of peace and calmness in it.
4. Black:
When it comes to black kitchen color ideas, there are endless options to style cabinets. Shaker cabinets are a popular choice due to their clean lines, simple and stylish look. You can use any color to paint these cabinets. However, if you want to create a dramatic look that is perfect for modern kitchens then, black color is the best option to choose. You can pair black color with other dark colors such as navy or charcoal for a beautiful cohesive look. Or you may consider using bright accessories or white/colorful tile backsplash to add a pop of color.
5. Green:

Green color is supposed to be the "BIG" color trend for 2023. You can style this color in a variety of ways, since it feels natural and organic. Shaker cabinets with a light green color are always a popular choice and look great together. Whether you consider lacquered high-gloss or matte finished cabinets in a bolder shade of green, both finishes give you a more modern look. No matter what style you prefer, the shade of green color will always suit your needs. Designers at stone cabinet works are always ecstatic about blending warm green colors with natural wood accents like oak and walnut.
However, when it comes to painting your kitchen cabinets green, it's important to think about the overall tone of your kitchen. It's because the dark green cabinet might look too heavy for a bright and airy space. However, on the other side, a light green cabinet might not make enough of a statement in a traditional kitchen. So, by considering the overall style of your kitchen space, house and the other colors that are already present, you can simply choose the best shade of green for your kitchen cabinets. In other words, any shade of green color that matches your existing decor will work perfectly. So, go ahead and have fun with several green tones and shades.
Are you looking for a kitchen remodeler in Grayslake, IL?
If you want to change or upgrade anything in your kitchen space such as cabinets, countertop, hardware, or accessories but still looking for an experienced and affordable kitchen remodeler in Illinois, then choose stone cabinet works. Our experts are passionate about creating stunning and inspiring kitchen spaces. The experienced as well as talented team of stonecabinetworks will work diligently to create something fresh that is perfectly tailored, and truly unique.