Are you looking for the bathroom renovation ideas for your bathroom? Or if you always feel uneasy when you're using your bathroom then it's right time to consider bathroom remodeling. Bathroom is the smallest but most important room in the home. It plays crucial role at the time of house selling. Bathroom remodeling can make or break your deal depending on various factors. Many of you wish to remodel the bathroom but worried about budget. As sometimes, budget will exceed and if you're also the one who wants to do bathroom remodeling but thinking that your budget will exceed then do not worry about it. We have some bathroom makeover tips that will make your bathroom remodeling hassle-free and on a budget also. So, let's get started.
Types of Bathroom
Selecting which type of bathroom you want to makeover is one of the most important factors when considering a bathroom remodeling. As your expenses depends upon the type, size and style of the bathroom. When talking about bathroom, it comes is various shapes, layouts and size which will increase or decrease your total remodeling expenses. May be you don't want to change the type of your bathroom, if you probably want to sell your home. However, it's a good thing to check out all the wise and nice options for your bathroom to make it more worth than you should think of. An experienced and knowledgeable interior designer will help you in that case so, you won't miss any possibility.
For example, you can transform your half bathroom into a stunning master bath space just by using some bedroom or walk-in closet space. There are three main types of bathroom and that are:
Full Bathroom:
Full bathroom is known as standard bathroom that consist of shower, sink, toilet and bathtub. If you know, many older homes only have one full bathroom for the entire family to share with. And this can take long hours standing in line to take shower on the morning time. To eliminate long line at morning time, you can consider adding master en-suite in your home. Master bathroom is easy to access via master bedroom and having same feature as older full bathroom have.
Guest Bathroom:
Guest bathrooms can be located adjacent to or directly in the guest room. It usually consist of toilet, sink and separate stand up shower or bathtub depending upon the size of the bath space. Renovating guest bathroom is the perfect opportunity to make your guest bath space welcoming and comfortable for all types of guests you have. You can makeover your bathroom into a wet room also. Wet room is basically a type of full bathroom where your shower area is not behind the curtain or in the separate cubicle form. It usually have waterproof tiling and flooring system. It can easily fit in to smaller space while making it look sleeker, smoother, modern and efficient.
Powder Room:
Powder room is also known as half bathroom as it consist of toilet and sink only. It is mostly found near the entry or main level of a home. Having powder room the best thing ever as it requires minimum space and allowing you more privacy while serves its purpose well. For instance, if you have guest over for the dinner or a visitor who comes because of any important work, they can use your powder room. It will not have to invade your personal bathroom space. So, you won't have to worry about entering someone in your bedroom area. It can be fit in the tightest space or even in the unused corner of the house. Adding powder room will make your life much easier than before while increasing the value of the home.
Tips for Bathroom Makeover
1.Select right flooring:
Selecting the right type of flooring is important. It should be affordable, durable and, of course, slip-proof. Before checking the endless sample of tiles that your home contractor will show you up, you will definitely need to remember a few things. There are various types of tile available in the market. But if you are searching for the right type that are particularly hardy, timeless as well as long-wearing on the bath floors, and even on walls. Try selecting natural stone or a subway tile. You can use wallpaper on walls, if you don't like tiling option for walls.
Natural Stone: Natural stone gives your bathroom the most sophisticated and classic look. Any type of natural stone will do their best in a wet environment if have the right sealant on it.
Tiles: Subway tile is a kind of ceramic tile that is classic go-to and most popular nowadays. You can opt for a little more bespoke and handmade material like zellige. You can consider tiles for their friendly prices and durability in wet environments. Subway tiles can be the best as well as stylish alternative to pricier bathroom materials
Wallpaper: If you want to use wallpaper in a bathroom then go for it. But make sure it's waterproof and installed in a proper ventilation. Proper ventilation helps to prevent moisture buildup in the walls. It's a great way to get classic look at affordable price.
2. Coordinate color with its room size:
It is important to coordinate your bathroom color according to its size to make it look bigger. This is one of the most important bathroom makeover tips to use. Always use color palette that stays in white or light color spectrum to make your small bathroom look bigger. You can use light shade or even white colored bathtub and toilet if you want. Using dark colors such as royal blue, dark green will make your bathroom look smaller. Opt for coloring the ceiling with off white shade for a more spacious feel. If not about that you can't experiment with darker shades, you can, however for that you need big bathroom.
3. Consider proper Bathroom Ventilation:
All types of bathrooms need ventilation with the help of bathroom window or exhaust fan. Always check exhauster fan capacity before buying any bathroom fans. Even if you think you have a big bathroom window, it's crucial not to skip bathroom ventilation during your bath space remodeling. If you skip the bathroom ventilation, in that case the last thing you have in your bathroom is a mold. This situation is worse in humid season and if it left untreated, this can lead to expensive damage.
4. Choose right and durable bath space materials:
All bathrooms need different materials. It should be easy to clean and long wear material. For instance, if you are remodeling your bathroom that is mostly used by your teenager kids. Its great idea is to use darker shades tiles in bathroom so, that it will not stain easily. Make sure that all items in the bathroom are easily accessible to your children. Many bathroom fixtures are now comes in various sizes and shapes. Just ensure about that all the fixtures are made with high-grade materials and are environment friendly which will help you to save money.
Always go for hiring professional to do your bathroom installations that will functions correctly for long. Avoid using cheap board like MDF on cabinets which can easily swell. Just go for solid wood over MDF for cabinets. You can use porcelain sinks instead of fiberglass or acrylic surfaces as it will hold up well. Try to Invest in brass mixing valves that are high-quality plumbing and will last a lifetime.
5. Bathroom Lighting: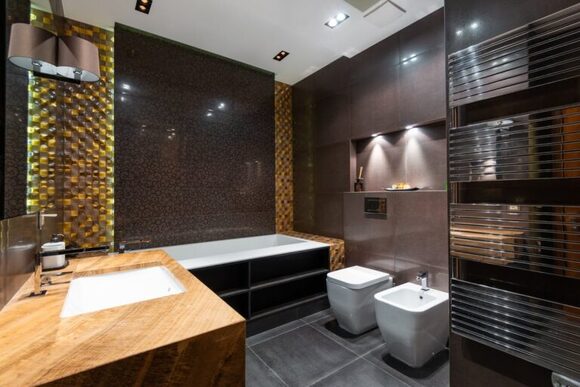 Lighting plays an important role in bathroom as this is the place where you need to check your hair, face etc. Whether you have big bathroom or a tiny one, it's crucial to get the right amount of lighting in your bathroom. Use ceiling lighting fixture that is usually very dim and consider adding sconces around both sides of bathroom mirror. You can add dimmer switch if you don't want to add ceiling lights. There are various types of light sources that are easily available now such as ceiling pot lights, wall sconces, LED lights or chandelier. Even having natural lighting through big window makes your bathroom more inviting.
6. Understand what you need; Shower/Tub:
If you have a kid then go for bathtub. However if your bathroom is not big enough for both shower and bathtub then tub and shower combo is the best option. You can also opt for standing shower or walk in shower fixtures, if you don't have kid.
7. Keep Storage on Top:
Storage is the first priority in bathroom remodeling. Always look for storage opportunities even small and simple ones when go for remodeling. Go for big and wide vanity if your bathroom is big. You can have two options for a vanity: custom made and store bought. Go for custom built if your bathroom is small. You can use floating shelves, towel rack, and mirror cabinet for more storage.
8. Add Plants for lively look:
Add floating shelves in your bathroom to add trailing plants. Plants give your bathroom sterility and freshness
in air. If your bathroom does not contain window then go for fake plants for better look.
9. Keep your toilet position in top of mind:
Try to avoid making the toilet the first thing you see when you open the door. Sometimes your bathroom door get left open, which means that your guest in the home will see the toilet walking by. Of course isn't the most pleasing thing to look at in bathroom. So, the question is what focal point should you make? Well the answer is anything but not the toilet.
Here's are some Do's and Don'ts tips for a Bathroom makeover
DON'T try to remodel your entire bathroom on your own. Instead of that hire a qualified professional to get it done right
DO: Keep your high-end items in neutral shades
DON'T: Forget to consider your budget
Do: get high end and durable lighting
DON'T: Go without storage
DO: Splurge on the shower
DON'T: Skip the vanity
Do: Add Floating vanity
DON'T : change the bathroom's layout unless it really isn't functional.
DO: decide early if you want spa-like finishes in your bath space
DON'T :opt for single flush toilets, instead of that use dual flush toilets that can save you water as well as your bill.
DO: Consider invest in quality faucet and shower heads.
FAQ's
Q1. Is there any makeover tips to make my bathroom look bigger?
Ans: Follows are some tips to make your bathroom look bigger.
1. Use light and neutral shades like off-white, dusty blue, light gray, and sage green.
2. Add creative lighting to open up space
3. Use big mirror
4. Select floating vanity
5. Maximize your room arrangement
Q2. Do I tile before or after fitting a bathroom which is the best makeover tips to use?
Ans: Well if you are looking for a high quality finish as well as a better seal against water damage, then always go for tile the floor first.
Q3. When remodeling a bathroom What comes first?
Ans: You can remodel your bathroom in following series
1. First Remove your Bathroom Fixtures.
2. Now Install the New fixtures like bathtub, shower
3. Lay the New Flooring.
4. Start Painting walls.
5. Install Cabinets and Vanity.
6. Update Lighting fixtures.
7. Hook Up the Plumbing.
Q4. Do you install tile before bathtub?
Ans: Yes, you should install the tile first, however try to leave off the row of tiles that directly surround the bathtub to make it level.
Q5. How can I update my old bathroom without replacing my bathroom tile?
Ans: Follows are some smart ways to update your bathroom without replacing tile
1. Cleanup your bathroom grouting.
2. Paint your old tiles.
3. Consider trying temporary decal.
4. You can add a wall panel cover