No one loves or would like to work in a unorganized or cramped kitchen. As everyone wants a perfectly organized, clean and beautifully pleasing kitchen to enjoy their time while cooking meals without taking unnecessary stress. And perfectly designed kitchen is something that gives you all the things that we mentioned above. Whether you are designing a brand new kitchen or re-designing your old residential kitchen, careful planning of kitchen design is something that's essential for the perfect kitchen. So, if you are considering a kitchen renovation, before taking big step on anything, first read out this blog to know the tips or essential steps for planning and designing your residential kitchen.
Expert Tips for Designing Residential Kitchen:
1. Planning Your Kitchen
Right kitchen planning is the first and most important step in designing kitchen to ensure that your kitchen is highly functional, organized and aesthetically pleasing for years to come. Before you start to plan your kitchen, it's important to understand the scope of the project. How much time do you have? Are there any major renovations going on in other parts of the home that might affect this area? Will anyone be moving in or out of this space? These are all questions that should be answered before beginning any design work.
Once you know what kind of project is ahead of you, it's time to consider layout options and plan out a budget. Kitchen layout and your budget are the two things that are often overlooked when designing residential kitchens in Illinois but can make all the difference in creating an efficient space with everything needed for cooking and entertaining.
2. Choosing the Right Appliances
Once you have an idea of the type of kitchen you want, it's time to think about appliances. First thing that you should consider is how much space you have in your kitchen. Make a list of appliances that you need in your kitchen like stove, oven, refrigerator, wine fridge (if needed) etc.
For stoves, the choice between gas versus electric ranges is largely personal preference, as some like the burners that light automatically and other like the standard one depending upon the budget. And for oven, you may prefer one over another based on features like speed control knobs. However, energy efficiency is important. So, always consider buying an energy star-rated appliance because these products use 20% less energy than standard models while still providing all of their usual functionality. Finally, when choosing between convection vs non-convection ovens keep in mind how often you'll be cooking large meals; if this happens regularly then investing in a convection model could save both time and money by speeding up preheating times while reducing energy consumption up to 50%.
3. Selecting the Right Kitchen Layout
There are many different kitchen layouts to choose from. The most popular are:
U-shaped kitchen design layout, which have an island in the middle of the room and allow for easy access to all appliances and equipment.
L-shaped kitchens, which have an island at one end of the room with a peninsula (a unit with a worktop that is attached to the wall which has cabinets) on each side.
Galley kitchens, this type of layout is a long kitchen having narrow aisle that don't include islands but still give you plenty of counter space and storage options.
4. Choosing the Right Cabinets
When choosing cabinets, you'll need to consider the size and type of cabinets. If you have a small kitchen, it's best to choose cabinets with a shallow depth so that they don't take up too much space in your room. You can also opt for wall-mounted or undercounter models that are shorter than standard height.
For material, there are various types of wood cabinets available as wood is always a good choice because it gives an elegant look and feel while being easy on maintenance costs over time.
5. Selecting the Right Countertops
Selecting right countertop is as important as selecting color for your kitchen as it will make or break the kitchen look as well as your mood. Before going for countertop color and veining design consider the material for your countertop first. There are many options, including:
Granite and quartz: These are both durable materials that can withstand heat & scratches and easy to maintain.
Laminate: This is an affordable option that looks like real wood or stone but won't break the bank. However, it gets damaged or stained easily.
If you're going with granite or quartz, decide whether you want a flat top or raised one or both. A flat surface is easier to clean because there aren't any grooves where dirt can get trapped. However, raised counters may be more aesthetically pleasing depending on what kind of sink and faucet you have installed in your kitchen.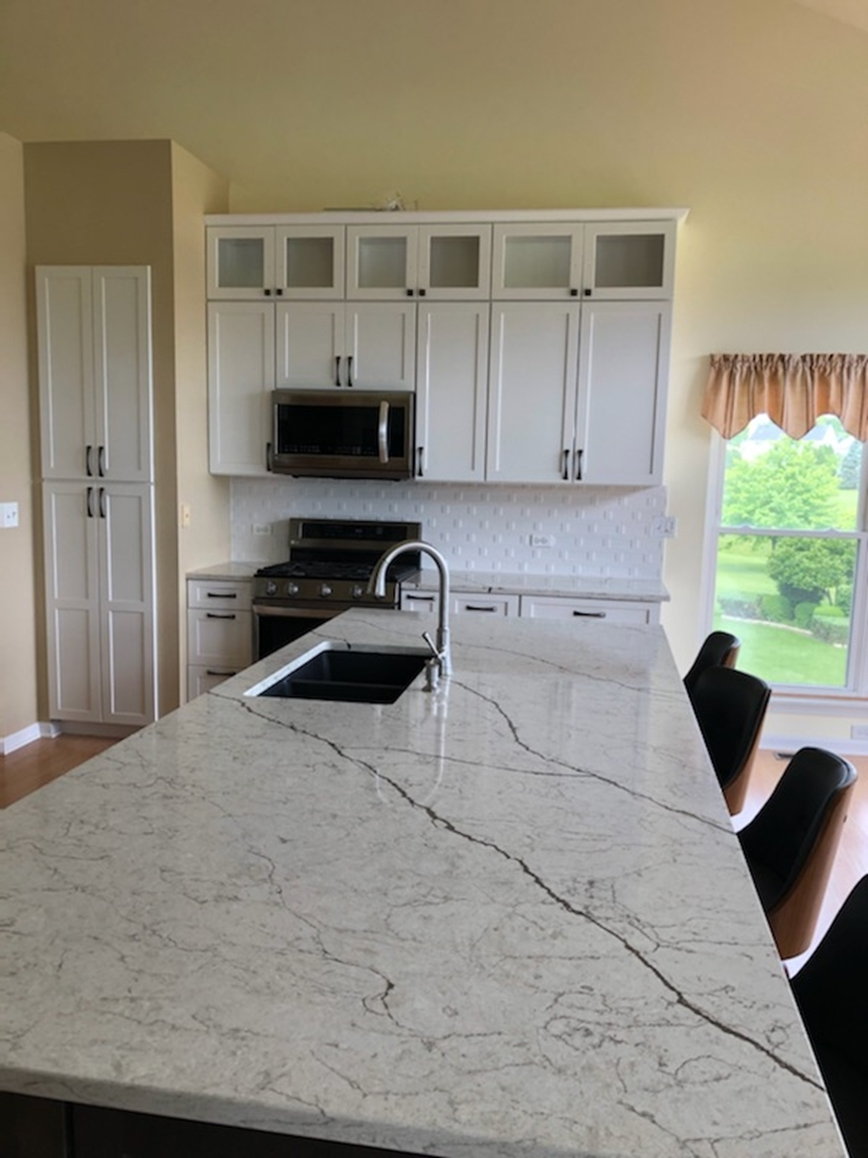 6. Choosing the Right Flooring
Choosing the right flooring can be a challenge, but it's important to consider how the space will function in your home. If you're looking for a durable option that works well with children and pets, tile is a good choice. It's also easy-to-clean and comes in many styles such as from classic ceramic tiles to more modern materials like stone or concrete. If you want something that looks more like wood than stone or ceramic, laminate may be right for you. If budget is an issue or if there are other factors, wood might be an option worth considering as this material has been using around since the late 1700s and still remains popular today due to its affordability and durability.
7. Choosing Cabinet Colors
When choosing cabinet colors for your new kitchen design project in Illinois, keep in mind what kind of moods each color evokes: reds tend toward excitement whereas blues evoke calmness; yellows bring warmth into rooms, white and creams give little brighter and cleaner look while greens give off vibes.
8. Adding the Finishing Touches
Once you have chosen the right materials and colors, it's time to add the finishing touches. As with any room in your home, there are many ways to make a kitchen that stand out from the crowd. You can pick out hardware that matches your cabinets or countertop; add decorative accents like tile backsplashes or wood trim and select lighting fixtures that complement each other and your overall design scheme.
9. Hire an Experienced Kitchen Professional
When you're looking for an experienced kitchen professional, there are several things to consider. First and foremost, make sure that the person has skills in designing kitchens in your area. You may ask for references from your friends and family members who have recently remodeled their kitchens. The best way to get started is by taking a look at some of their recently remodeled kitchens. And finally, choose someone who fits your budget.
Keeping all these tips in your mind before designing your kitchen is crucial for a successful kitchen project. So, consider these tips and now you are set to start the kitchen makeover process.